How to complain less and feel better at work
Negative colleagues can be a real drag in the office. Not only can they hurt productivity and morale, their attitudes are contagious.
But what if that bad attitude is coming from you?
"When you come into work with a negative attitude it is going to affect others around you," said Brandon Smith, a career coach who focuses on workplace dysfunction. "There is a high probability they will pick up that same negative vibe and match it."
Keep the complaining in check
Reflect on how much of your own conversations start or involve you complaining. If it's a common occurrence, be intentional about balancing it out with more positive comments.
"People remember what you say and your attitude lingers," said Kerry Hannon, author of "Love Your Job: The New Rules for Career Happiness."
Adding a "but" and then a positive thought to a negative comment can help shift you into a better frame of mind, recommended Jon Gordon, author of "The Power of Positive Leadership." For instance: It's raining and I was really hoping for a nice commute, but my lawn did need to be watered.
And when negative talk is happening around you, resist the urge to jump in and participate.
Offer solutions
Some complaining in the office is natural — in fact, it can help build camaraderie in proper doses.
But you can make it more productive by instituting a no-complaining-without-offering-a solution rule, recommended Gordon.
"If you are complaining you aren't leading. You need to focus on solutions and the positive instead of the negative."
Have something to look forward to
Having a daily ritual that you enjoy can help pull you out of a funk. And it doesn't have to be extravagant: a cup of coffee, reading your favorite blog or taking a quick walk.
"Add something to your day you look forward to," said Hannon.
Find a new challenge
Getting stuck in a rut
 can dampen your mood, so strive to consistently challenge yourself and step out of your comfort zone.
Raise your hand to take on a new assignment, look for training classes to take or sign up to lead a volunteer project.
"Even if it's scary, try and do it," said Hannon. "Once we get out of our comfort zone, the adrenaline shoots up and you don't have time to complain about work."
Put positivity on your calendar
We too often focus on the bad things going on and overlook the positives.
"We are born to be worrywarts," said Joe Robinson, a workplace balance expert. To help combat that, he suggested listing three things that went well that day before going to bed. They don't have to be major events: you saw a pretty sunset, told a funny joke, got a compliment from your boss or snagged a seat on the train.
"This crowds out the negative and populates your brain with positive things, which leads to a more positive outlook." said Robinson.
Spreading positivity to others also goes a long way.
Smith advises his clients to set a calendar reminder to repeat every Friday morning to remind them to say something positive to a co-worker that week.
Find an outside passion
There will be days and even weeks when work is going to be bad, which is why you need a hobby or passion outside of work to balance it out.
"It gives you something to look forward to," said Robinson. "Yes, you had a bad week, but you know you are going to go out and have fun."
https://edition.cnn.com/2019/08/20/success/fix-bad-attitude-at-work/index.html
The best NYC museums for fashion lovers
Fashion lovers, put on your walking shoes: It's time to see the best of the catwalk and beyond with a whirlwind tour of New York's museums.
Whether you're interested in French couture, cutting-edge fashion, contemporary street style or some serious bling, there's something for you to feast your eyes upon in the exhibitions now when you travel to Manhattan and Brooklyn.
As a first stop for fashion historians, it's only natural to go to the source: The Museum at FIT (Fashion Institute of Technology), a few blocks south of New York's Fashion District.
In the exhibition, visitors travel through Star Trek-esque showrooms and space-age disco environments populated with Cardin's designs for clothing, accessories, runway presentations and other eye-pleasing delights.
Though at first glance much of it can seem like a throwback, it's illuminating to consider how the still-living designer's visions of gender-fluid fashion and his savvy shift from French couture into the world of mass merchandising seem all the more relevant in today's design landscape.
Even if you're not a designer yourself, it's illuminating to consider how a garment is made and the physical challenges of creating fashion. And when it comes to celebrating the process of design, the Cooper Hewitt is always the place to go.
The act of making is as much craft as it is art, and the Museum of Arts and Design brings this concept to the forefront. From the traditional to the technological, it showcases the techniques used in the creative process in its wide-ranging shows.
Even when the Anna Wintour Costume Institute isn't stomping the halls of the Met with its annual summer blockbuster exhibitions, the venerable institution is a treasure trove of inspiration for the fashion-minded.
The relationship between fashion and art has always been a strong one at the Whitney, and the collaborative spirit has become even more whimsical and wearable since the museum's move from the Upper East Side to the Meatpacking District in 2015.
Exclusive shop items tied to the museum's changing exhibitions (such as Hillflint sweaters and varsity jackets in honor of the latest Biennial) share shelf space with items by American designers that pay homage to the Whitney's permanent collections and institutional history.
Until the new MoMA building reopens to the public on October 21, design and fashion fiends can get their fix at the flagship MoMA Design Store across the street from the museum.
MoMA's design department champions the inherent value of good design in its permanent collection, and you'll find that democratization in the Design Store's inclusion of iconic streetwear such as New Era Yankees caps and Champion sweatshirts alongside Comme des Garcons wallets.
For a little art history with your casual wear, grab a MoMA version of the Armor Lux marinière, the traditional blue-and-white striped Breton shirt worn by Pablo Picasso and now available in variations such as rainbow Pride stripes.
Fresh Veggie Bagel Sandwich
This sandwich is so healthy and fresh! Crispy veggies and tangy mustard make this meal a real treat that you won't have to feel bad about eating. This sandwich is terrific with gourmet kettle cooked potato chips!
Ingredients
Directions
Spread mustard onto the cut sides of the bagel. Layer the lettuce, green pepper, cucumber, and tomato on one half. Season the tomato with salt and pepper. Top with onion and alfalfa sprouts, then cover with the other half of the bagel.
Move over, 'sit still'! Why kids need to move in school
A few years ago, when my girls were in the second and third grades, they raved about the dance breaks they would occasionally have during the school day.
Their teachers would put on a video, which encouraged the kids to get up and dance, and then they'd get back to work.
"What a brilliant idea," I remember thinking at the time.
My kids' teachers were certainly not alone. More teachers are incorporating some form of movement into the school day, especially as the research is pretty clear: Physical activity in school leads to better cognitive performance and fewer behavioral issues, not to mention cutting down on stress and anxiety.
The challenge, though, is persuading school administrations to consistently make time for physical activity when they are pressed to meet stringent academic requirements and find the money to pay for some of the training.
Research: Physical activity benefits students
Just as our schools teach math literacy and reading literacy, they can teach physical literacy, teaching children the basics of movement so that they can stay active for life, said Susan Kamin, chief wellness officer for the National Association of Physical Literacy.
The for-profit association provides in-person and online training to teachers and communities and provides "BrainErgizer" videos, five-minute movement videos developed in conjunction with the University of Connecticut based on research on what stimulates the brain.
Dr. John Ratey
, an associate clinical professor of psychiatry at Harvard Medical School, says activity breaks during the school day create better learners because of the impact of movement on the brain.
"When you move, you stimulate all the nerve cells that we use to think with, and when you stimulate those nerve cells, it gets them ready to do stuff," said Ratey, an expert in neuropsychiatry and author of 
"Spark: The Revolutionary New Science of Exercise and the Brain"
who has spent the past 30 years focusing on the "attention systems" of the brain.
"When you exercise, you turn on the attention systems, so that means you're (paying) better attention, you're able to deal with more frustration, you're able to stay with it longer," he said. "You're able to manipulate information by turning … on the front part of our brain to make it work better, and that's really key and important in terms of taking in information as well as performing with it."
A recent study, a review of 26 previous studies looking at the impact of physical activity on academic performance, found that kids who get extra physical activity in school do better in reading and math.
The study, 
published in the journal Pediatrics
, involved more than 10,000 children between the ages of 4 and 13. It found that physical activity, especially physical education, improves behavior in classrooms and is a boost to academic achievement, especially math-related skills and reading.
"The research shows that it leads to better cognitive function for kids so they're going to have better results, academically," Kamin said. "It's also going to help with behavioral issues in the classroom, because if kids are able to move, they're not going to have so much excess energy. They're going to be able to focus, and it's going to solve a lot of the sort of interpersonal issues that come up with kids as well, because they're going to have an opportunity to get that energy out."
Breakthrough Magnet School, South, a pre-K through eighth-grade school in Hartford, Connecticut, is in its third year working with the National Association of Physical Literacy. The school had valued movement and mindfulness before, but since the partnership, the school has received additional training and is making physical literacy a key part of the classroom experience, Principal Julie Goldstein said.
"I think it really validates a lot of what teachers know: that students need movement, they need planned opportunities for movement and that it can be done in a pretty short, simple way throughout the day and that the benefits of it outweigh the little bit of planning that is necessary in the beginning to kind of get that structured," Goldstein said.
Her third- and fourth-graders who are actively engaged in physical literacy are the highest-scoring students in math and literacy within the district, she said. Beyond the benefits academically, there are benefits outside the classroom. For this school year, not one student from this group has been referred to her office for a conversation with the principal. Before they started doing physical literacy, she might have had one or two office referrals every month, she said.
"This particular grade level is at the highest risk for misunderstandings, disagreements and even injuries at recess time, and we've had none, so the impact that it is has goes far beyond just the academic and the behaviors in the classroom," she said. "Even during the unstructured times, they're better able to manage themselves, to play independently and to do that in a way so that the recess time actually serves them the way it's intended to, which is to give them time to play and have fun."
Using screens to get kids moving
Four out of five elementary schools in the United States are using videos from the education company 
GoNoodle
 to promote physical activity in the classroom, the company says.
The concept is simple: Today's kids have grown up with screens, so GoNoodle tries to use entertaining videos, often about two minutes in length, that will get kids to move around and then either get back to their schoolwork or go off and play with friends.
KC Estenson is the chief executive officer of GoNoodle, a for-profit company that makes money through relationships with partners who believe in the company's mission. (The videos are free for schools and parents, although teachers can pay for GoNoodle+, which for $10 a month gives them access to additional videos, games and classroom resources.)
Estenson — who is the former head of CNN Digital — is a father of three who, like most parents, has struggled with how much time his kids, ages 8, 12 and 14, spend on screens during the day.
"GoNoodle gets kids to move. It gets them to be active," Estenson said. "The entire purpose of this is a whole new interaction form with the screen, which is active engagement versus passive engagement, and most television and most of what's happening with the technology now of all ages is passive, binge viewing, hours spent just watching the screen and doing nothing else."
The key, he said, is making entertaining content that children (the target group is ages 5 to 12, grades K-6) will enjoy so much that they'll want to get up and dance or do yoga or even some form of meditation and mindfulness.
"And so starting from the earliest age … we're putting positive associations between the right things that are available to them on these screens and hopefully giving them an awesome alternative to the junk food that's out there," said Estenson.
'It really validates … what teachers know'
Active Schools, 
which was founded as part of Obama's Let's Move initiative, is a national movement, partnering with nonprofits and for profits to try to make physical education and physical activity a bigger part of the school day.
The goal is at least 60 minutes of activity per day, which is crucial especially since many kids don't get the play time children used to get outside of school decades ago. There are a variety of reasons why, including the widespread use of digital devices and a lack of access to and time for free play.
"One of the biggest pieces of feedback we get from schools in the field is, 'we are very busy places. We appreciate what everyone offers, but it's overwhelming. Can you make it easier for us to know what's available?' " said Charlene Burgeson, executive director of Active Schools.
Streamlining to make it less cumbersome for schools to learn what resources are available and what programs they can bring to their school is one challenge. The others are money, time and philosophy.
Schools can't always find the funding to pay for formal training, videos and other programs that get kids moving. There is also the pressure of the clock and having enough time to work physical activity in when trying to meet the required academic standards and complete the curriculum.
"I know lots of teachers who say, 'Yeah, I wish I had more time to do this,' " the National Association of Physical Literacy's Kamin said. Even in schools that can find the time, there is still some opposition because it's a departure from the way things used to be, she said.
https://edition.cnn.com/2018/05/03/health/children-movement-schools-classroom/index.html
Tom Ford's show packed celebrities into a New York subway station
Tom Ford's Spring-Summer 2020 show during New York Fashion Week was destined to trend. Every aspect seemed perfectly calibrated to captivate the internet. From its location, a disused subway platform in New York's Lower East Side, to the celebrities in the front row — Miley Cyrus, Russell Westbrook, Joan Smalls — to the models of the moment on the runway (Gigi Hadid, Lineisy Montero, Kaia Gerber).
Tom Ford's Spring-Summer 2020 show during New York Fashion Week was destined to trend. Every aspect seemed perfectly calibrated to captivate the internet. From its location, a disused subway platform in New York's Lower East Side, to the celebrities in the front row — Miley Cyrus, Russell Westbrook, Joan Smalls — to the models of the moment on the runway (Gigi Hadid, Lineisy Montero, Kaia Gerber).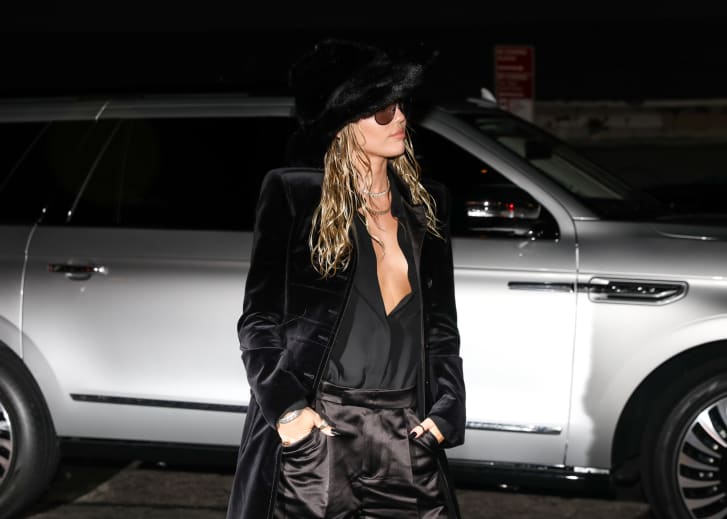 The show was Ford's first as chairman of the CFDA, a role he took over from Diane Von Furstenberg in June. And this New York Fashion Week is the first to bear Ford's stamp, as he strives to expand the global reach of American fashion.
"I feel that America is one of the most isolated countries in the world. We're very inward looking," he told Business of Fashion in March. "What American fashion needs to become in order to be more relevant in the world is to think of itself as not just American but as international."
Ford's first move was to officially shorten New York Fashion Week to five days and to emphasize the event's international scope by hosting a welcome dinner at 
Indochine
, where American designers and editors mingled with their international counterparts. "This is about bringing together really wonderful talent that New York has with journalists from all over the world," Ford told his guests.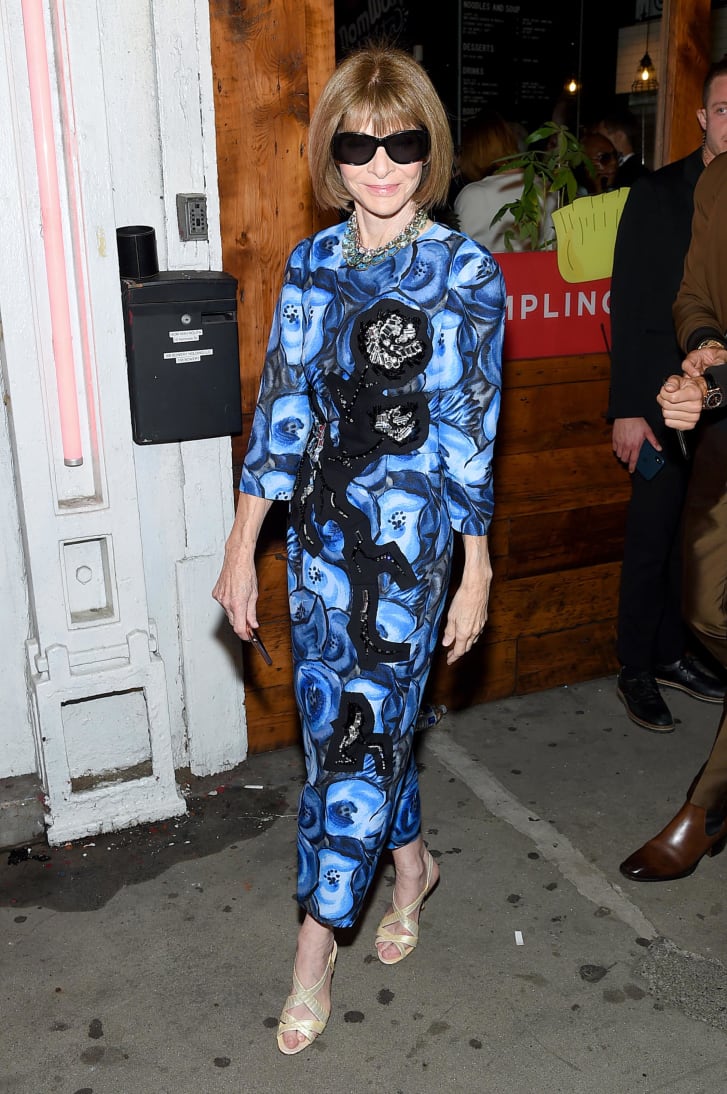 Then there was the runway show itself. Presented at the Bowery Street subway station and lit in purple, the front row saw Cyrus, Westbrook, Smalls, Ansel Elgort, and Amber Valletta wearing luxe Tom Ford tailoring, with rich velvet and wide lapels. Cyrus' glitter-soled platform boots drew particular online approval.
While designing the collection, Ford drew inspiration from a "wall of images," he said in a press release. His inspiration board included images of Andy Warhol and Edie Sedgwick emerging from a New York manhole in 1965, as well as Luc Besson's 1985 film "Subway," set in the Paris Metro (is the show's setting starting to make sense?).
There was also a picture of nylon basketball shorts, which apparently "torture" the designer to the extent he won't allow his son to wear them.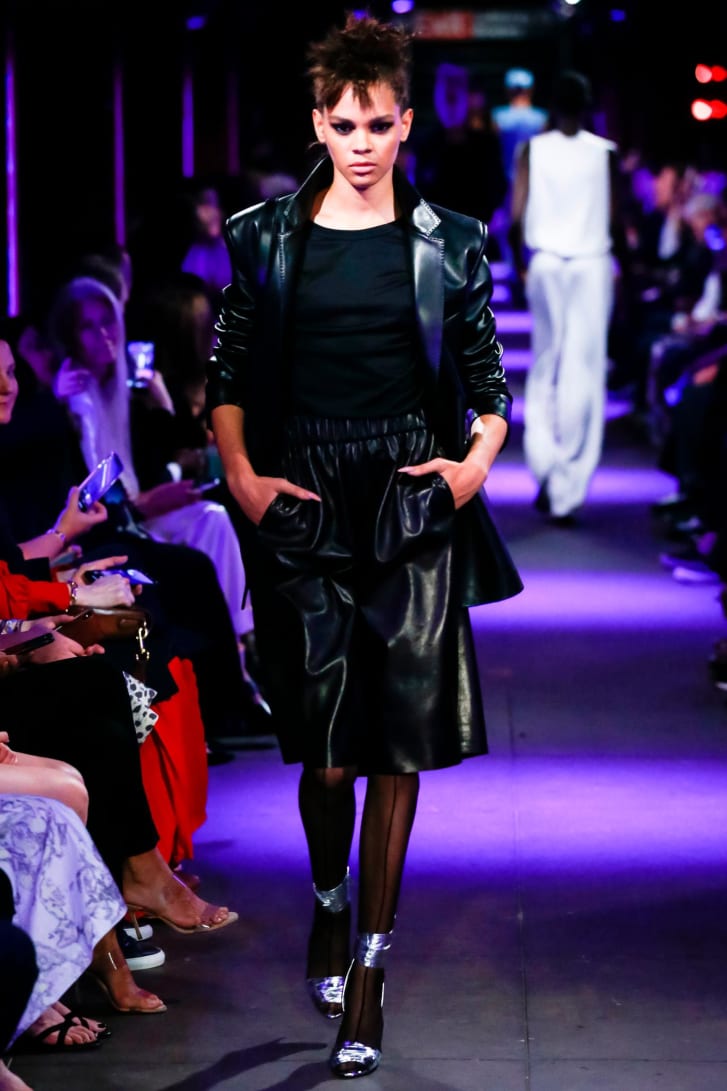 On the runway, models wore spiked hair and smokey eye makeup, with sportswear and tailoring frequently colliding. Hadid and others wore the YSL-inspired breastplates, made from glossy plastic in black, blue, pink, green and brown, while voluminous satin skirts and blazers were paired with relaxed tank tops and the basketball shorts that tormented Ford.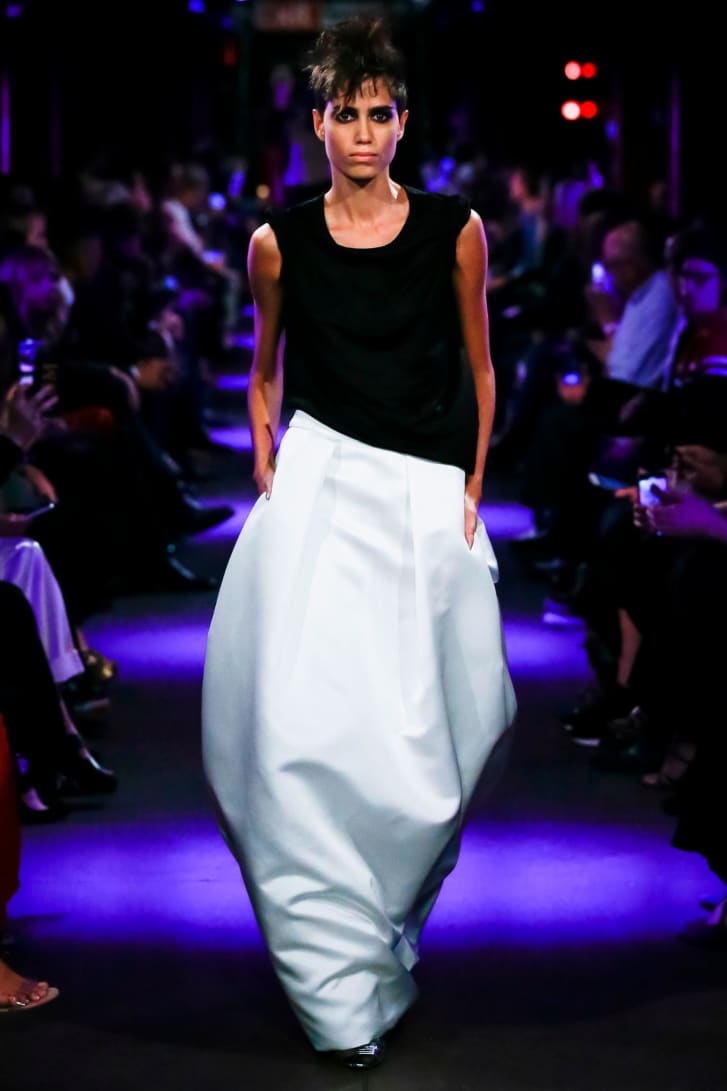 The collection, Ford said in a press release, epitomized simplicity — "which is not to be confused with simple," he said. "I think that it is a time for ease, and that way a return to the kind of luxurious sportswear that America has become known for all over the world."
Burnout is a big deal. Here's how managers can spot it
Earlier this year, burnout was added to the World Health Organization's list of
 official medical diagnoses
. Burnout
can
occur when we face chronic work stress, explained David Ballard, senior director of the American Psychological Association's Office of Applied Psychology. We are really only equipped to handle stress in short bursts — so when
 we face elevated levels of stress 
at work for a long time, we risk burning out.
"If it's not managed effectively over time, it can affect job performance," said Ballard. "It can leave one feeling exhausted, unmotivated and ineffective on the job. Job performance can also suffer."
Managers and employees both play a role when it comes to identifying and managing burnout.
"Employees have to take steps to have effective coping skills to manage stress," said Ballard. "Employers can work to create an environment that is conducive to healthy employees: identifying stressors and reducing and eliminating them when they can and making sure they have health and management resources."
Here are some potential red flags that managers can look for:
First in, last out
There are going to be times when work requires long hours — but you can only burn the candle at both ends for so long.
"Pushing yourself for a few weeks is okay … but after a while it becomes really detrimental to your health and ability to do work at the same quality level," said Leigh Stringer, author of "The Healthy Workplace."
Managers need to set the tone when it comes to work-life balance. Don't be afraid to stress the importance of having a life: ask about outside-of-work activities, offer flexible work arrangements to help navigate busy schedules, and exhibit the behavior you want to see.
"The key is communicating expectations," Ballard said. "If you are in a senior leadership position and are putting in long hours into the evenings and weekends and that fits well for you, make sure you are clear with your employees what is expected of them."
Everything is a priority
Workers who might be struggling with burnout could have a hard time prioritizing tasks.
"When somebody sees everything as being a really high priority, they don't know what to minimize and they don't know when to stop," said Adam Goodman, director of the Center for Leadership at Northwestern University.
When giving a new task or project, managers should ask employees what else they have going on to make sure no one's plate is getting too full and to help prioritize assignments.
There's silence
When a typically chatty employee who often participates in meetings and is engaged and enthusiastic suddenly becomes unmotivated and quieter, that person could be at risk for burnout.
"Their bodies are at work, but their heart and soul are not, and you are noticing a lower participation rate," said Stringer.
How they describe their work can also be telling.
"If you ask how a project is going and normally they give you a full lowdown, and instead they're now giving one-word answers … and seem completely disengaged with it, that is a sign a team member may experience burnout," said Ben Fanning, author of "The Quit Alternative: The Blueprint for Creating the Job You Love Without Quitting."
If you are sensing some distance from an employee, try pulling them aside and asking them to grab coffee or go for a walk. "Take them outside the throes of work and have an off-site discussion that shows you care about them as a person. Reaching out is very important," said Stringer.
A sour apple all the time
Venting in the workplace
 is common — and sometimes helpful. But when a person becomes overly negative all the time without offering solutions, it could be a sign they are stuck in a rut, according to Fanning.
Also pay attention to any shifts in behavior.
For instance, if an employee is normally very cordial and patient with coworkers or customers, but is now frequently losing patience quickly, that can also be a sign of burnout, Fanning added.
Negative attitudes are contagious and can spread throughout an office and take a toll on productivity and engagement.
Fanning suggested taking a "set, achieve and celebrate" tactic in the office. This involves setting clear goals and once they are achieved, celebrating them. "A lot of managers don't set a clear goal, they just want to achieve," he said. And when it comes to celebrating, it doesn't have to be a big office party. "Recognize the work or person in a team meeting. A little bit of recognition can really help out."
Cognitive Issues
We all make mistakes. But when they become repetitive it may signal a problem.
"If they keep making the same mistake frequently and they aren't in the zone, that could be a sign of experiencing burnout," said Fanning.
Other red flags are when people start having difficulty with concentration and have a harder time solving problems and issues with memory or making decisions, according to Ballard.
"If someone's is work performance is slipping, it gives you the opportunity as manager to have a conversation and point to resources to help support," he said.
https://edition.cnn.com/2019/09/09/success/workplace-burnout-signs/index.html