Pineapple-Grapefruit Detox Smoothie
Pineapple, grapefruit and spinach are packed with water and minerals, which can help hydrate you and supply your body with a bounty of fiber too.
Electrolyte-rich coconut water is a refreshing dairy-free substitute for yogurt or milk. If you have time, freeze the coconut water into cubes for an extra-frosty smoothie.
Ingredients
1 cup plain coconut water

1 cup frozen diced pineapple

1 cup packed baby spinach

1 small grapefruit, peeled and segmented, plus any juice squeezed from the membranes

½ teaspoon grated fresh ginger

1 cup ice




Preparation
Combine coconut water, pineapple, spinach, grapefruit and any juices, ginger and ice in a blender. Puree until smooth and frothy.
Pierre Cardin: The 97-year-old fashion designer with visions for 2069
Years before the 
Apollo 11
 mission, and well before the release of
Stanley Kubrick's
 "2001: A Space Odyssey," fashion designer Pierre Cardin, who founded his eponymous label in Paris in 1950, was actively imagining life on the galactic frontier. His outré mod fashions gave contours to the visual and stylistic zeitgeist of the Space Age.
"My favorite garment is the one I invent for a life that does not yet exist," he's often quoted saying, "the world of tomorrow."
Cardin reinvented the miniskirt with razor-sharp, geometric silhouettes, jewelry-sized adornments, large zippers and cutouts. He made knitwear unitards, codpieces and jumpsuits for any gender. Innovative synthetic materials like acrylic, vinyl, sequins, Lurex and shimmering metals often featured in his designs. He worked with af material called 
Dynel
, a textile that could be heat-molded into complex patterned folds, marketing a version of it under the name Cardine.
A designer of ensembles, he dreamed up domed glass helmets and architectural hats in punchy, block color. He produced otherworldly outfits and captured the public imagination for a day when space travel might be commonplace.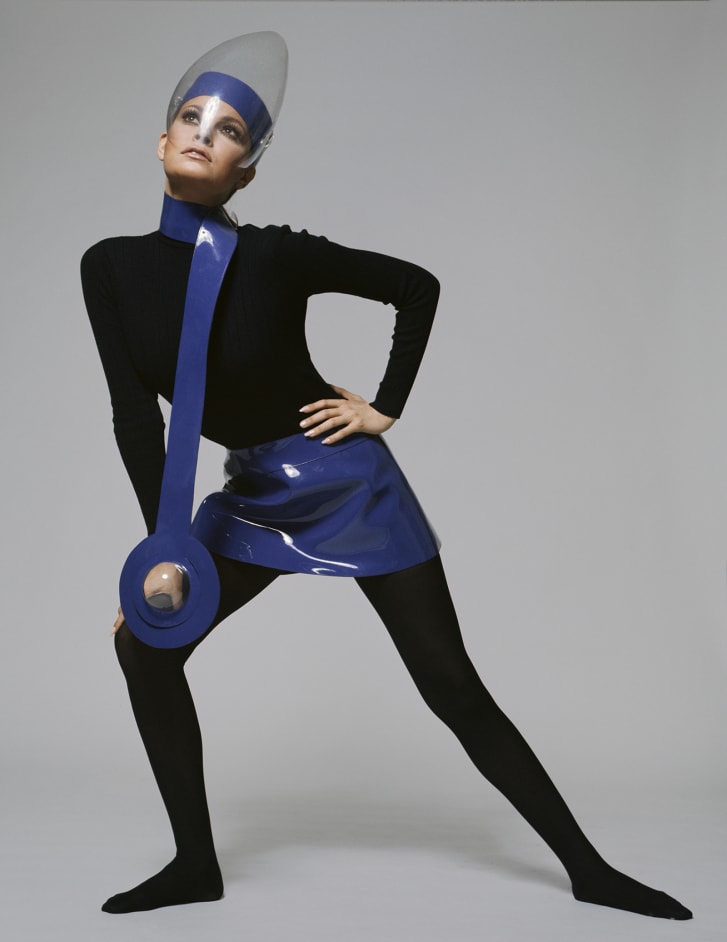 Born in Italy as the youngest of 10 siblings, Cardin moved to France as a young child when his family fled to Saint-Étienne to escape fascism. He worked several part-time jobs as a student, including work with a tailor, before leaving for Paris in 1945 with dreams of becoming a couturier.
Once there, he worked for the House of Paquin and Elsa Schiaparelli, and later worked under Christian Dior during the "New Look" era, before striking out to establish his own couture house in 1950. His elegant designs found patrons among wealthy socialites and the likes of US First Lady Jacqueline Kennedy. On the screen and in magazines, meanwhile, Jeanne Moreau, Brigitte Bardot and Mia Farrow telegraphed his talents to a mainstream pop audience.
It was Cardin's early tutelage in traditional tailoring that allowed him to deftly deconstruct conventions in the futuristic designs that became his trademark. By the late 1950s, he had created his first menswear collection, later designing an iconic collection of collarless suits for The Beatles.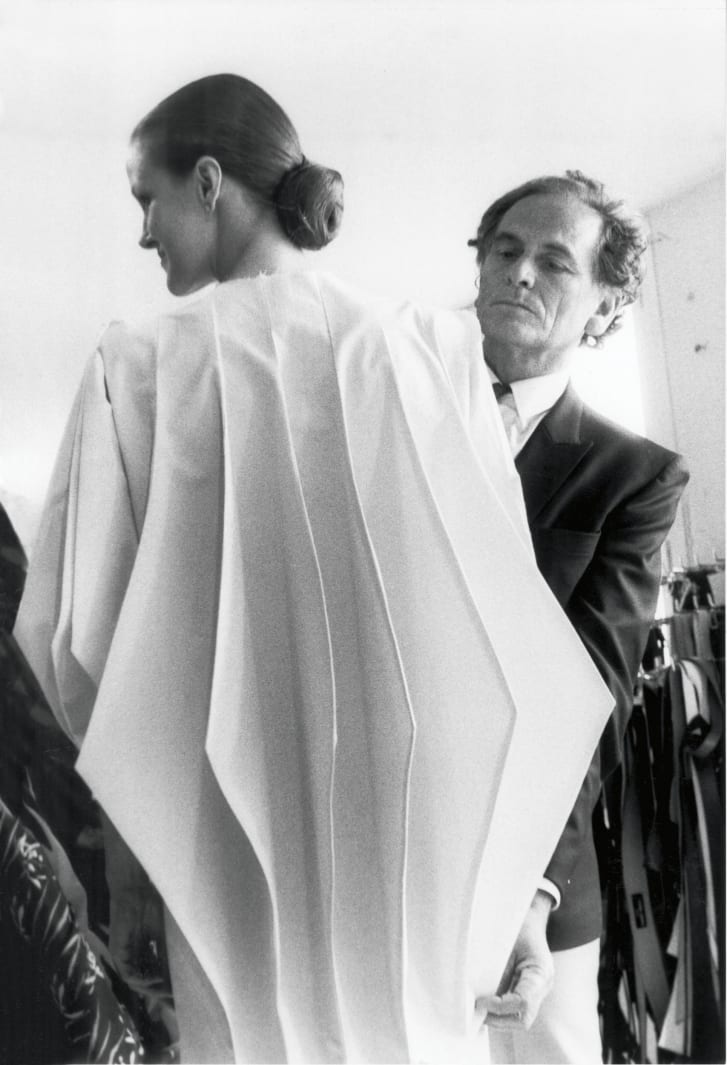 The 1964 launch of Cardin's Cosmocorps collection, complete with brightly colored jumpsuits and unitards, went on to inspire the unisex uniforms of the "Star Trek" crew. His distinctive aesthetic was even aped the animated television show "The Jetsons," when the family matriarch, Judy, sports a fabulous "Pierre Martian original" complete with soaring collar and illuminating bodice — a feature that would indeed make its way into Cardin's designs by 1968, with his battery-powered "robe electronique."
"Pierre had started following the whole space race from the 1950s onward, and it really coincided with the development of his career," said Matthew Yokobosky, curator of "Future Fashion," a new career retrospective focused on Cardin's couture pieces. "He'd been working on those silhouettes, creating these fantasies. Cardin is often talked about in the same breath as André Courrèges, Emanuel Ungaro (and) Paco Rabanne, but had these huge breakout moments where his work really defined a sense that stood apart from everything else."
Featuring over 170 works, the show opens this weekend at the 
Brooklyn Museum
. It has been timed to coincide with the 50th anniversary of the Apollo 11 moon landing — an event that directly shaped Cardin's work.
"He went to NASA's Houston headquarters in 1969, right after they had landed and returned from the moon, so it wasn't this fantasy anymore," said Yokobosky. "He tried on Neil Armstrong's spacesuit, (he was) one of the few civilians to ever do so."
Even at the age of 97, Cardin's gaze remains fixed on the future: "In 2069, we will all walk on the moon or Mars wearing 'Cosmocorps' ensembles," he predicts. "Women will wear Plexiglas cloche hats and tube clothing, men will wear elliptical pants and kinetic tunics."
At the time, Cardin's mid-century visions presented a decidedly optimistic future defined by the possibility of progress, experimentation and exploration. Viewed today, his work offers a wonderfully peculiar portrait of the unknown and a welcome analgesic to the current climate of fear.
"What people thought the future looked like in the '60s is not what we think the future is going to look like today, because it's a different society, but he made a step forward," said Yokobosky. "We may not all be wearing (his visions) today, but Cardin was radical, and bold enough to make people take risks and wonder: What else could there be in the future?"
https://edition.cnn.com/style/article/pierre-cardin-future-fashion/index.html
Exercise, sleep, screens: New guidelines for children under 5
For the greatest health benefits, how much play time, screen time and sleep should your baby or young child have in a given day? The World Health Organization has some answers.
On Wednesday, the 
United Nations' public health agency
released its first guidelines on physical activity, sedentary behavior and sleep for children under 5. The guidelines varied by age group: infants younger than 1, children 1 to 2, and those 3 to 4.
"We haven't previously had recommendations for under 5," said Juana Willumsen, an expert in WHO's Department of the Prevention of Noncommunicable Diseases, who contributed to the development of the new guidelines.
The new guidelines for younger children are based on a systematic review of scientific evidence in published studies regarding the health benefits of physical activity, sleep and limiting time spent staring at screens among infants and young children.
"A panel of experts looks at the evidence and proposes recommendations," Willumsen said.
"We felt it was really important to bring the new evidence together and produce these guidelines to help policymakers, people who are establishing policies for early child care or who are advising parents and caregivers," she said. "We see that childhood obesity rates are rising dramatically, and it's ever more evident that prevention needs to start early."
The new guidelines note that improving physical activity and sleep among young children while limiting sedentary behaviors is associated with reduced adiposity, or body fat.
Overweight and 
obese children
 are likely to remain overweight and obese into adulthood, which puts them at risk of developing noncommunicable diseases such as diabetes and cardiovascular diseases, according to WHO.
If your child is less than a year old
For infants younger than 1, WHO recommends that they be physically active several times a day in a variety of ways, with floor-based play and at least 30 minutes of tummy time.
The guidelines also recommend that infants not to be restrained — such as in a stroller, in a high chair or on a caregiver's back — for more than an hour at a time.
When an infant happens to be spending too much time seated, WHO recommends engaging in reading or storytelling with a caregiver — and screen time is not recommended for this age group.
In these guidelines, 
screen time
 refers to passively watching entertainment on a screen, such as on a television, computer or mobile device.
WHO also recommends that infants 3 months or younger to get 14 to 17 hours of quality sleep a day, including naps. Those aged 4 to 11 months should get 12 to 16 hours.
If your child is 1 to 2 years old
Children aged 1 to 2 also should get plenty of quality sleep every day: between 11 and 14 hours, including naps, according to the guidelines.
The guidelines also recommend that these children spend at least 180 minutes a day in a variety of physical activities.
"Physical activity has the greatest impact, and the recommendation for 180 minutes of physical activity for children over 1 of year of age is really a return to active play. We're not recommending structured exercise," Willumsen said.
"It's really about ensuring that children have that opportunity for active play," she said. "It's the way that children learn."
Children in this age group should not be restrained for more than an hour at a time, according to the guidelines. Screen time is not recommended for 1-year-olds, and the guidelines recommend that it be limited to one hour a day for 2-year-olds.
If your child is 3 to 4 years old
Screen time should be limited to one hour a day for 3- to 4-year-olds as well, according to the guidelines.
WHO also recommends that these children get 10 to 13 hours of quality sleep each day, which may include a nap.
The guidelines recommend for children in this age group to spend at least 180 minutes a day in a variety of physical activities, with at least 60 of those minutes involving moderate- to vigorous-intensity physical activities such as games outdoors that require frequent running or jumping.
How to turn these recommendations into reality
The new guidelines are "straightforward" and "give parents some parameters to follow when it comes to sleep, physical activity and limiting screen time," said Dr. Jennifer Shu, an 
Atlanta-based pediatrician
 and spokeswoman for the American Academy of Pediatrics, who was not involved in the WHO guidelines.
The guidelines are comparable to recommendations from the 
American Academy of Pediatrics
. For example, the academy similarly recommends to avoid digital media use for children younger than 24 months and to limit screen time to an hour a day for children 2 to 5.
"Too often, I see tired, overscheduled kids who eat on the run during the week and become sedentary on weekends because they are exhausted. These guidelines are a good reminder of how to stay healthy for the long term," said Shu, co-author of the book "Heading Home With Your Newborn: From Birth to Reality."
"Keep these guidelines in mind when planning your child's daily routine. Make sleep and physical activity a priority," she said. "By working on those aspects first, screen time and sedentary behaviors should naturally stay fairly low."
https://edition.cnn.com/2019/04/24/health/child-recommendations-exercise-sleep-screens-who-study-intl/index.html
5 Great Achievers' Paths to Purpose
Lately I can't throw a rock without hitting someone who is absolutely crushing it.
This morning over my wife's shoulder, I watched part of Mel Robbins' Mindset Reset program, along with a quarter of a million other viewers. I hear she just landed her own TV show.
Over coffee, I opened up SUCCESS magazine and learned about David Beyer, the mindset coach. Wow, this guy knows what he's talking about; it's obvious he's found his life's mission.
Later, I dive into my YouTube feed for a quick diversion, but it, too, seems to want me to feel inadequate. I watch Elise Truow play licks on seven instruments and use a looper to create amazing music, live. Jim Gaffigan, at the top of his comedy game, makes spit cereal.
Everywhere I turn, I see someone who's living his or her highest purpose.
Sure, it's inspiring. And it thoroughly annoys the small and petty part of myself. What about me?
Full disclosure: I haven't found my purpose yet. Telling you this makes me feel like I've just walked into a funeral completely naked.
Thankfully, I have a solid idea that, whatever it turns out that I was placed on this earth to do, it will involve writing, serving others and building businesses. But I haven't quite found "it," and it hurts to be 37 and still asking, "How do I just find my freakin' calling already?"
Clues to Your Calling
My existential angst has driven me to insane lengths to find my purpose. Do you know anyone who's completed the What Color Is Your Parachute? program, in full, three times? Now you do.
Today as I write this, it's a national holiday, but instead of relaxing I'm up early to spend the day reviewing the past the months of my life, and to plan the next three, something I've done every quarter without fail since January 1, 2012. These are the habits of a crazy person, folks. And I don't care! I'm determined to uncover my hidden, secret mission.
As someone who's studied every angle of purpose, I can finally share with you the key to finding yours. Are you ready? Here it is:
There is no one path to purpose.
Every great achiever creates their own, and it looks unlike anyone else's. If there is one thing that's shared by top performers who are living their calling, it's this: They did it their own way and they were willing to do the work to create their best life.
Here are five incredible achiever origin stories that will prove to you that there's no formula. You must do it your way.
1. Jacinda Ardern, Prime Minister of New Zealand
Since October 2017, at 37 years old, she's been the world's youngest female head of state and the fifth youngest overall. She's enjoyed an astronomical 76% approval rating at home and accolades abroad for leading her country through a terrorist attack, and setting a global example on national security, mental health and indigenous relations.
Oh, and did I mention she had a baby and took maternity leave while in office? Talk about a leap forward for the status of women in the workplace.
Her Unusual Path to Purpose
Raised a Mormon in a small town best known for it's Maori gang activity, among children with no shoes and nothing to eat for lunch, she started her political career right out of university, working for both New Zealand Prime Minister Helen Clark and British PM Tony Blair.
Her path is unusual for being so straightforward: She knew from a young age that her destiny lay in politics. Still, a large dose of luck brought her to where she is: Her party came second in the 2017 election, but with the help of the third party, formed a coalition government and she fell into the job.
2. Charles Bukowski, Author and Carouser
Dubbed by Time magazine the "Laureate of American Lowlife," he was not exactly a fine example of a life well lived, but he sure did find his calling as a writer. When he wasn't passed out in a gutter, Bukowski found time to pen thousands of poems, hundreds of short stories, six novels and more than 60 books over six decades.
In his lifetime and after his death, he was immortalized in the American psyche and the world's. His life was portrayed in two films by both Mickey Rourke and Matt Dillon, and reference to his work appears in dozens of other movies, TV shows and music—Sean Penn and U2 have dedicated work to him.
His Unusual Path to Purpose
As a German immigrant child in the '20s and '30s, he was tormented by classmates, beat by his oft-unemployed father and lived in poverty. His illustrious career started in a pickle factory and ended with more than a decade as a grunt in the US Postal Service.
His life philosophy is etched into his tombstone: "Don't Try." Here's a guy whose path couldn't be more filled with potholes, but he pursued his writing despite the tribulations, and nobody can deny that he found what he was put on this earth to do.
3. David Goggins, Navy SEAL and Ultramarathon Champion
He's been branded the Toughest Man Alive and has the record to prove it. As a Navy SEAL he's one of a handful of humans to survive "Hell Week," but this maniac did it three times. He also graduated from Army Ranger School and served in both Iraq and Afghanistan.
Despite his service record, he's better known for his feats of fitness. He's completed almost 50 ultramarathons, placing first eight times. What's an ultramarathon, you ask? That's when crazy people get together to run between 30 and 150 miles, sometimes for 24 hours straight. Crazy. Did I mention that Goggins held the world record for pull-ups for a while? 4,030 of them in 17 hours.
His Unusual Path to Purpose
No wonder this man is tough; he was born into a brutal life. His tyrant father had him working in the family roller disco from age 6, beating him and his mom and brother until they fled to a small Indiana town. Being the only black kid in Hickville, poor as dirt, David developed a stutter and his hair started falling out from toxic stress. He cheated his way through school and by his teen years could barely read.
In the late '90s, Goggins was an obese 300 pounds, exterminating cockroaches for a living. But he fixed his sights on becoming a SEAL and worked out with such violence that he lost 106 pounds in three months, and his life has become legend. Today he's a motivational speaker and his book a best-seller.
4. Jane Jacobs, Activist and Urban Planner
One of history's greatest urban planners had no formal training, but she saw the madness in building expressways instead of neighbourhoods, and through her activism, changed the way we build cities.
Her agitating attracted support from the Rockefeller Foundation that embarrassed the 1950s urban planning boys club. Her 1961 epic The Death and Life of American Cities remains some of the most influential required reading for urban planning students. Though she died in 2006, her name is still used as a rallying cry for people-first development.
Her Unusual Path to Purpose
In college, she studied geology, zoology, law, political science and economics, and dropped out without a degree or any kind of formal training in urban planning. She started her career as an unpaid assistant at a newspaper, then became a stenographer and found her stride as a freelance writer.
Following her passion into urban planning, she faced scorn from the male-dominated field, was labeled a housewife and called out for having no formal education. "Who is this crazy dame?!" the publisher of Fortune magazine asked, over her criticism of a popular urban renewal project.
5. Michael Singer, CEO
Of these five purpose stories, Michael's is the most fascinating, and the best example of how finding your purpose is often more dumb luck than perfect plan. Man plans, God laughs, as they say.
Michael had a plan, and it was to hide out on his land in the forests of Alachua, Florida, and just bliss out, meditating every day. Then a woman came around and built a house next door, and that was the start of a spiritual meditation community that's still thriving today. In the process of building a temple, people noticed that Mike was a builder, and boom, his construction company was born.
One day at Radio Shack, he fell in love with the TRS-80 computer, and he taught himself how to program. So well, in fact, that he created a piece of software called the Medical Manager to digitize medical records, which is now housed in the Smithsonian as software of national significance.
His company merged with WebMD, and he became the CEO of that billion-dollar company. Singer's calling was undoubtedly to lead businesses. The Surrender Experiment is well worth the read if you're feeling stuck.
His Unusual Path to Purpose
You can see how disjointed and random his path was, but what's most fascinating is that he never set out to achieve any of his success. In fact, early in his life he made a decision reminiscent of Bukowski's mantra, "Don't Try."
He reasoned that some unknowable force has kept the universe in perfect order for 14 billion years, and although he had desires and preferences, who was he to believe that his wants should be prioritized over this universal intelligence? He made a radical decision to surrender to it and simply do whatever work life placed in front of him.
It led him directly into his calling and to the heights of success.
Great stories, Mike, but how do they help me find my purpose?
There's a literary magazine called The Paris Review that since 1953 has been interviewing top authors about their processes. I was surprised to read that none had a writing routine like the next. Some had to drink first, some had to sit in an office, some to surf news sites.
When I was starting out as a writer, it helped me a great deal to know that there's no one formula for great work, but that you create your own.
I've come to see that it's the same with our calling. Your path to purpose won't look like anyone else's.
So stop comparing yourself.
Just Try.
https://www.success.com/path-to-purpose/
Best summer trends 2019
From '80s florals and bucket hats to the little white dress and the little white top.
Nothing says summer quite like barely there sandals, the ideal little white dress, Bardot-ready tops, floral dresses, and of course, bucket hats. See what to buy now to look so perfectly summer 2019.
Free Peoplefreepeople.com
$6.00
This genius hybrid is both a bow and a scrunchie—perfect for that easy Parisian moment you've been waiting for.
Lack of Colormodaoperandi.com
$75,00
It's somehow both current and retro, and does an excellent job at protecting you from the sun.
Silvia Tcherassinet-a-porter.com
$490.00
Wear it with white slides during the day and swap for block heels at night.
Theorynet-a-porter.com
$345.00
Wear these with a silk button-down to the office and over a simple maillot on the weekends.
Atticonet-a-porter.com
$660,00
This dress is just straight-up cute and will definitely help you stand out against the after-dark crowd at the beach.
Les Rêveriesnet-a-porter.com
$550.00
This modern iteration on the Laura Ashley style would look just as pretty and feminine with strappy low-heeled sandals as it would with knee-high boots.
STAUDnet-a-porter.com
$325.00
These shoes can pair with anything from shorts to slip dresses, and denim to minis.
The Rownet-a-porter.com
$790.00
These barely there babies are ultra-flattering and pretty enough to put on display.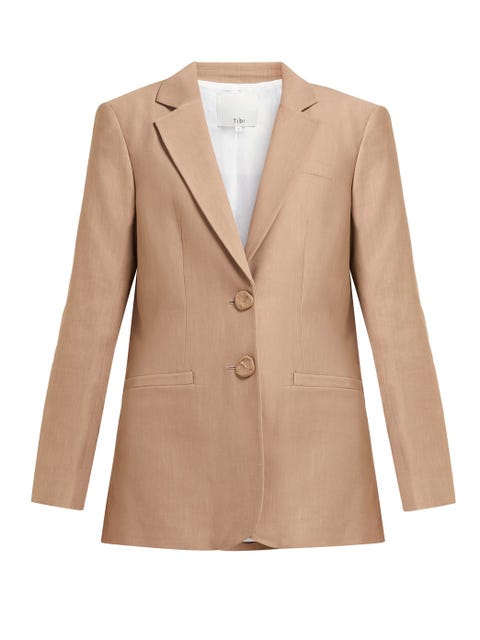 Swap your work pumps for sexy barely-there sandals to take this look from work into the weekend.
Tibi jacket,949,andcoordinatingpants,$569,matchesfashion.com .
Mara Hoffmannet-a-porter.com
$325.00
Nothing says summer quite like a pretty white blouse paired with vintage jeans or a maxi skirt after dark.
Ganniharpersbazaar.com
$475.00
Wear alone when the weather calls for it, and layer a light knit underneath come fall.
LoveShackFancymodaoperandi.com
$795,00
This pretty piece is fit for weekends at the beach and a summer wedding.
Cult Gaiabrownsfashion.com
$503,00
Does it get more summer-ready than a fresh-to-death white dress?
https://www.harpersbazaar.com/fashion/g27044011/top-summer-2019-fashion-trends/
Summer fish tacos
Fish tacos – consisting of fish, lettuce, salsa and sometimes a slaw or creamy dressing – are known to have originated in the across-the-border state of Baja California.
The popular dish migrated northward and is now prevalent in restaurants and on the street throughout Southern California; a favorite amongst surfers for its affordability and ease. Aida Mollenkamp's are authentically deep fried, flaked and served with avocado, salsa and sour cream.
1 1/2 pounds mahi-mahi filets
1/4 cup dry white wine
2 tablespoons lime juice
1 teaspoon minced garlic
1 tablespoon vegetable oil
1 lime, quartered
12 small corn tortillas, warmed
Romaine or Iceberg lettuce, shredded, for garnish
Pico de Gallo salsa, for garnish
1 avocado, pitted and cut into thin slices, for garnish
Sour cream or crema, for garnish
Pat fish dry and combine in a nonreactive bowl with the white wine, lime juice and garlic. Set aside to marinate about 10 to 15 minutes.
When fish is ready, remove it from the marinade, pat dry, and season with salt and freshly ground black pepper.
Heat oil in a large nonstick frying pan over medium-high heat. When oil shimmers, place fish skin-side down in skillet. Cook until opaque and firm to touch, about 3 minutes per side.
Flake the fish, squeeze one of the lime wedges over the top, and toss to coat. To make a taco, stack 2 tortillas on top of each other and fill with fish, lettuce, salsa, a few avocado slices, and a dollop of sour cream. Repeat to make 6 tacos total.
https://www.foodnetwork.com/recipes/aida-mollenkamp/fish-tacos-recipe-1944281
Teaching kids to swim
Freestyle is the first swimming stroke most kids learn, but it is not always the easiest to teach.
Freestyle is the first swimming stroke your kids should learn, but it's not necessarily the easiest to teach. Also known as the "front crawl," freestyle often resembles a "doggy paddle" initially as kids struggle to execute the stroke's three components ⏤ arms, legs, and breathing ⏤ at the same time. Technically, it's the most efficient swimming stroke ⏤ or at least it will be ⏤ but it definitely won't look that way in the beginning.
A sustainable freestyle stroke is built on a foundation of comfort in the water and basic swimming skills, namely, floating and treading water. It's important that the child is familiar, if not proficient, with both. That said, if a child can kick their feet and is willing to let go of mom, dad, or the wall, they're ready to at least try. If they're a strong floater, all the better ⏤ shooting across the water's surface should be a relatively simple next step.
But how exactly do you teach a kid to swim freestyle? Here's our step-by-step guide.
Step 1: Kick the Legs
When most parents pop their infant into the pool for the first time, they almost always try to get the child to move their feet. There's a reason for that: Kicking is a natural place to begin teaching kids to swim. For an efficient freestyle stroke, you'll want your child to kick with straight legs and pointed toes.
Start by sitting your child on the pool's highest step. Help them extend their legs into the water while showing them how to point their toes like a ballerina. Now, holding just above their ankles, move their straight legs up and down in a scissor motion. After they see how it's done, allow them to practice on their own.
If the child can keep their legs fairly straight while sitting down, they're ready to try on their stomach. Have your kid get in the water and lie face down, with arms extended onto the steps and legs stretched behind them. Make sure the legs are straight and toes pointed, and again, move them up and down in the water by holding just above the ankles. Now let them try on their own. NOTE: If the pool doesn't have steps, the child should hold onto a ledge or your hands.
Once the child has mastered kicking on the steps, it's time to practice forward motion. Hold your child's hands just under the surface of the water, while they lie on their stomach, and have them kick their legs up and down. While stepping backward as they move forward, emphasize the need to limit their knee bend and keep the legs under the water's surface. The back of their toes may pop out making a bit of white water, but it's no big deal. Also, most kids will bend their arms and pull themselves closer to you. That's fine too. Although as they gain more confidence, encourage your swimmer to stretch their arms out like Super(wo)man. Walk around the pool at different speeds while they practice kicking.
The final kicking exercise: Have the child look at the bottom of the pool and blow bubbles as they kick. And similar to when learning to float, have them practice their bubble pattern ⏤ lifting their head up for a breath and returning their eyes to the bottom while they blow more bubbles.
Step 2: Move Those Arms
When it comes to the freestyle arm motion, you want their fingers closed, not sprawled out like they're going to trace their hand, and their arms to pull water back towards their hips.
Start anywhere in the pool where the child can stand. As they walk around the pool, have them swing their arms in big circles. At this point, they're just trying to get a feel for pulling water and pushing their arm underwater before lifting it back out into the air.
Once those shoulders are warmed up, have the child lie down on their stomach in the water with their arms extended and hands on a step (similar to learning the front float.) Help them pull one arm underwater to their hip ⏤ instruct boys to reach to their shorts and girls to pull past their swimsuit bottoms. Then lift their straightened arm out of the water and put it back on the step where it started. Move one arm and then the other.
Much like with learning to kick, the next step is to hold the child's hands out in front of them while their body floats at the surface. Let go of one hand at a time as they practice circling their arm underwater to their hip and then back through the air into your hand. As the child gets comfortable with this motion, encourage them to multitask by kicking while they move their arms.
Next, hold your child's waist and walk beside them as they move their arms in circles and kick their legs up and down. Both arms should be moving continuously, rather than taking turns as they did when you were holding their hands.
Assuming they're able to keep their body at the surface and move both arms and legs in unison, it's time for some solo swimming. Back away from your child and have them jump off the bottom and swim towards you. They can also blast off of a step, or push off the wall ⏤ anything to give them a bit of momentum. Keep practicing and encouraging the child to take progressively more strokes before they need to stop. The biggest reason they'll need to put their feet down or be picked up will be to breathe.
Step 3: Now Breathe
Breathing is the hardest part of swimming any stroke, and prior to this point, most kids will usually stop and stand up when they need air. That's why lifting their heads to breathe will be a challenge for most kids at first. To help, you'll want to start by tilting their body upward.
Hold your child around the waist while they swim. Every 3 to 5 strokes say "breathe" and tilt your child so their head lifts out of the water. Let them take a breath before saying "swim" and putting their face back in the water.
Once the child knows how to lift their head, give them some of their independence back. Have them swim towards you but slide a hand under their stomach for support every few strokes as you say "breathe." Help hold your child at the surface while they take a breath, and then let go when they put their face back in.
Remind your child to keep kicking (or maybe kick even harder) while they breathe in order to keep their head above water. If breathing takes a long time, they may need to take some smaller "dog paddle" strokes while they breathe, to keep their body at the surface.
When they can catch their breath with minimal support, turn them loose. Just pay attention: some kids will lift their heads out of the water but forget to actually inhale. Continue giving verbal reminders to "breathe" and then "keep swimming" after each breath.
After they demonstrate several cycles of swimming, breathing, and returning to swimming, they're ready to learn to breathe on the side.
In a part of the pool where they can stand, direct the child to put their face in the water and look at the bottom of the pool. From there, they should turn their head to the side so that one eye is submerged while their mouth is out of the water. Have them practice blowing bubbles while looking at the bottom and taking a breath when their head is to the side.
At this point, they should try to breathe while swimming. One good pointer here is to have them rest their ear on the outstretched arm as they breathe. So if their right arm is outstretched, they should breathe to the left. (Their right eye/ear will stay partially submerged.) If they need more air, they can kick while floating on their side with their face rested on their arm. Then turn their eyes back to the bottom of the pool while their arms continue pulling.
Step 4: Practice Patience
Freestyle is not a "learn it in a day" stroke. It's not even a learn it in a summer stroke. It takes a lot of practice. Some kids will struggle with keeping their legs straight. Some may not get the breathing down. Still, others won't lift their arms above the water. Don't worry about their mistakes or apply too much pressure. In fact, if they've built strong, confident doggy paddle, let them use it ⏤ you can work in some freestyle practice here and there. It's more important that they feel good about having a way to cruise around the pool, and that they can play and enjoy the water.
https://www.fatherly.com/play/how-to-teach-kids-swim-freestyle-stroke/
How to Boost your self-confidence
"Low self-esteem is like driving through life with your hand brake on." — Maxwell Maltz
Nobody is born with limitless self-confidence. If someone seems to have incredible self-confidence, it's because he or she has worked on building it for years. Self-confidence is something that you learn to build up because the challenging world of business, and life in general, can deflate it.
An online negative review, a request for a refund from a customer or a flat rejection from investors can cause our self-confidence to dwindle. Well-meaning but sometimes unkind comments from those closest to us can also hit us hard.
On top of this, we have to deal with our inner critic of self-doubt that constantly tells us that we are not good enough. When bombarded by so many elements that threaten our self-confidence, we need to take charge of building it up for ourselves.
As we teach at Skill Incubator, building a successful business requires a thick skin and unshakable confidence in your ability to overcome obstacles. Here are 10 things you can do to build up your self-confidence.
1. Visualize yourself as you want to be.
"What the mind can conceive and believe it can achieve." — Napoleon Hill
Visualization is the technique of seeing an image of yourself that you are proud of, in your own mind. When we struggle with low self-confidence, we have a poor perception of ourselves that is often inaccurate. Practice visualizing a fantastic version of yourself, achieving your goals.
2. Affirm yourself.
"Affirmations are a powerful tool to deliberately install desired beliefs about yourself." — Nikki Carnevale 
We tend to behave in accordance with our own self-image. The trick to making lasting change is to change how you view yourself.
Affirmations are positive and uplifting statements that we say to ourselves. These are normally more effective if said out loud so that you can hear yourself say it. We tend to believe whatever we tell ourselves constantly. For example, if you hate your own physical appearance, practice saying something that you appreciate or like about yourself when you next look in the mirror.
To get your brain to accept your positive statements more quickly, phrase your affirmations as questions such as, "Why am I so good at making deals?" instead of "I am so good at making deals." Our brains are biologically wired to seek answers to questions, without analyzing whether the question is valid or not.
3. Do one thing that scares you every day.
"If you are insecure, guess what? The rest of the world is too. Do not overestimate the competition and underestimate yourself. You are better than you think." — T. Harv Eker
The best way to overcome fear is to face it head-on. By doing something that scares you every day and gaining confidence from every experience, you will see your self-confidence soar. So get out of your comfort zone and face your fears!
4. Question your inner critic.
"You have been criticizing yourself for years, and it hasn't worked. Try approving of yourself and see what happens." — Louise L. Hay
Some of the harshest comments that we get come from ourselves, via the "voice of the inner critic." If you struggle with low self-confidence, there is a possibility that your inner critic has become overactive and inaccurate.
Strategies such as cognitive behavioral therapy help you to question your inner critic, and look for evidence to support or deny the things that your inner critic is saying to you. For example, if you think that you are a failure, ask yourself, "What evidence is there to support the thought that I am a failure?" and "What evidence is there that doesn't support the thought that I am a failure?"
Find opportunities to congratulate, compliment and reward yourself, even for the smallest successes. As Mark Twain said, "[A] man cannot be comfortable without his own approval."
5. Take the 100 days of rejection challenge.
"No one can make you feel inferior without your consent." — Eleanor Roosevelt
Jia Jiang has become famous for recording his experience of "busting fear" by purposefully making crazy requests of people in order to be rejected over 100 days. His purpose was to desensitize himself to rejection, after he became more upset than he expected over rejection from a potential investor. Busting fear isn't easy to do, but if you want to have fun while building up your self-confidence, this is a powerful way to do it.
6. Set yourself up to win.
"To establish true self-confidence, we must concentrate on our successes and forget about the failures and the negatives in our lives." — Denis Waitley
Too many people are discouraged about their abilities because they set themselves goals that are too difficult to achieve. Start by setting yourself small goals that you can win easily.
Once you have built a stream of successes that make you feel good about yourself, you can then move on to harder goals. Make sure that you also keep a list of all your achievements, both large and small, to remind yourself of the times that you have done well.
Instead of focusing only on "to-do" lists, I like to spend time reflecting on "did-it" lists. Reflecting on the major milestones, projects and goals you've achieved is a great way to reinforce confidence in your skills.
7. Help someone else.
Helping someone else often enables us to forget about ourselves and to feel grateful for what we have. It also feels good when you are able to make a difference for someone else.
Instead of focusing on your own weaknesses, volunteer to mentor, assist or teach another, and you'll see your self-confidence grow automatically in the process.
8. Care for yourself.
"Self-care is never a selfish act — it is simply good stewardship of the only gift I have, the gift I was put on earth to offer to others." — Parker Palmer
Self-confidence depends on a combination of good physical health, emotional health and social health. It is hard to feel good about yourself if you hate your physique or constantly have low energy.
Make time to cultivate great exercise, eating and sleep habits. In addition, dress the way you want to feel. You have heard the saying that "clothes make the man." Build your self-confidence by making the effort to look after your own needs.
9. Create personal boundaries.
"Never be bullied into silence. Never allow yourself to be made a victim. Accept no one's definition of your life, but define yourself."– Harvey Fierstein
Learn to say no. Teach others to respect your personal boundaries. If necessary, take classes on how to be more assertive and learn to ask for what you want. The more control and say that you have over your own life, the greater will be your self-confidence.
10. Shift to an equality mentality.
"Wanting to be someone else is a waste of the person you are." — Marilyn Monroe
People with low self-confidence see others as better or more deserving than themselves. Instead of carrying this perception, see yourself as being equal to everyone. They are no better or more deserving than you. Make a mental shift to an equality mentality and you will automatically see an improvement in your self-confidence.
https://www.entrepreneur.com/article/281874
Gluten-free pancakes
Use specialist flour in these quick and easy crepes and safely cater for those on a gluten-free diet.
Ingredients
125 g gluten-free plain flour
1 egg
250 ml milk
butter, for frying
Method
Put the flour in a bowl and make a well in the centre. Crack the egg in the middle and pour in a quarter of the milk. Use an electric or balloon whisk to thoroughly combine the mixture. Once you have a paste, mix in another quarter and once lump free, mix in the remaining milk. Leave to rest for 20 mins. Stir again before using.
Heat a small non-stick frying pan with a knob of butter. When the butter starts to foam, pour a small amount of the mixture into the pan and swirl around to coat the base – you want a thin layer. Cook for a few mins until golden brown on the bottom, then turn over and cook until golden on the the other side. Repeat until you have used all the mixture, stirring the mixture between pancakes and adding more butter for frying as necessary.
Serve with agave syrup and a squeeze of orange juice or your pancake filling of choice.
Haute Couture Jewelry Report: A New Generation Alights
In the wake of big anniversary celebrations at heritage houses like Boucheron, De Beers, and Cartier, this year marks yet more milestones in the world of high jewelry, with Buccellati fêting its 100th birthday and Piaget its 145th.
Even so, all eyes were on the newcomer to the Place Vendôme: Gucci stepped into the arena with (what else?) a spirited mash-up of styles and stones. Elsewhere, Louis Vuitton staged a comeback of sorts, and a scattering of indies held small but strong showings. The major takeaways: desert-inspired colors, a lashing of humble minerals not ordinarily associated with high jewelry, and a renaissance for the pear cut. Here, some of the season's major statements.
Gucci
The house's first-ever high jewelry collection is called Hortus Deliciarum—a Garden of Delights—after a 12th-century illuminated manuscript. Still, the 200-piece showing was above all an of-this-moment salute to magpie maximalism, neatly reprising Alessandro Michele's signatures in stones assembled in a riot of flora, fauna, and classic symbols of love like Cupid's arrow.
Cartier
Cartier staged a mash-up of its own, pairing diamonds and emeralds with rutilated quartz, sapphires, opals, pink diamonds, and morganite. Here: the Magnitude necklace with 107-plus carats of Mozambique ruby beads mixed with cabochon rubies, watercolor tourmalines, turquoise amazonites, onyx, and diamonds.
Boucheron
The first house to set up on the Place Vendôme used its perch in its newly revamped flagship to offer a collection called Paris As Seen From #26. Several pieces saluted the shape of the Place itself, including the Duo ring with two emerald-cut beryls weighing over 31 carats each, diamond pavé, and black lacquer.
Ana Khouri
Reconnecting with nature and tapping into its mystery was an oft-cited inspiration on the runway. A sculptor by training, the indie designer Ana Khouri weighed in on the "interconnectedness of things" with these responsibly sourced, fair-trade diamond and pear-cut emerald creeper earrings: "My work is a way for me to communicate harmony, knowing my place in the world and being present to that," she said.
De Beers
A collection called Portraits of Nature was the largest De Beers has shown to date, and it centered on a play of color and texture. As its name suggests, the Knysna Chameleon necklace is a shade-shifter: The double row of tonal rough diamonds around the white baguette diamond necklace can be removed, as can the tassel with a five-carat pear-cut diamond drop.
Dauphin
Charlotte Dauphin de la Rochefoucauld is celebrating her house's fifth anniversary by revisiting the classics, venturing into emeralds, and keeping it personal. "I was thinking about pieces that have many lives, that you pass from one generation to the next," she told Vogue about the collection she presented in her family's hôtel particulier. Though generally at home with rigorous lines, the designer paired those with diamond parabolas on the earrings shown exclusively here.
Buccellati
The Italian house celebrated its centenary with new takes on house signatures including the Gotico cuff—a tribute to the rosettes found in Gothic cathedrals, in white and yellow gold with 249 diamonds—and the Cnosso pendant, a labyrinthine motif with, at its center, a diamond in the newly developed "Buccellati cut," which, like the modern round brilliant diamond, has 57 facets.
Messika
The contemporary fine jewelry brand Messika presented a sophomore outing called Born to be Wild—an anything-but-tame lineup primarily in white and yellow diamonds. One statement maker: the Fire Diamonds ear cuff with eight fancy yellow cushion-cut diamonds.
Louis Vuitton
Finally, after two seasons of suspense, Louis Vuitton revealed the first high jewelry collection by Francesca Amfitheatrof, its new artistic director for jewelry and watches. The Riders of the Knights collection looked to medieval times, mining its heraldry, characters, and codes for modern-day "armor."
Anna Hu
A classical cellist turned jewelry designer, Anna Hu unveiled a collection called Silk Road Music, which features a transformable necklace with a whopping 100-carat fancy yellow diamond, one of the largest diamonds in the world. Her Rachmaninov bracelet, shown here, features diamonds, sapphires, tourmalines, garnets, tsavorites, spinel, and ruby in some 20 iterations—for a total of 1,361 stones in all.
Piaget
For its 145th anniversary, Piaget presented the desert-inspired Golden Oasis collection headlined by the Golden Hour necklace, which is set with a 6.63-carat fancy vivid yellow diamond surrounded by 102 marquise-cut yellow and white diamonds and a further 139 brilliant-cut diamonds.
Van Cleef & Arpels
Benjamin Millepied's contemporary adaptation of Romeo and Juliet was the cue for a jewelry collection that, in addition to the figurative pieces for which the house is renowned, nods to other influences, Picasso among them. The Lovers' Path bracelet is anchored by three very rare Colombian emeralds, and the Kiss on the Balcony earrings star rubies and diamonds, plus removable pendants.
https://www.vogue.com/article/haute-couture-fall-2019-jewelry-report