Grilled Hanger Steak with Stuffed Squash Blossoms & Crispy Onions
Hanger steak is inherently tender and has great flavor.
Here it's grilled and paired with a side of stuffed squash blossoms that are baked rather than getting the more typical battered-and-fried treatment.
Ingredients:
1 cup chopped fresh parsley

4 tablespoons extra-virgin olive oil, divided

½ teaspoon grated lemon zest

1½ teaspoons lemon juice

1 small clove garlic, grated

½ teaspoon anchovy paste

⅛ teaspoon crushed red pepper

½ teaspoon kosher salt

½ teaspoon ground pepper, divided

¼ cup toasted fresh breadcrumbs

2 medium zucchini (about 12 ounces total), shredded

1 tablespoon butter

2 shallots, minced

¼ cup crème fraîche

1 teaspoon chopped fresh tarragon

Pinch of cayenne pepper

12 squash blossoms

1 pound hanger or flank steak, trimmed

¼ cup store-bought crispy onions
Preparation
Royal Ascot: How dress codes and fashion evolved from the 1700s to now
Royal Ascot is one of the world's most prestigious horse races and a highlight of the British summer social season. Each June, more than 300,000 visitors travel to the five-day event — among them Queen Elizabeth and other members of the royal family, including Prince Charles, the Duke and Duchess of Cambridge and the Duke and Duchess of Sussex.
According to Elisabeth Murray, a fashion and textiles curator at the Victoria and Albert Museum in London, it's the royal presence that sets the tone for Ascot's famously strict standard of dress. (Think long skirts for women and waistcoats for men.) Guests of the Royal Enclosure, where the most formal dress is required, as well as more flexible areas, don their best "in respect of the event and its history," she explained in an email.
https://edition.cnn.com/style/article/royal-ascot-fashion-dress-code-history/index.html
The real reason you aren't getting promoted at work
"Do your job as well as you possibly can, and once every three months surprise us with something extra," he said. "It's when you exceed our expectations that you will have the opportunity to get a bigger role."
https://edition.cnn.com/2019/06/05/success/why-not-getting-promoted/index.html
Really Green Smoothie
The combination of kale and avocado makes this healthy smoothie recipe extra green. Chia seeds lend this creamy smoothie a heart-healthy punch of fiber and omega-3 fatty acids.
Ingredients
1 large ripe banana

1 cup packed baby kale or coarsely chopped mature kale

1 cup unsweetened vanilla almond milk

¼ ripe avocado

1 tablespoon chia seeds

2 teaspoons honey

1 cup ice cubes
Preparation
Combine banana, kale, almond milk, avocado, chia seeds and honey in a blender. Blend on high until creamy and smooth. Add ice and blend until smooth.
When your child vapes, what's a parent to do?
"He honestly didn't think that there was anything wrong," Kennedy said. "He told me that almost all the grade-sevens were doing it."
And she soon realized that the trend had reached many more kids in her orbit: Kennedy, who owns a dance studio in Northern California, found that most of her dancers had tried vaping, too. She learned that kids were vaping at school, taking puffs inside their shirts and in some cases charging their e-cigarettes in their teacher's own computer, she said.
Meanwhile, many parents seemed oblivious.
"It's a bad habit that I started realizing parents didn't know about," she said.
https://edition.cnn.com/2019/01/11/health/parents-kids-vaping-ecigarettes/index.html
CFDA Fashion Awards 2019: Jennifer Lopez and Barbie among winners
The pair were among a host of figures recognized by the Council of Fashion Designers of America (CFDA) at its annual awards, often known the "Oscars of the fashion world."
"I loved fashion since I was little girl, growing up in the Bronx and to be here and among all these designers and to be honored is just a dream," the singer and actress said on the red carpet, adding: "I'm wearing Ralph Lauren, a fellow Bronx native."
In a somewhat unusual turn, the Mattel doll Barbie received the CFDA's Board of Directors' Tribute Award for her influence on fashion — as well as her esteemed designer collaborations — over the last 60 years. Model and actor Yara Shahidi presented the award, with Barbie's official Instagram account posting a picture of the doll in a custom look by Diane von Furstenberg.
Von Furstenberg, chair of the CFDA, also made a splash at the awards by carrying a fake torch down the red carpet. The designer told guests that her dramatic entrance signified the passing of her duties to Tom Ford, who now takes over as organization's chair.
"I'm very excited to speak to the group and to try to inspire them to think about positive change," she told CNN, before taking her seat at the ceremony. "It's so needed."
Designer Brandon Maxwell took home one of the most coveted prizes of the night, being named womenswear designer of the year. The Texas native, who made headlines with Lady Gaga's show-stopping Met Gala outfits last month, has become a fixture on the New York fashion scene since launching his neatly tailored and feminine line in 2015.
A total of 11 awards were presented at the ceremony Monday night. Other winners included Mary-Kate and Ashley Olsen, who won a fifth CFDA Fashion Award in recent years for their brand, The Row. Emily Adams Bode was named emerging designer of the year, while Sarah Burton of Alexander McQueen was honored with the Valentino Garavani and Giancarlo Giammetti International Award.
And plenty of other fashion figures turned up to wow the red carpet. Gigi Hadid arrived in a gray Louis Vuitton suit with a pleated skirt alongside the brand's artistic director and award nominee Virgil Abloh. Ciara was among the last to arrive, wearing a black silk off-the-shoulder gown, with metallic embroidery, by Vera Wang.
"For me, it felt like life was coming full circle," she told CNN. "What launched my career was wearing the burkini, so then to shoot for (Sports Illustrated) and shatter so many perceptions and to be alongside women, who wear very little or nothing at all, felt just so incredible."
https://edition.cnn.com/style/article/cfda-fashion-awards-2019/index.html
Is $2 million enough to feel wealthy?
But that wouldn't be enough for some people. And for others, wealth isn't a financial concept at all.
https://edition.cnn.com/2019/05/31/success/feel-wealthy/index.html
Strawberry-Lemon Thyme Soup
Sweet strawberries are paired with aromatic lemon thyme in this beautiful chilled soup recipe that's perfect for special occasions.
Ingredients:
3 cups sliced fresh strawberries

1 cup lowfat buttermilk

2 teaspoons finely shredded lemon peel

1 teaspoon chopped fresh lemon thyme or thyme

2 tablespoons honey

2 tablespoons lowfat buttermilk (optional)

Lemon peel strips and/or fresh thyme sprigs (optional)
Preparation:
Combine strawberries and 1 cup buttermilk in a blender or food processor. Cover and blend or process until very smooth. Transfer to a medium bowl. Stir in shredded lemon peel and the chopped thyme. Cover and chill for 4 to 24 hours to blend flavors.

To serve, strain soup, discarding the shredded lemon peel and the chopped thyme. Stir in honey. Ladle chilled soup into small bowls. If desired, swirl 1½ teaspoons buttermilk into each serving and garnish with lemon peel strips and/or fresh thyme sprigs.
Why don't parents talk to their kids about money?
Pearl said she was caught off guard when her own son, now grown, asked her that question at the age of 8. "I was initially like, Ahhh. I write a lot about personal finance and I wasn't prepared for this question," she said during an interview.
She eventually answered her son's question, but focused on the expenses of the household to make the case that the amount she made covered most of their costs and that the money left over either went into the bank or could be used to pay for additional things they might want or need.
"I realized that if I told him that I made $1,000 a year, he would think that we were rich. How did he have any frame of reference?" said Pearl, who also made sure her son understood that this was private information that should not be shared with anyone else.
https://edition.cnn.com/2017/09/13/health/money-talking-to-kids-parenting/index.html
Why You Need To Invest In A City Sarong
The carefree beach wrap has had an uptown update: now, the sarong is meant to be lived in, all day and all night (and at the office, too).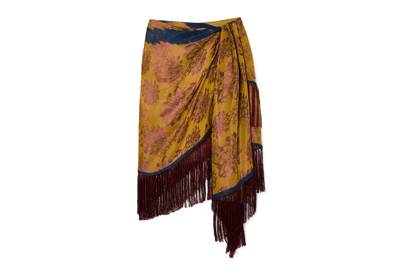 Oscar de la Renta
Wrap-effect fringed skirts, £3,155, at Net-A-Porter.com.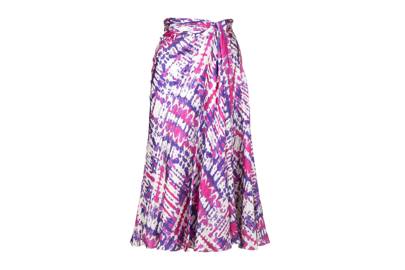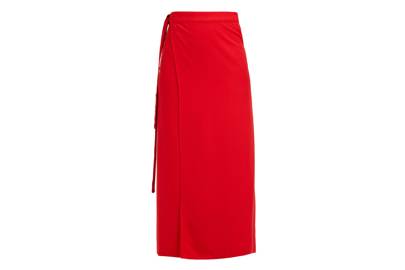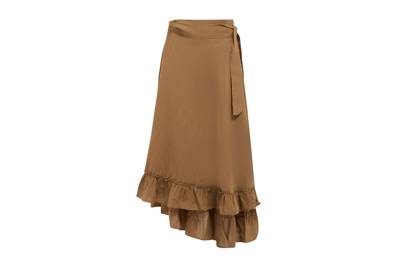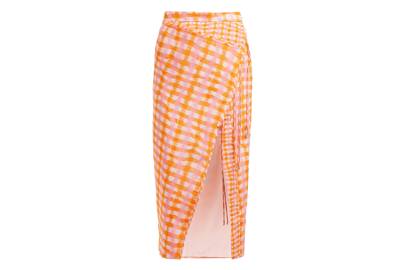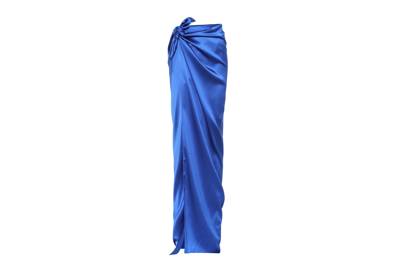 Balenciaga
Satin maxi skirt, £1,275, at Mytheresa.com.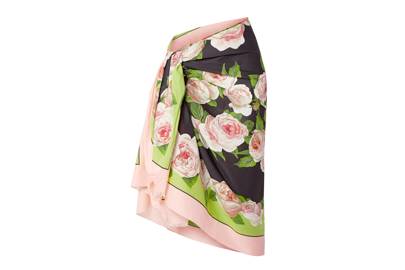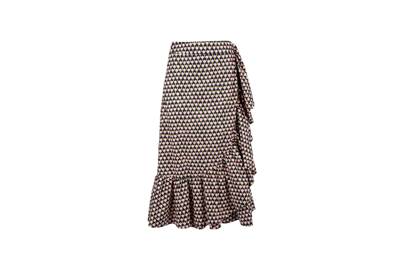 https://www.vogue.co.uk/gallery/how-to-wear-city-sarong-fashion-trend