Really Green Smoothie
The combination of kale and avocado makes this healthy smoothie recipe extra green. Chia seeds lend this creamy smoothie a heart-healthy punch of fiber and omega-3 fatty acids.
Ingredients
1 large ripe banana

1 cup packed baby kale or coarsely chopped mature kale

1 cup unsweetened vanilla almond milk

¼ ripe avocado

1 tablespoon chia seeds

2 teaspoons honey

1 cup ice cubes
Preparation
Combine banana, kale, almond milk, avocado, chia seeds and honey in a blender. Blend on high until creamy and smooth. Add ice and blend until smooth.
When your child vapes, what's a parent to do?
When Sonya Kennedy learned that her 12-year-old son, Ryder, had tried vaping, she was "mortified."
"He honestly didn't think that there was anything wrong," Kennedy said. "He told me that almost all the grade-sevens were doing it."
And she soon realized that the trend had reached many more kids in her orbit: Kennedy, who owns a dance studio in Northern California, found that most of her dancers had tried vaping, too. She learned that kids were vaping at school, taking puffs inside their shirts and in some cases charging their e-cigarettes in their teacher's own computer, she said.
Meanwhile, many parents seemed oblivious.
"It's a bad habit that I started realizing parents didn't know about," she said.
Health experts say parents whose kids are vaping often don't know what to do or where to turn for help.
While federal authorities grapple with how to regulate e-cigarettes on a broad scale and while leading tobacco company Altria 
invests billions
 in e-cigarette maker Juul, parents are scrambling at home to deal with nicotine dependence — or to prevent their kids from getting hooked on something that's ubiquitous at many schools. Some are even approaching addiction rehab programs in hopes of weaning their kids off these products.
"It's all over social media," Kennedy said, and popular among star athletes in her community.
As a mother, Kennedy said, she understands the role that peer pressure can play with fads like e-cigarettes. And as the mother of an athlete — Ryder is an avid football and basketball player — Kennedy said she knew that she had to do something. So she asked a local business to print a few T-shirts with a straightforward message: "Athletes don't vape." She didn't know that it would catch on.
Ryder called his mother the first day he wore the shirt to school, saying that some of his friends wanted their own. Kennedy also shared photos of the shirt on Facebook and received requests from people in Los Angeles, Sacramento and Canada who wanted in on the positive message. She even invited local athletes to a photo shoot and posted the results on 
social media
 — and they actually showed up on a Sunday morning, to her surprise.
"The response of the kids was what blew my mind," Kennedy said.
Well over 500 shirts have been printed, she said; most have been given away in conjunction with Ryder's middle school and Kennedy's dance 
company
, and others continue to be sold at cost. Kennedy said her goal is to share a positive message and raise awareness among kids and parents alike.
"It can be frightening for some parents [and] anxiety-provoking for parents to realize that their kids are vaping," said Pat Aussem, a master addictions counselor with the 
Parent Coaching Program
 at the nonprofit Partnership for Drug-Free Kids.
Aussem first tells overwhelmed parents, "take a deep breath."
An important conversation
"The first thing parents can do is educate yourselves," said Meredith Berkman, who co-founded 
Parents Against Vaping e-cigarettes
 last year when she realized the fad was hitting close to home — literally.
"I kept hearing the window open," said Berkman, a mother of four in New York. "I realized that this was going on in my house."
E-cigarettes, which work by heating a liquid until it vaporizes, can be tough to spot because many look like USB drives and regular pens. The liquid commonly contains varying concentrations of nicotine, though some people use the devices to 
vape marijuana
 or flavoring alone.
Experts worry that e-cigarettes could put kids' developing brains at risk, get them hooked on nicotine early in life and be a gateway to smoking and other drugs — but the long-term effects are unclear.
"In many cases, parents don't know that their kids are vaping, or they don't know what's in the vape," Aussem said. "There are parents who know that their kids are vaping, but they assume it's harmless because they think, 'oh, it's flavoring. How bad can it be?' "
Experts also recommend that parents be familiar with signs their kids might be vaping: if they notice a faint, sweet scent, for example. Young e-cig users may also show a change in mood, take frequent breaks to take puffs and share vape-related posts on social media, according to experts.
Parents can also model good behavior by not vaping or smoking tobacco themselves, according to the 
Partnership for Drug-Free Kids.
 And it's important to have an open conversation with your child — listening over lecturing, experts say. It may also be helpful for parents to understand the reasons why their child might vape — such as peer pressure, anxiety or avoiding symptoms of withdrawal — in order to encourage healthier ways of addressing those needs, the Partnership says.
Halpern-Felsher said these conversations can go beyond simply telling kids that e-cigarettes are bad for them and setting clear expectations about drug use. Parents can also discuss how the devices have been 
marketed
 in such a way that appeals to youth, including ads, a vast social media presence and the variety of flavors they come in.
Ashley Gould, chief administrative officer at Juul Labs, told CNN in June, "We were completely surprised by the youth usage of the product." The company has maintained that its product is intended to convert adult former smokers to what Juul describes as a less-harmful alternative, and it says it is taking 
steps
 to limit kids' use of e-cigarettes.
"It's been devastating to us," Gould said. "This is not a product for youth."
The company, which holds about 75% of the e-cigarette market in the United States, has also maintained that flavors are a useful tool to help adult smokers to switch from combustible cigarettes.
Dr. Scott Gottlieb, commissioner of the US Food and Drug Administration, proposed in November to 
strengthen the agency's policies against flavored e-cigarette products
. These proposals could ultimately prompt their removal from shelves and websites that are accessible to minors. But the proposed changes do not include mint, menthol and tobacco flavors. Gottlieb said he wanted to leave the door open for adults who might use these products to quit smoking cigarettes, "but it can't come at the expense of addicting a generation of kids on nicotine," he previously told CNN.
Others have argued there's no conclusive evidence supporting this use of flavors.
"Who doesn't hope for harm reduction for adult smokers?" asked Berkman, of Parents Against Vaping e-cigarettes. Despite what she calls a lack of convincing evidence that flavors are playing an instrumental role in adult cessation efforts, Berkman said, "you do have concrete, direct 
evidence
 that the flavors are hooking the kids and that the flavors are keeping the kids from perceiving danger."
Berkman, whose organization set up an e-mail 
campaign
 for parents to urge FDA regulations like banning e-cig flavors, says she isn't advocating banning the Juul altogether. But more has to be done — and soon, she said.
"It's happening in real time," she said.
What to watch for
When Dr. Sharon Levy, director of the Adolescent Substance Use and Addiction Program at Boston Children's Hospital, started receiving calls from parents across the country describing how e-cigarettes were affecting their children, "I was extremely skeptical that the problem was from Juuling and nicotine use," she said.
"I was wondering, are they using other substances? Are they also using marijuana or something else? Or do they have mental health disorders?" she said. "I've actually seen enough local kids now to realize that some of these presentations look all the world like psychiatric presentations."
Some of these teens come in with anxiety, distractability, headaches and stomachaches, symptoms Levy said were rarely seen with traditional cigarettes. In kids, nicotine addiction may look very different from adults, she added.
Other symptoms may include increased thirst, nosebleeds and mood changes, according to the Partnership for Drug-Free Kids.
Levy said that "nearly all" adolescents in her program have some experience with e-cigarettes, but "what's new is that now, we're seeing patients in the substance use program whose only substance is nicotine."
"Kids are often really struggling with this, and there are just not a lot of resources for them," Levy said, adding that many addiction programs may not be equipped to deal with some of the younger, nicotine-addicted kids she's seeing. Far better would be to ensure that primary care doctors are equipped to work with kids in their own communities, Levy said.
Some parents have pursued nicotine gum and other cessation tools for their children under doctors' guidance. Levy said that can be tricky because some kids may use these products as a "bridge" between puffs of vapes and tobacco products.
There are no FDA-approved nicotine cessation products for e-cigarette users under 18, but the agency plans to hold a 
public hearing
 to debate whether to approve smoking cessation drugs for kids in order to get them off vapes.
Medications can be important in some advanced cases, but they're not enough, Levy said; kids also need "good, solid counseling."
"We end up needing to teach kids how they can deal with cravings, how they can identify high-risk situations, how they can actually deal with being surrounded by people who are using these things," Levy said. "Because the reality is that, for most kids, we treat them and put them back in school, and then they go to the bathroom, and everybody's Juuling."
Aussem said parents can also use positive reinforcement to offer their kids something "more interesting to them than vaping," and they can set negative consequences. But it's important to follow through, she added. For example, many parents might threaten to take their kids' phones away, only to return them a couple days later because it's difficult to reach them.
Get CNN Health's weekly newsletter
Aussem also recommended 
Smokefree Teen
, by the National Cancer Institute, which has a smartphone app and text messaging program geared toward teens. They may be more likely to quit than those who try without any assistance, she said.
For many parents, she said, it's important to understand that there may be no quick fix.
What's key, Aussem said, "is to really think about, 'how am I going to intervene and really be willing to see this as a journey?' "
https://edition.cnn.com/2019/01/11/health/parents-kids-vaping-ecigarettes/index.html
CFDA Fashion Awards 2019: Jennifer Lopez and Barbie among winners
Two very different fashion icons were honored at one of the fashion industry's most prestigious award ceremonies in New York Monday night: Jennifer Lopez and 
Barbie
.
The pair were among a host of figures recognized by the Council of Fashion Designers of America (CFDA) at its annual awards, often known the "Oscars of the fashion world."
Wearing a vibrant coral-red Ralph Lauren skirt and a turtleneck embellished with more than 43,000 crystals, Lopez was handed the CFDA's Fashion Icon Award for her "long-standing and global impact on fashion," 
according
 to the CFDA. Previous winners have included Naomi Campbell, Beyoncé, Johnny Depp and Rihanna.
"I loved fashion since I was little girl, growing up in the Bronx and to be here and among all these designers and to be honored is just a dream," the singer and actress said on the red carpet, adding: "I'm wearing Ralph Lauren, a fellow Bronx native."
In a somewhat unusual turn, the Mattel doll Barbie received the CFDA's Board of Directors' Tribute Award for her influence on fashion — as well as her esteemed designer collaborations — over the last 60 years. Model and actor Yara Shahidi presented the award, with Barbie's official Instagram account posting a picture of the doll in a custom look by Diane von Furstenberg.
Von Furstenberg, chair of the CFDA, also made a splash at the awards by carrying a fake torch down the red carpet. The designer told guests that her dramatic entrance signified the passing of her duties to Tom Ford, who now takes over as organization's chair.
Elsewhere, designer Eileen Fisher was honored with the Positive Change Award, in honor of her commitment to sustainability. Fisher's eponymous brand has 
pledged
 to use only organic cotton and linen by 2020.
"I'm very excited to speak to the group and to try to inspire them to think about positive change," she told CNN, before taking her seat at the ceremony. "It's so needed."
Designer Brandon Maxwell took home one of the most coveted prizes of the night, being named womenswear designer of the year. The Texas native, who made headlines with Lady Gaga's show-stopping Met Gala outfits last month, has become a fixture on the New York fashion scene since launching his neatly tailored and feminine line in 2015.
A total of 11 awards were presented at the ceremony Monday night. Other winners included Mary-Kate and Ashley Olsen, who won a fifth CFDA Fashion Award in recent years for their brand, The Row. Emily Adams Bode was named emerging designer of the year, while Sarah Burton of Alexander McQueen was honored with the Valentino Garavani and Giancarlo Giammetti International Award.
And plenty of other fashion figures turned up to wow the red carpet. Gigi Hadid arrived in a gray Louis Vuitton suit with a pleated skirt alongside the brand's artistic director and award nominee Virgil Abloh. Ciara was among the last to arrive, wearing a black silk off-the-shoulder gown, with metallic embroidery, by Vera Wang.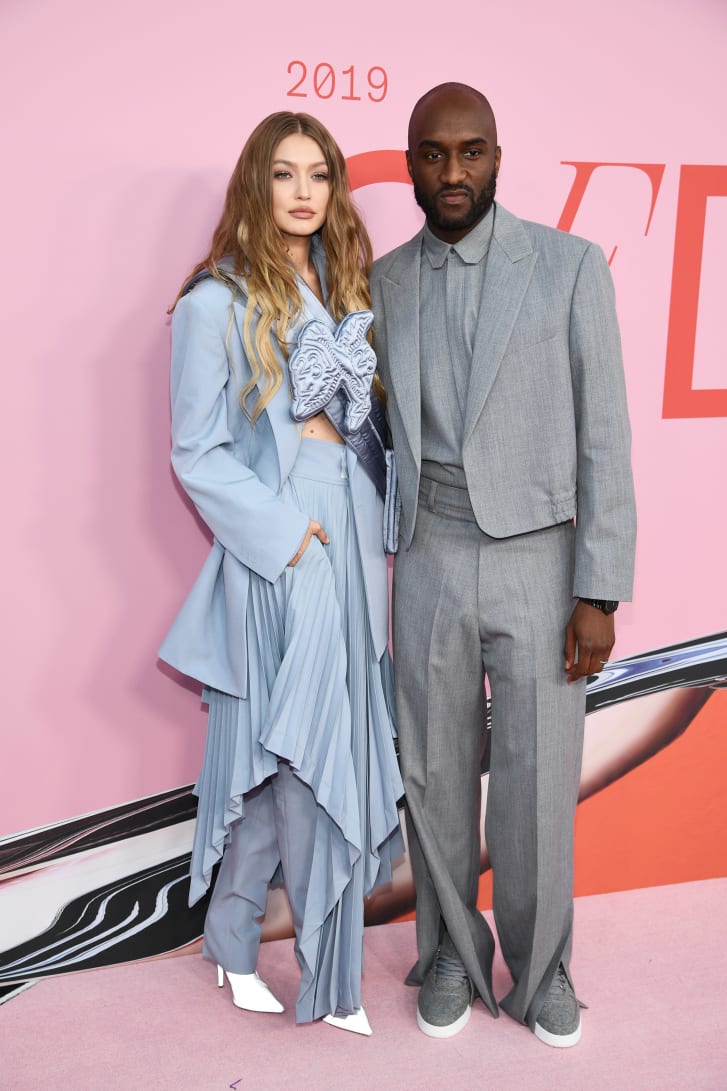 Halima Aden, who made history this spring when she 
became the first
 model to wear a burkini in Sports Illustrated, arrived wearing a custom Tommy Hilfiger.
"For me, it felt like life was coming full circle," she told CNN. "What launched my career was wearing the burkini, so then to shoot for (Sports Illustrated) and shatter so many perceptions and to be alongside women, who wear very little or nothing at all, felt just so incredible."
https://edition.cnn.com/style/article/cfda-fashion-awards-2019/index.html
Is $2 million enough to feel wealthy?
How much does a person need to feel rich?
A recent 
survey
 from Charles Schwab revealed that a net worth of $2.27 million would be enough. But can you really put a 
number
 on it?
For many people, being wealthy means being 
financially independent 
and not having to work for a living, says Bradley Nelson, of Lyon Park Advisors. He says a family with a net worth of $2.27 million could easily be wealthy.
If that family spent a conservative 3% of their assets each year, they would have $68,100 a year to live on. That's more than the median household income in the United States of 
$61,000
 — without even having to work.
But that wouldn't be enough for some people. And for others, wealth isn't a financial concept at all.
That's why finding what makes you feel wealthy takes a strategy rather than a single specific number, says Nelson.
"I know people who make $250,000 to $500,000 and feel poor, and other people who make $70,000 and feel rich," says Tara Unverzagt, a certified financial planner.
She points to 
research
 showing an income of about $70,000 is optimal for emotional well-being, and $95,000 is ideal to feel positive about your life, including meeting long-term goals and the inevitable comparisons with everyone you know.
"But for most people, when they get to $2.27 million, if their friends have more, they won't feel 'rich,'" she says. "And today with so many billionaires, many feel having mere millions is nothing — and to some degree, that's true."
$2.27 million? 'Not even close'
Matt Doran is a wealth manager in St. Louis with a personal net worth of "more than $5 million, but less than $20 million." He's not fixed on a number, though, and has no intentions of slowing down.
He works with clients who are worth more than $2 million and says, "they don't feel wealthy and neither do I."
For Doran, the drive to continue earning money and growing his assets builds security for his family and allows him to support the things that give his life meaning — the people, places and causes that he loves.
"And $2.27 million doesn't get me there," he says. "Not even close."
Doran says he and his wife and daughter spend on things typical for families at their income level. For example, they have a lake house in Michigan, with a boat.
"Our spending is really about lifestyle. While not overly extravagant in our opinion, we do drive nice cars, travel frequently and help others regularly," he says. "We, like many others, find ourselves spending on experiences more than things because they enrich our lives and relationships."
In his view, the purpose of building wealth is to generate more income. And the more income you make, the more options, flexibility and opportunities you have.
"When someone has financial resources in a substantial amount, they have choices they didn't have before," he says. "How to work, when to work, what work to pursue, where to live. How to spend their time."
The reluctant millionaire
Russ Ford considers himself wealthy, but it has taken him a while to say it without feeling guilty.
Ford was 21 years old when he inherited $2 million from his grandfather.
"I got $1 million free and clear I could pick up and go to Vegas with," he said. There was another million in trusts. That's in addition to money likely to come his way through his parents' estates.
"I do feel wealthy," he says, "But in today's society, I've felt guilty about it. I've worked through it to understand the opportunity to do good with it."
But for a young person with seven figures, that kind of money can evaporate a lot faster than people think, says Ford. "Feeling wealthy can lead to a lot of temptation. You feel wealthy when you don't have to think about money. The minute you don't think about it, you can get into a lot of trouble."
After college he became a financial planner, got married and had a son. Ford says that at first, his inherited wealth caused a lot of pressure and stress.
"The pressure comes from having the money and feeling like I can't let my grandpa down and I can't let my son down," he says. "I was feeling a lot of pressure from the culture around me to keep up with the Joneses and becoming a father magnified all of that. The money has definitely made me more anxious."
He's appreciative of what he has, but he's not interested in accumulating more money.
"I know that chasing more isn't going to make me more happy," he says.
Ultimately, the money that caused his anxiety helped him and his wife out a lot when he experienced loss of income due to his health. It helps his family have more of what they value the most — time together.
"Money certainly gives us more of that," says Ford. "It gives us security that we'll have more of that in the future and feeling secure in that makes me feel wealthy.
https://edition.cnn.com/2019/05/31/success/feel-wealthy/index.html
Strawberry-Lemon Thyme Soup
Sweet strawberries are paired with aromatic lemon thyme in this beautiful chilled soup recipe that's perfect for special occasions.
Ingredients:
3 cups sliced fresh strawberries

1 cup lowfat buttermilk

2 teaspoons finely shredded lemon peel

1 teaspoon chopped fresh lemon thyme or thyme

2 tablespoons honey

2 tablespoons lowfat buttermilk (optional)

Lemon peel strips and/or fresh thyme sprigs (optional)
Preparation:
Combine strawberries and 1 cup buttermilk in a blender or food processor. Cover and blend or process until very smooth. Transfer to a medium bowl. Stir in shredded lemon peel and the chopped thyme. Cover and chill for 4 to 24 hours to blend flavors.

To serve, strain soup, discarding the shredded lemon peel and the chopped thyme. Stir in honey. Ladle chilled soup into small bowls. If desired, swirl 1½ teaspoons buttermilk into each serving and garnish with lemon peel strips and/or fresh thyme sprigs.
Why don't parents talk to their kids about money?
There is one question that most parents seem to dread more than any other when it comes to talking to their kids about money. Can you guess what that might be?
If you said "How much money do you make?" you are exactly right, according to 
Jayne Pearl,
 author of several books about what she calls financial parenting.
Pearl said she was caught off guard when her own son, now grown, asked her that question at the age of 8. "I was initially like, Ahhh. I write a lot about personal finance and I wasn't prepared for this question," she said during an interview.
She eventually answered her son's question, but focused on the expenses of the household to make the case that the amount she made covered most of their costs and that the money left over either went into the bank or could be used to pay for additional things they might want or need.
"I realized that if I told him that I made $1,000 a year, he would think that we were rich. How did he have any frame of reference?" said Pearl, who also made sure her son understood that this was private information that should not be shared with anyone else.
There are two main reasons why more parents don't talk to their kids about money and help them develop critical financial literacy skills, said Pearl, a writer, editor and mother of one.
For one, they're terrified they're not good role models when it comes to money, she said.
"Many of us make a lot of mistakes ourselves with money, or spend too much, or will say, 'I need a new pair of shoes' when you really don't," she said.
Second, many parents feel like they don't know a lot about money and then don't have the confidence they can teach their kids about it. "We think we need a Ph.D. in finance to be able to teach our kids when it's not true at all. All you have to do is talk out loud about what you're doing as you're going about your business," said Pearl.
For instance, when you are at the ATM with little kids, it's a great opportunity to explain how you put money in the bank to keep it safe and to have money there when you need it, and that you can only take out as much as you put in, she said.
Parents can also learn alongside their kids. "You don't have to just say 'I don't know.' You can say, 'I need to learn more about this too, so let's sit down and learn about it,' " said Pearl.
If you start with financial literacy web sites that are geared for kids, you're probably going to be learning at your level as well, she added.
Why should you talk to kids about money?
If you get past your insecurities about money and eventually talk to your kids, they'll definitely benefit, said Pearl. Kids are ultimately going to need to know how to handle their own money when they get older so better for them to learn when the stakes are low.
"It's better that they should make $20 mistakes than $20,000 mistakes when they're older," she said.
There are a lot of misconceptions about money, just like with another topic that's often taboo among parents — sex.
"They're going to learn a lot of things that are not accurate or what you want them to learn so you need to check in and make sure that (they) have your take on things," Pearl said.
Talking with your kids about money also allows you to impress your financial values on your kids, said Pearl. Those values dictate a lot about how we live and how we interact with the world. They include understanding the differences between wants and needs and learning how to make tradeoffs, she said. "You can't have everything. You can have this or you have that, and these are opportunities to teach your kids how to do that by giving them tradeoffs, discreet decisions that they can make around things that get bought for them."
How to talk to kids about money
OK, so how can you actually start talking to your kids about money? For some answers, we asked some kids themselves, elementary and middle school students in Caldwell, New Jersey, as part of a new video series called "If I Were a Parent," where we ask kids how they would handle things if they were in charge.
Grace Szostak, who just started middle school this year, said she would start early, as young as age 4. She would get one of those play cash registers and have her kids do a little role play with it, selling stuff to each other to understand the concept of money and learn how to count it.
Lance Jenkins, who is also in the sixth grade, said he would follow his grandfather's advice and give three envelopes to his kids. "You just put money in each every week so you'd have one for donations, I think, then one for spending, then one for saving."
Toniann Garruto, a fifth grader, said she would talk to her kids about credit cards. "Even though credit cards have a lot of money on them, if you use them frequently and a lot then you'll be broke," she said. "You won't have any money to do what you really want."
Pearl, the author and financial expert, said parents shouldn't hesitate to talk to their kids about the mistakes they've made, and that includes talking about the perils of credit card debt, something I will tell my kids I learned about all too well during my 20s when I was working as a reporter and having trouble making ends meet.
She's also a big believer in giving kids allowance, but not connecting the weekly money to grades and behavior. The goal of allowance, she believes, is to start teaching kids about financial responsibility.
"They're going to lose some of it. They're going to mismanage some of it, make bad decisions. They're going to give some of it away to a friend just because they want to be popular. They're going to make all kinds of crazy mistakes, better they should make them now."
Pearl says parents know their kids and know when they are ready to talk about finances. "If your kid is ready to have a conversation, you can try to have a conversation. If it bombs, you can try again in a few months or next year but I think it's never too early to try … and if you miss the boat and your kid is 17 and going off to college next year, don't throw your hands up and say, 'I missed the boat.' Start whenever you can."
https://edition.cnn.com/2017/09/13/health/money-talking-to-kids-parenting/index.html
Why You Need To Invest In A City Sarong
The carefree beach wrap has had an uptown update: now, the sarong is meant to be lived in, all day and all night (and at the office, too).
If you had been born in the early 1900s, and were a regular moviegoer, the notion of a sarong would have been entirely inseparable from that of Dorothy Lamour. The American actress made her debut in The Jungle Princess in 1936, wearing an Edith Head sarong, and quickly became known as "The Sarong Girl". She starred in a further eleven "jungle pictures" wearing a variation on a revealing, South Seas-style sarong wrap, in the process cementing herself as Paramount Studios' top female box office attraction.
Movies in which Lamour wore a sarong took in more money than those in which she didn't. That didn't mean Lamour liked wearing them. In 1946, she publicly burned a floral sarong in front of an assembly of photographers, frustrated with her "jungle girl" image. It made no difference: she starred in a further four movies wearing nothing but a sultry number. And, perhaps as a result, the sarong was firmly parked in the "holiday" section of western wardrobes, a wrap that could be worn on the beach, and at the beach bar, but never in the humdrum of everyday city life.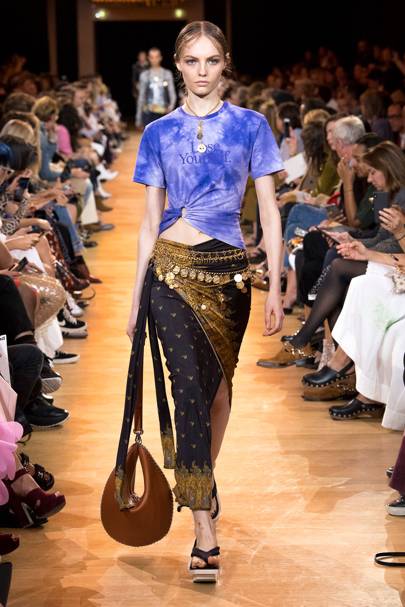 That's set to change this summer, Dorothy would be pleased to hear, as designers from Julien Dossena at Paco Rabanne to Jonathan Anderson at Loewe and Laura Kim and Fernando Garcia at Oscar de la Renta opted to reboot the sarong from beach staple to…if not quite boardroom, then certainly, office cubicle-appropriate. How to wear it now? With a boxy shirt during the working day, a T-shirt at the weekend, a silk camisole and gold jewellery for after-dark, and with an asymmetric swimsuit at the beach.
The key to its versatility lies in its length – below-the-knee – and in its fabrications. At Paco Rabanne, Dossena sent out printed silk iterations, and advised: "They look super chic worn with flat sandals and a T-shirt, and the best thing is, they're comfortable." He's not wrong: on a recent holiday, one Vogue editor wore her rose-printed Paco sarong hiking in the Atlas mountains, to dinner later that evening, and for lazy days by the pool.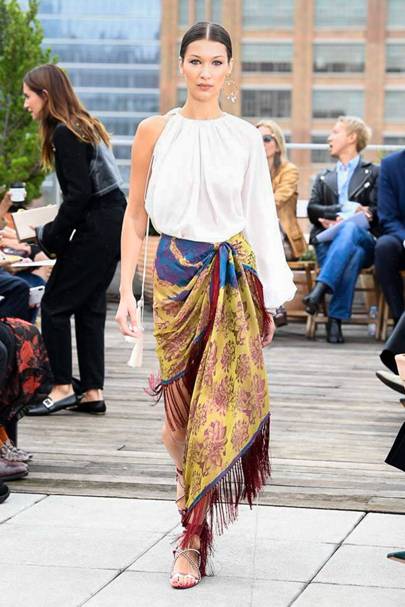 Don't despair when you clock its sold-out status: Dossena told Vogue he's reordered the style to fulfil retailers' demands. In the meantime, shop Vogue's edit of the best sarong skirts to buy and wear everywhere, now.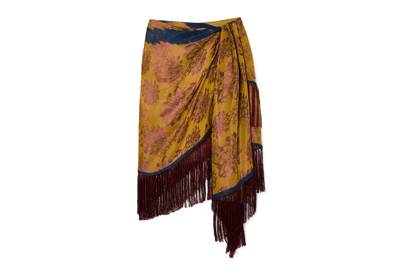 Oscar de la Renta
Wrap-effect fringed skirts, £3,155, at Net-A-Porter.com.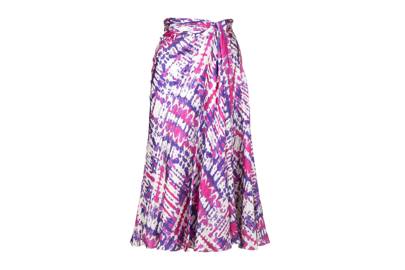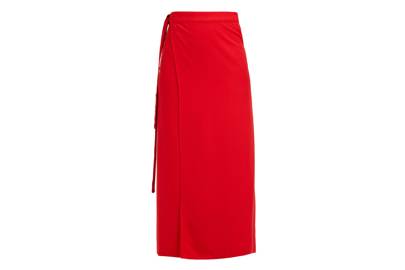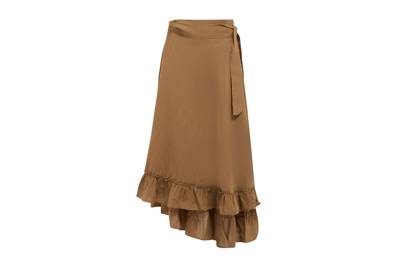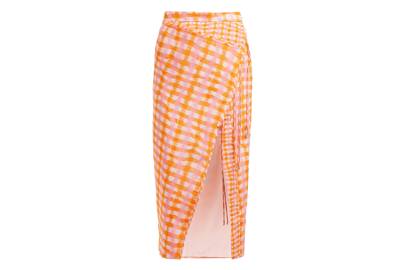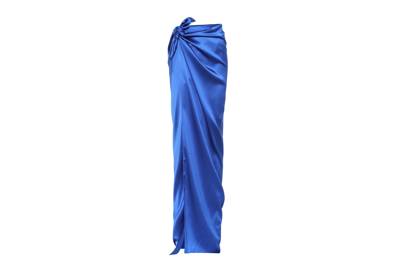 Balenciaga
Satin maxi skirt, £1,275, at Mytheresa.com.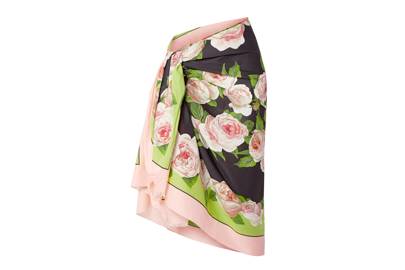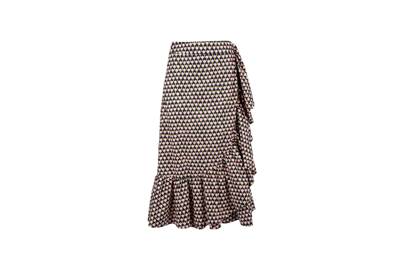 https://www.vogue.co.uk/gallery/how-to-wear-city-sarong-fashion-trend
What to Do When You Make a Bad Decision
Oh my god, you think, your stomach turning. Why in the world did I do that? We've all made a bad decision before. You know the feeling—in the moment, it seems like you made the right call. But afterward, the impact of your decision sets in, and you realize your judgment was cloudy.
Maybe you left your old job for a new one, and quickly realized you made the wrong choice. Perhaps you broke up with your significant other in a heated moment, only to later register that that was the last thing you wanted to do. Or maybe you made a large purchase, such as a car or a home, and found yourself overwhelmed with buyer's remorse.
We're all human, which means we're not immune from making bad calls every once in a while. Although we can't go back in time and change our choice, we can lessen the impact it has on us. Below, you'll find seven actionable tips for surviving a poor decision.
Suppressing your emotions will get you nowhere. It's important to first focus on how you feel.
"The first step is to recognize what happened and how you felt," says psychologist Dr. Sal Raichbach, Psy.D. "Ignoring or pretending leaves the pain open. If you cut yourself, you wouldn't pretend that it didn't happen or that you don't care. You would deal with it and seek professional help."
If you think it's right for you, consider going to therapy, which can help you work through what happened. You can also journal your emotions or speak with a close confidante.
2. Then, focus on the cold, hard facts.
Once you've recognized and accepted the emotions you have following a poor decision, Dr. Benjamin Ritter, Ed.D., founder of LFY Consulting, says one of the best things you can do is focus on the facts.
"Take a step out of the emotions and stress to really look at the facts of the situation," he says. "Ask yourself: What is currently happening? What do you really want? How can you work productively toward that goal given the situation you're in?"
You might struggle to be objective. If that happens, Ritter recommends writing about the situation or getting outside perspective by talking with a close friend or family member.
3. Don't let the bad decision consume you.
Tristan Gutner, a life and business coach, says it's important to mentally separate yourself from the decision. Doing so can help you strip it of its power.
"Once we've made what we'd call a bad decision, we give it a lot of meaning it does not inherently have," Gutner says. "We tell ourselves we're stupid, we can't trust ourselves, this is going to ruin our life/business/relationship/etc."
None of this is true, of course, but Gutner says it can be very difficult to move forward with our lives if we're stuck in that mindset.
"We need to decide, right when the mistake happens, that we're going to learn from it and use it as a momentum-builder to move forward," he says. "If we strip the mistake of the negative meaning we give it, we can use it as helpful data to move forward and make decisions more aligned with the success we desire."
Don't be too hard on yourself in the wake of a poor decision.
"The most important step is to forgive yourself," says psychiatrist Dion Metzger, M.D. "We become our own worst enemy with poor decisions. We spend way too much energy wallowing in the guilt rather than using that to go to our next move."
Use the failure of your bad decision as leverage for future success. "Mistakes are essential for success," Metzger says. "You will make them, but what determines your future success is how you respond."
After making a bad judgment call, your mind will likely be flooded with regret. This regret, it turns out, can actually be a powerful tool, Ritter says.
"Regret can help you remember the things you want to avoid in life and actually help you make better decisions," he says.
Accept your regret and move forward.
6. If your regret is all-consuming, try practicing gratitude.
"We all have regrets," Raichbach says. "Things we wish we did differently or didn't say. But those regrets don't have to control you. You have to learn to control your thoughts to see the positives instead of the negatives."
One way to see the positives, he says, is by practicing gratitude. Each morning, make a list of three or five things you're grateful for. This will help lessen the grip the regret has on you.
7. Create a decision-making process for the future.
The next time you're confronted with a big decision, you might feel anxious or stressed that you'll make another mistake. To counteract this anxiety, consider putting a decision-making process into place for all future calls.
Ana Jovanovic, a psychologist and life coach at Parenting Pod, says everyone should have a process in place for complex decisions, which she defines as those that have significant consequences and require the analysis of several different factors before being made.
Jovanovic recommends the commonly used seven-step decision-making process. It works like this:
Identify the decision/problem. Be as clear as possible.
Collect information that will assist in your decision-making.
Consider various solutions.
Weigh the evidence for each potential solution.
Make your decision.
Take action on that decision.
Review the decision once action has been taken.
Armed with this seven-step process, you'll (hopefully) be able to rest assured knowing that any big calls you make in the future will be well informed and carefully thought out.
Happy decision-making!