Kale, Apples, and Pistachios Make This Salad a Superfood Win
Bored with eating the same old salads day after day? We feel you. That's why we came up with healthy salad ideas for every day of the week. And then we made it better by tossing in this superfood-packed recipe.
First, there's kale, a nutritional powerhouse thanks to high amounts of iron, fiber, calcium, and vitamins A, C, and K. While the green can turn some people off faster than Usain Bolt can run 100 meters, there's a secret: Those who hate it may only feel that way because they ate kale that was too tough. The secret to making it more tender—and, in turn, more delicious—is massaging it for a few minutes with a simple oil and vinegar dressing, as that mellows the bitterness a hefty amount. (You can also hide kale in these tasty smoothie recipes.)
This superfood salad also has apples, a seasonal star due to its status as an antioxidant- and fiber-rich fruit. Granny Smiths work particularly well with this recipe, but you can use whatever variety suits your fancy.
Then comes the fun part: pistachio hemp clusters! They're made by dry-roasting heart-healthy pistachios with hemp hearts, which are loaded with essential fatty acids. You combine that duo with honey and cinnamon, and all of a sudden you're holding onto a cluster full of deliciousness. Toss 'em in your salad and all of a sudden you have a lunch that's nowhere near sad status.
Kale & Apple Salad with Pistachio Hemp Clusters
Makes: 2-4 servings
Ingredients
1 bunch of kale (around 8 cups when finely chopped)
1 large Granny Smith apple
½ cup shelled pistachios
3 tablespoons hemp hearts
2 ounces crumbled feta cheese
¼ cup extra virgin olive oil
Juice from ½ lemon
2 tablespoons white balsamic vinegar
2 tablespoons + 2 teaspoons honey
¼ teaspoon cinnamon
¼ teaspoon fine sea salt + more to taste
Directions
To make the pistachio hemp clusters, first cover a plate with parchment paper. Next, roughly chop the pistachios. Place them in a small saucepan over medium-low heat. Add in the hemp hearts, cinnamon, and a pinch of sea salt. Dry roast for 5 minutes, tossing a few times.
Add 2 tablespoons of the honey into the saucepan, stirring to evenly combine.
Remove the mixture from heat and transfer to the parchment paper-lined plate. Press the mixture into the plate with a spoon or your hands. Allow it to cool while you prep the rest of the salad.
Wash the kale and remove its tough stems. Thinly slice the kale, and place it in a large bowl.
Make the dressing by squeezing the lemon juice into a small bowl. Add in the olive oil, white balsamic vinegar, remaining honey, and ¼ teaspoon of sea salt. Whisk together.
Pour the dressing on top of the kale. Begin massaging the kale by grabbing a bunch in your hand at a time, squeezing and rubbing it together. Continue to massage the kale for about 5 minutes.
Finely dice the apple and add to the kale bowl. Add in the crumbled feta cheese.
Once the hemp/pistachio mixture has cooled, break it off of the plate into clusters, and throw them in the salad. Add sea salt to taste.
Toss everything together and enjoy immediately.
https://www.fitnessmagazine.com/recipes/lunch/kale-apple-pistachio-hemp-clusters-recipe/
9 Habits of Mega Successful People
Building wealth takes years of smart decisions, both professionally and financially. But according to according to one man who interviewed hundreds of self-made millionaires, getting rich also means keeping certain lifestyle habits.
Tom Corley, an accountant and financial planner, surveyed 233 wealthy individuals, mostly self-made millionaires, on their daily habits. He compared those answers to responses from 128 lower-earning individuals, or those with less than $35,000 in annual gross income.
In his best-selling book "Change Your Habits, Change Your Life," Corley explains that wealthy people set themselves up for success in a few specific ways. Here are the habits they have in common:
1. They get up early
Nearly 50 percent of the self-made millionaires in Corley's research got out of bed at least three hours before their workday actually started. Many of them use the free time to tackle personal projects, plan their day, or make time for exercise.
"Getting up at five in the morning to tackle the top three things you want to accomplish in your day allows you to regain control of your life," he writes. "It gives you a sense of confidence that you, indeed, direct your life."
2. They read, a lot
A whopping 88 percent of Corley's wealthy respondents say they devote 30 minutes or more each day to education or self-improvement through reading.
Most do not read for entertainment; they prefer biographies, history, and self-help books.
If you enjoy a good novel, that can help you too. Science shows that reading for pleasure can also boost your career. And Corley's point holds for many kinds of narratives. "There are important life lessons to be learned in biographies of people with rags-to-riches stories," he writes.
Legendary investor and self-made billionaire Warren Buffett says that reading has been the most crucial habit he's developed. If you're looking to pick up a new book, check out the business classics Buffett and other leaders love.
3. They spend 15 to 30 minutes each day on focused thinking
Many of the self-made millionaires Corley interviewed said they make time to process everything that's going on in their lives.
"The rich tend to think in isolation, in the mornings," he writes "and for at least 15 minutes every day."
Often they'll reflect on their career, their health and their personal relationships. Having quiet time to analyze your thoughts is associated with stress reduction.
In fact, taking two minutes at work to focus on nothing but your breathe will help you relax, a Harvard-trained doctor tells CNBC.
4. They make exercise a priority
Working out regularly clears your head and makes you feel more motivated, studies show.
According to Corley, 76 percent of his survey respondents carve out 30 minutes or more for aerobic exercise like jogging, biking or walking each day.
Many successful business leaders make sure to workout. Billionaire Richard Branson, for example, says that his morning routine of waking up at 5 am to play tennis or bike, has doubled his productivity.
5. They spend time with people who inspire them
"You are only as successful as those you frequently associate with," Corley says.
If you don't have highly-motivated people in your personal network yet, fear not. Self-made millionaires volunteer, which is a great way to meet other positive, motivated individuals. You could also join groups for people who share your same career or personal interests, Corley suggests. Then develop the relationship by keeping in touch.
And be choosy about who you spend your time with. "[Successful people] also make a point to limit their exposure to toxic, negative people," says Corley.
6. They pursue their own goals
Most self-made millionaires plan to get rich and then make it happen, Corley's research finds.
Eighty percent of the wealthy are "obsessed with pursuing goals," he writes. They refer to both daily and long-term goals regularly.
"I'm here to tell you to avoid putting your ladder on someone else's wall and then spending the best years of your life climbing it," Corley says. "Find your own wall, your own dreams, and your own goals, and pursue them."
7. They get enough sleep
Albert Einstein reportedly preferred to get at least ten hours of sleep a night. If you too function best when you're well-rested, Corley has some good news.
An overwhelming 89 percent of self-made millionaire sleep seven or eight hours each night or more.
"Sleep is critical to success," he writes, citing its effects on memory function and creative thinking.
8. They have multiple incomes
"Self-made millionaires do not rely on one singular source of income," Corley says. "They develop multiple streams."
So how many sources of income do they have?
"Sixty-five percent had at least three streams of income that they created prior to making their first million dollars," Corley says, such as a side-business or income generating investments like REITs or real estate.
"Diversifying sources of income allows you to weather the economic downturns that inevitably occur," he writes.
9. They avoid time-wasters
Money isn't the only important resource for wealthy people. Time is crucial too.
"When we invest our time in anything, it's lost forever," Corley writes.
Be choosy about the apps you spend your time with, too, instead of spending hours on end watching Netflix or scrolling through Instagram.
"When you see time as the greatest risk of all, it will force you to become more aware of exactly how to invest your time," says Corley.
https://www.cnbc.com/2017/03/28/9-habits-of-highly-successful-people.html
Best Summer Office Friendly Dresses
Snap up this season's most stylish dresses for the daily grind.
Temperatures are finally on the rise but, while we may dream of escaping to a faraway beach, the nine-to-five is a harsh reality that the many of us must follow.
So, what does one wear to work when the temperatures are so stifling?
Knowing how to dress for warmer climes can pose a real sartorial dilemma. After all, short shorts and flip-flops are hardly workplace-appropriate, but at the same time, the very thought of having to don a starchy button-up shirt for the commute brings us out in a sweat.
The solution? An easy, breezy, yet suitably smart summer dress.
Luckily enough, what constitutes a 'work dress' these days doesn't have to be something ill-fitting or stuffy. Instead, dressing like you mean business is now as much about the cut and finishing touches as anything else.
As such, creating the ultimate workwear wardrobe for the summer requires a combination of smartness, comfort, style and, in our opinion, nothing that sits too far above the knee.
Here, we've scoured the high-street to find the best dresses that are flattering, office appropriate and promise to keep you cool all-day-long.
Chevron Stripe Linen Dress: £49, Warehouse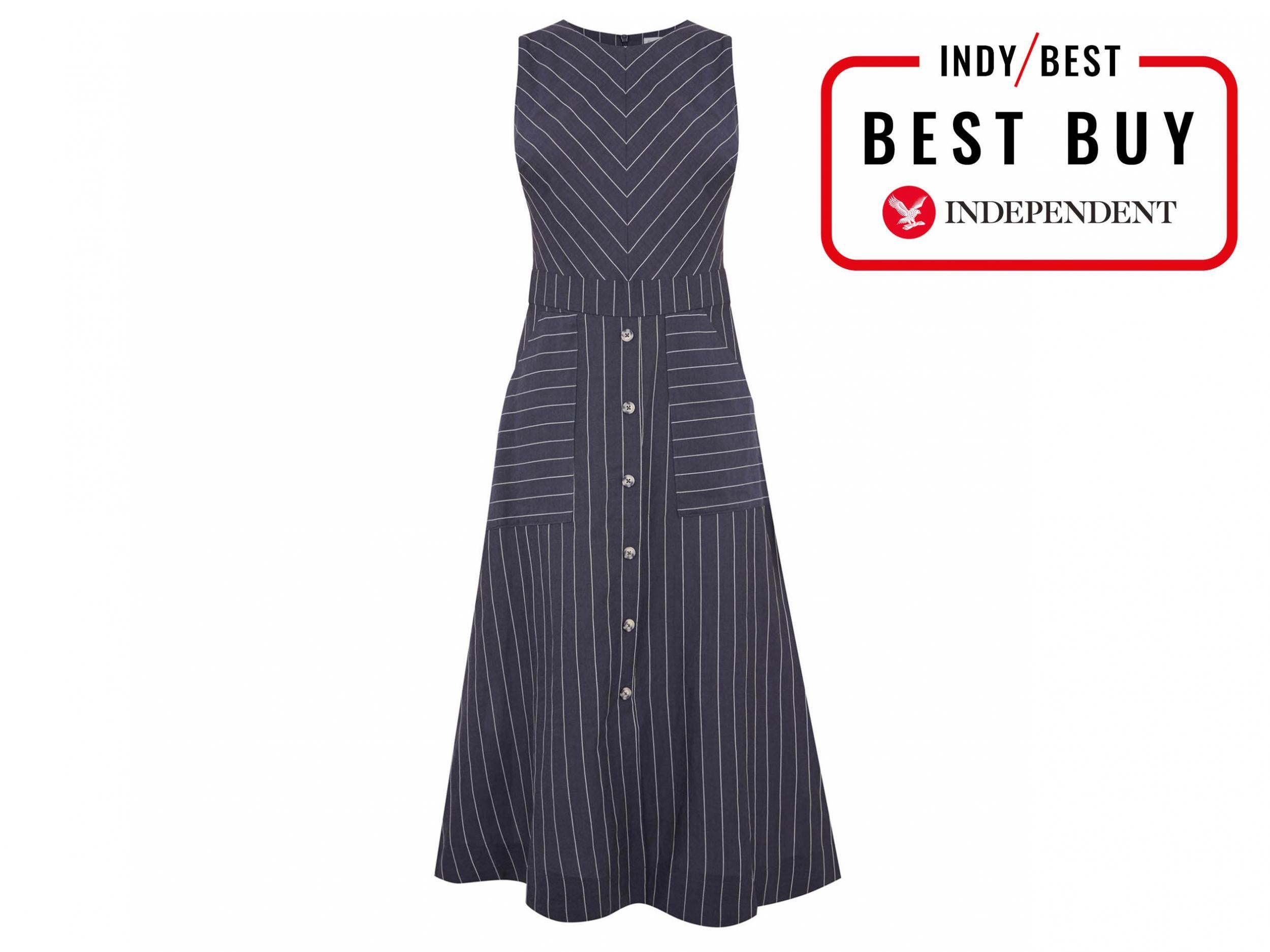 Warehouse is a great spot for finding smart dresses that promise to keep you cool in the summer months and this option is no exception.
A sleeveless design with a midi-length finish and A-line cut, it nips in at the waist to create definition while the non-directional stripes put a stylish and summer-worthy twist on the classic boardroom pinstripe.
We also love the fact it has two front pockets which are perfect for storing your office essentials. Available in sizes 6-18.
Polka Dot Tie Back Dress: £46, Topshop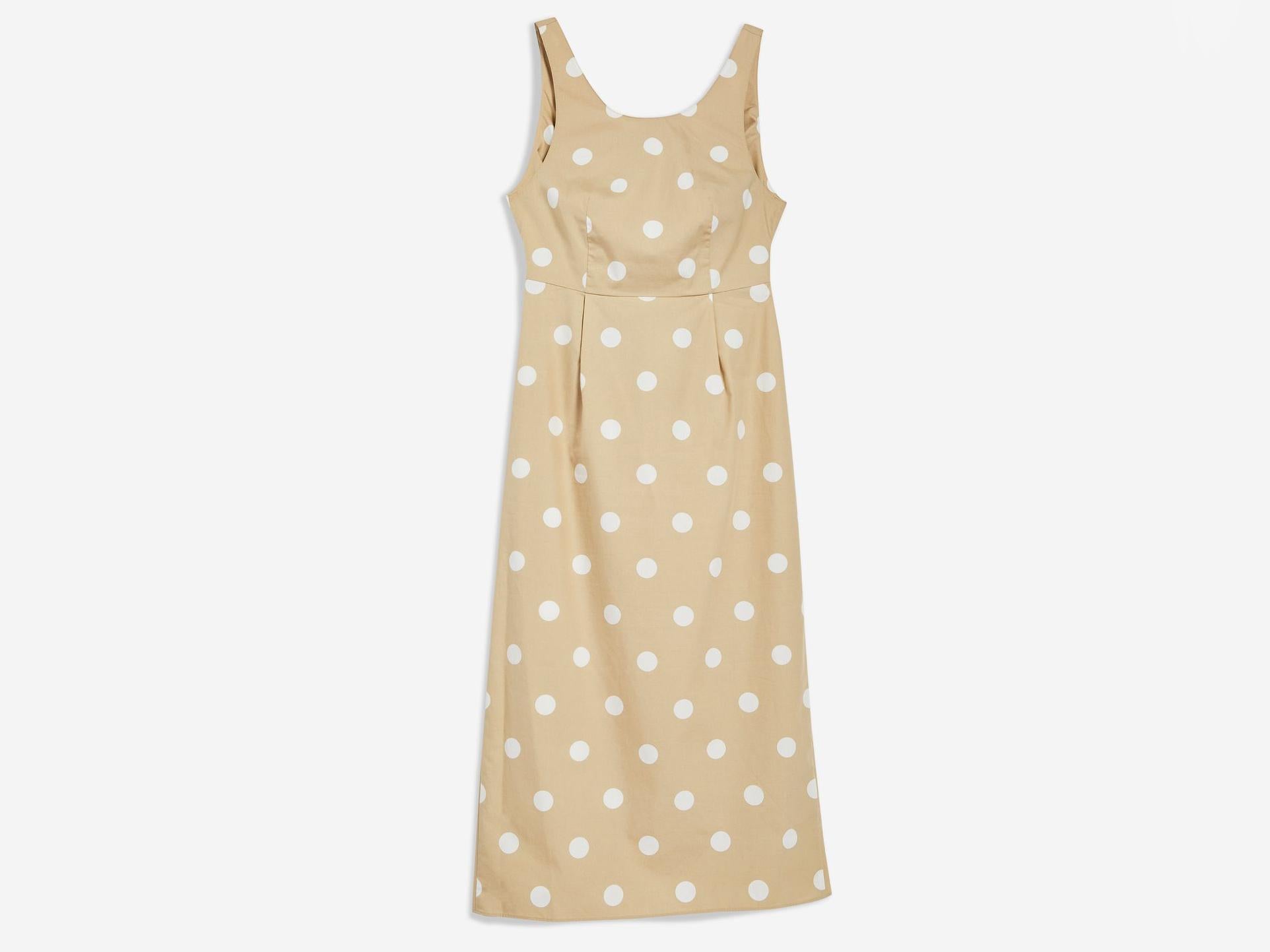 This dress from Topshop is a great option for anyone who likes to keep up with the latest trends but still wants to look professional.
A nod to the popular polka dot trend, it has a retro-inspired look with a scoop neck, fitted waist and midi-length skirt. The neutral sand colour means it's smart enough to wear to work while the addition of polka dots and a tie back detail gives it a playful twist.
If you prefer to keep your arms covered during the daily grind, add a lightweight cardigan in keeping with the dress' vintage-feel. Available in sizes 4-18.
Cotton Shirt Dress: £39.99, Mango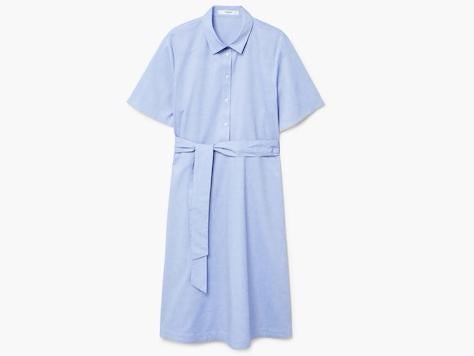 If you can't get away with wearing floaty, maxi-length dresses to work there is an obvious alternative: the shirt dress.
Made for hot summer days in the office, this style is classic and fuss-free meaning you can pick it out of your wardrobe without giving dress codes a second thought.
The trick here is to opt for one that's made from airy fabric like this cotton option from Mango which comes with a classic collar, button fastening, flared skirt and removable bow that you can switch out for a smarter belt. Available in sizes 6-12.
Sleeveless Belted Dress: £69, & Other Stories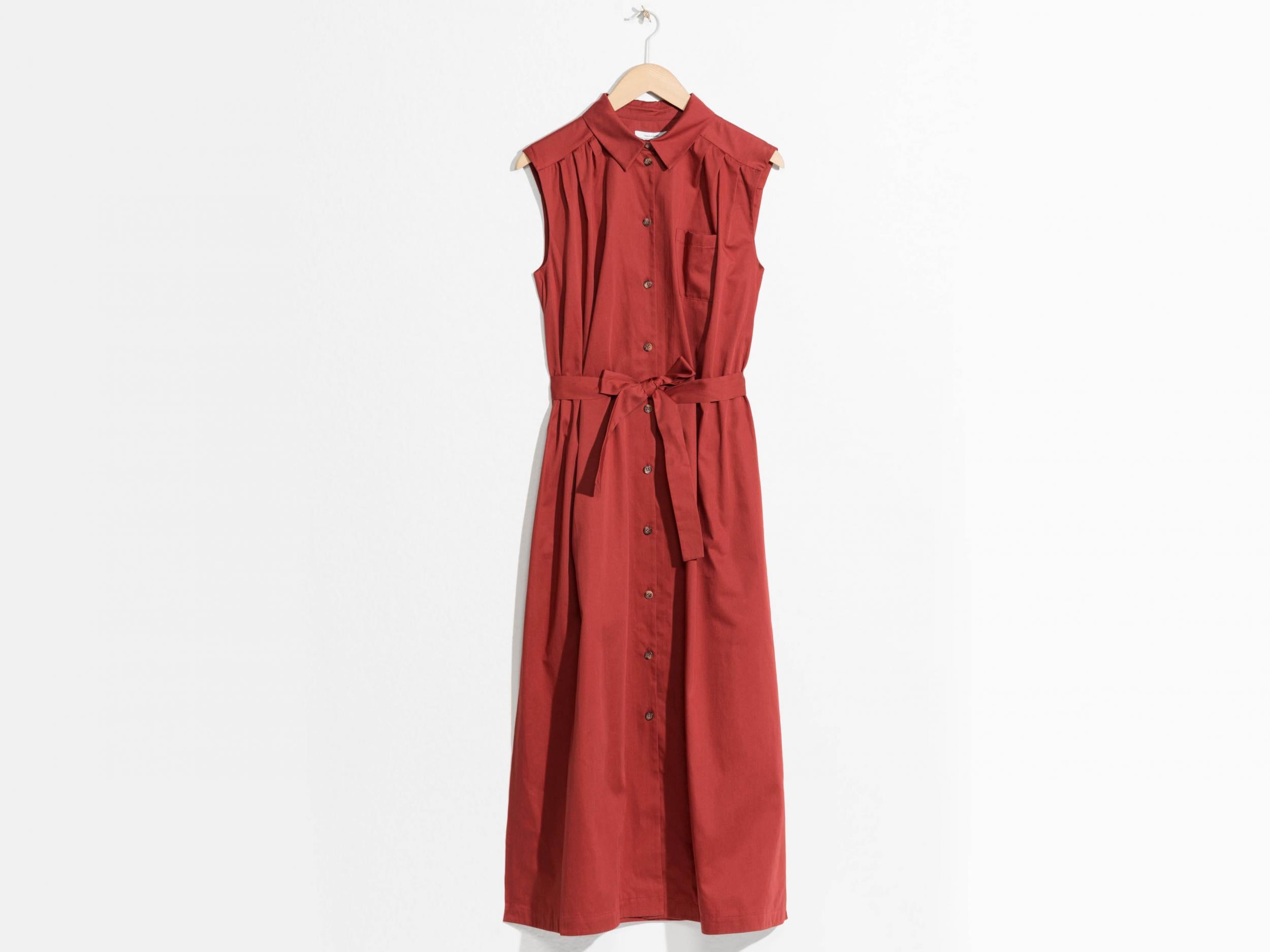 A vibrant addition to any office wardrobe, this rust-coloured midi-length dress from & Other Stories is so versatile that you will able to wear it everywhere from the boardroom to your summer holidays.
The structured fit, collared top and pleated shoulders make it work appropriate, while the loose skirt and sleeveless finish promise to keep you seriously cool.
Wear yours with everything from classic white trainers to ballet pumps or court shoes. Available in sizes 4-14.
Buttoned Wrap Dress: £30, Monki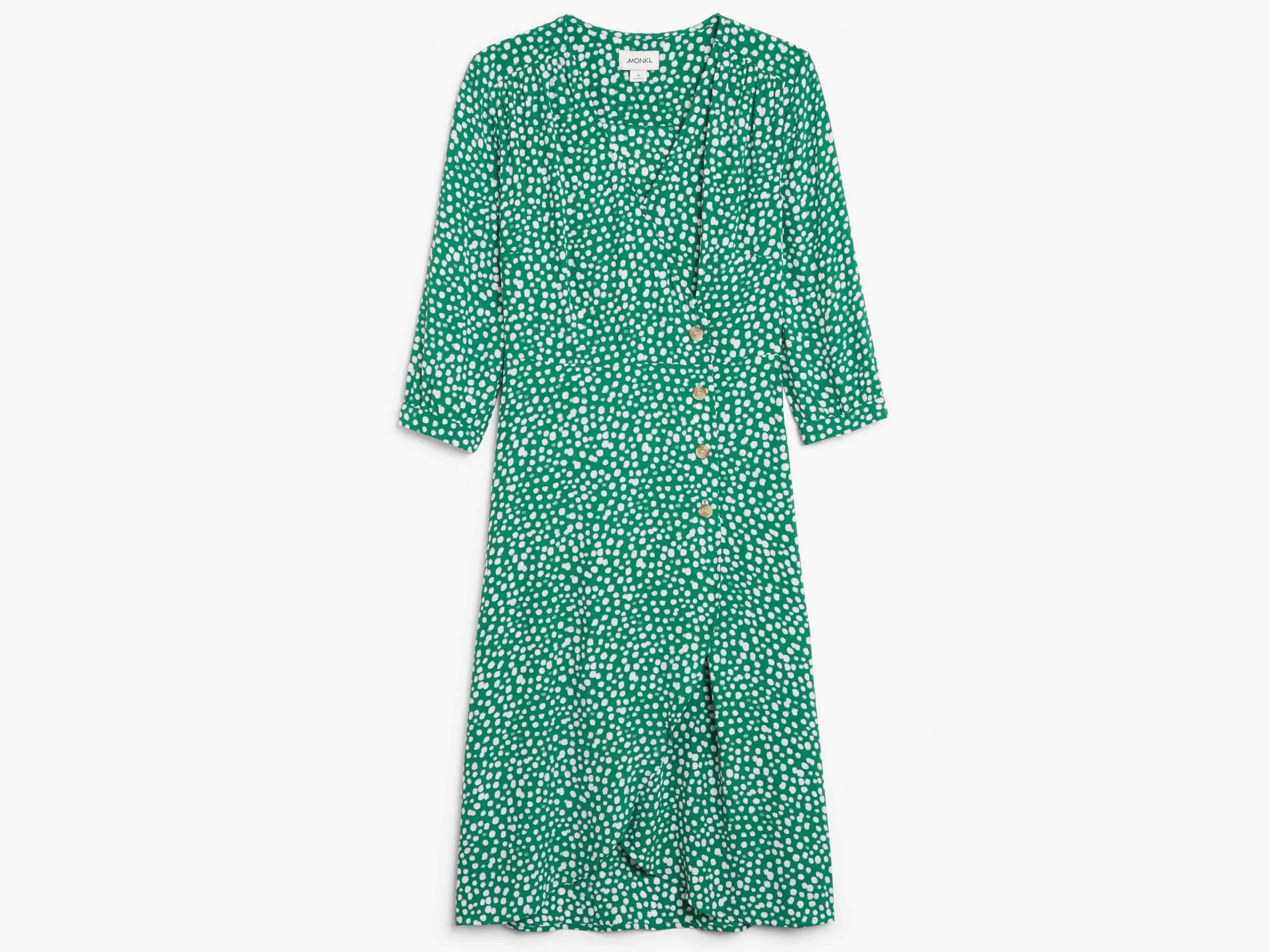 Inject a dose of colour into your workwear wardrobe with this green dress that comes decorated with all-over white spots.
A piece that will stand out in the office, it's designed with a flattering wrap-effect silhouette that nips at the waist with a button closure and falls to a fluid midi hem.
While the shade is eye-catching, the three-quarter-length sleeves and modest v-neck make it appropriate for the nine-to-five. If you like the cut but aren't convinced by the colour, the good news is it comes in plain black too. Available in sizes 4-16.
Long A-Line Jersey Dress: £59, Cos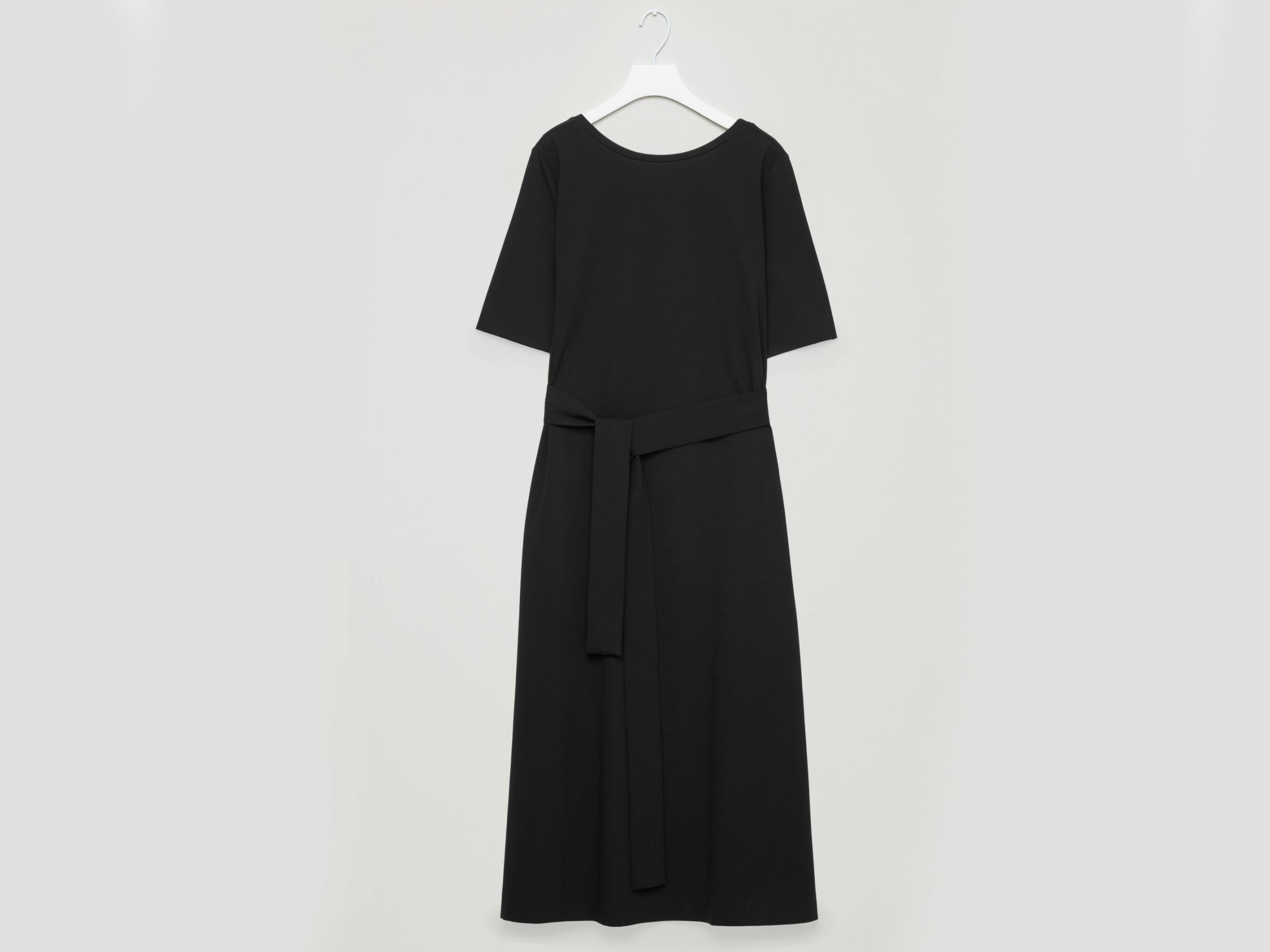 A brand best known for its focus on comfortable cuts and quality materials, Cos is the go-to destination for anyone looking for fail-safe classic pieces that still feel on-trend.
Case in point: This long dress made from smooth stretch-cotton jersey that's inspired by ballerinas. A slim, waisted fit, the skirt flares towards the hem and also features short sleeves, a scooped lower back and discreet side pockets.
We think the black option will look great worn with matching block heels and gold accessories, however it also comes in peach for those who want to get noticed. Available in sizes XS-L (8-18).
Linen Dress: £39.99, Zara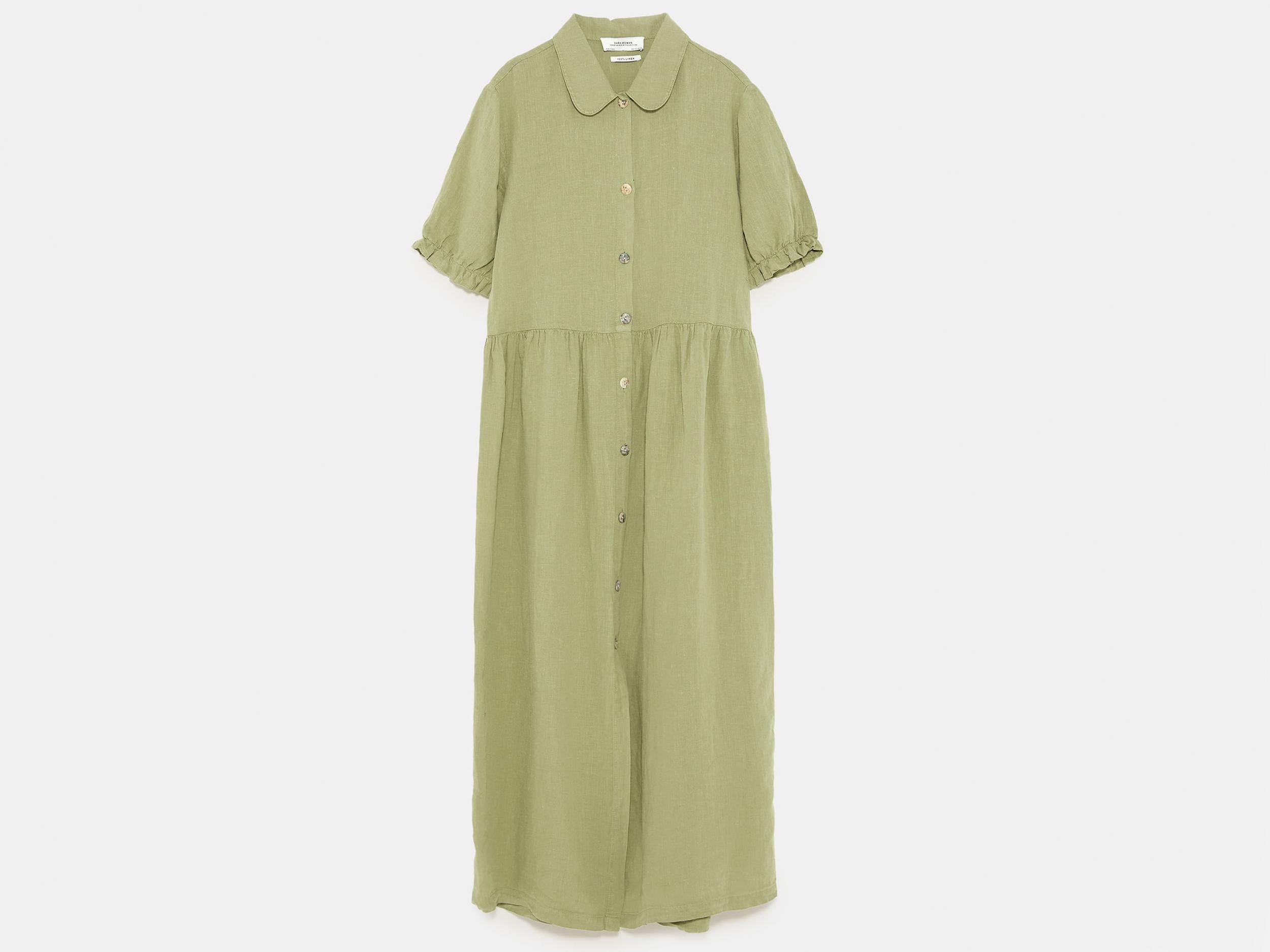 An easy, lightweight choice for summer, invest in this linen dress from Zara and you'll be set for the entire season.
Great for balmy days, the combination of a lightweight material with a smart collar, gathered sleeves and button fastening means it's perfect for when you want to look put together but still feel comfortable.
Compliment the warm hue with earthy tones like tan and deeper shades like khaki or forest green. Available in sizes small to large (8-12).
Patterned Chiffon Dress: £49.99, H&M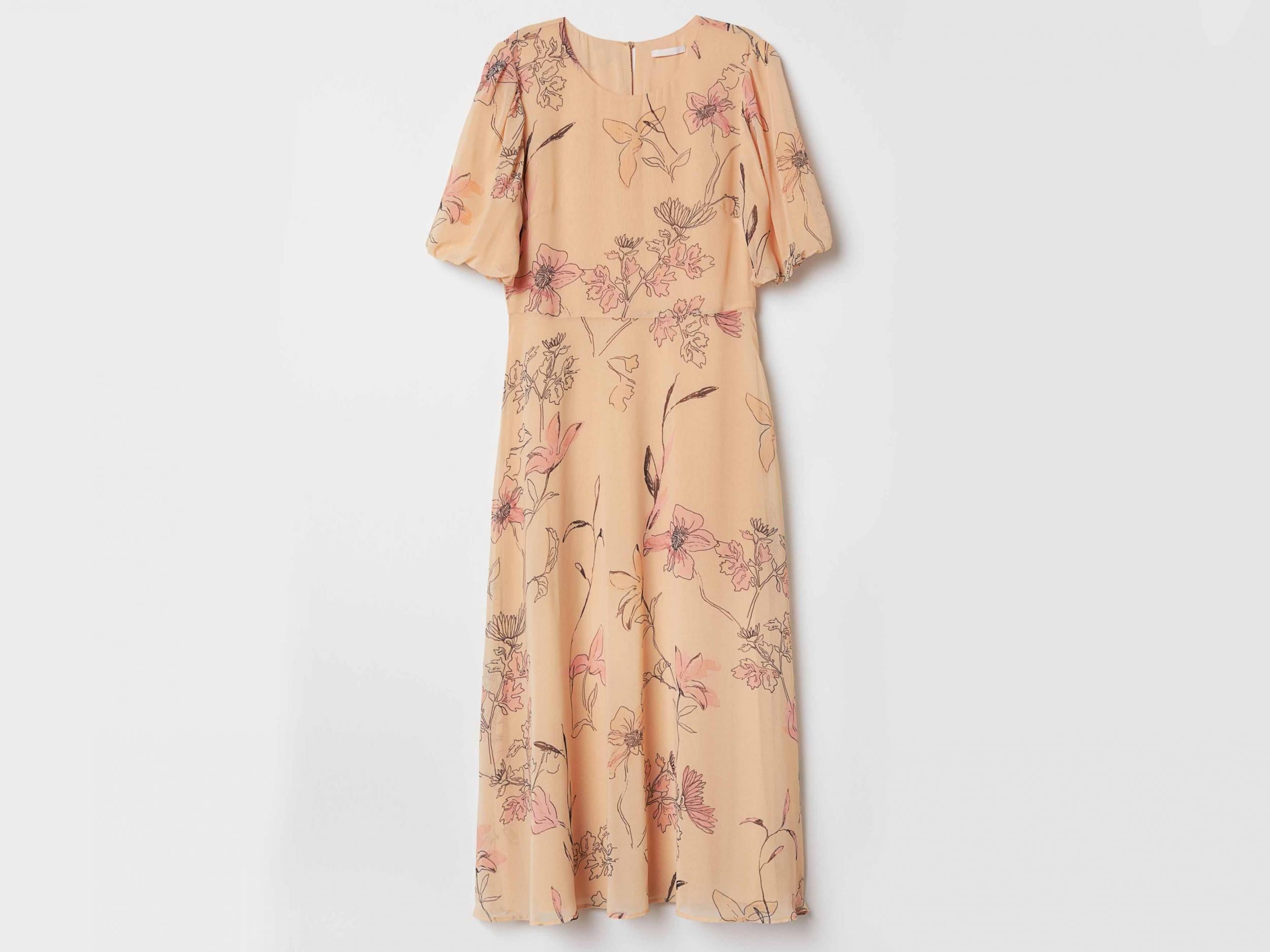 Florals are a perennial choice for the fashion crowd during summer but they can be a difficult print to master at the office.
The trick here is to opt for more grown up silhouettes or, in the case of this dress from H&M, a more mature motif. Decorated with a hand drawn floral design, the peach-coloured dress is made from chiffon and finished with a flared skirt that finishes on the calf.
Accessorise yours with heeled mules or a pair of sandals at the weekend. Available in sizes 4-18.
Jackie Sleeveless Fit and Flare Dress: £185, Reiss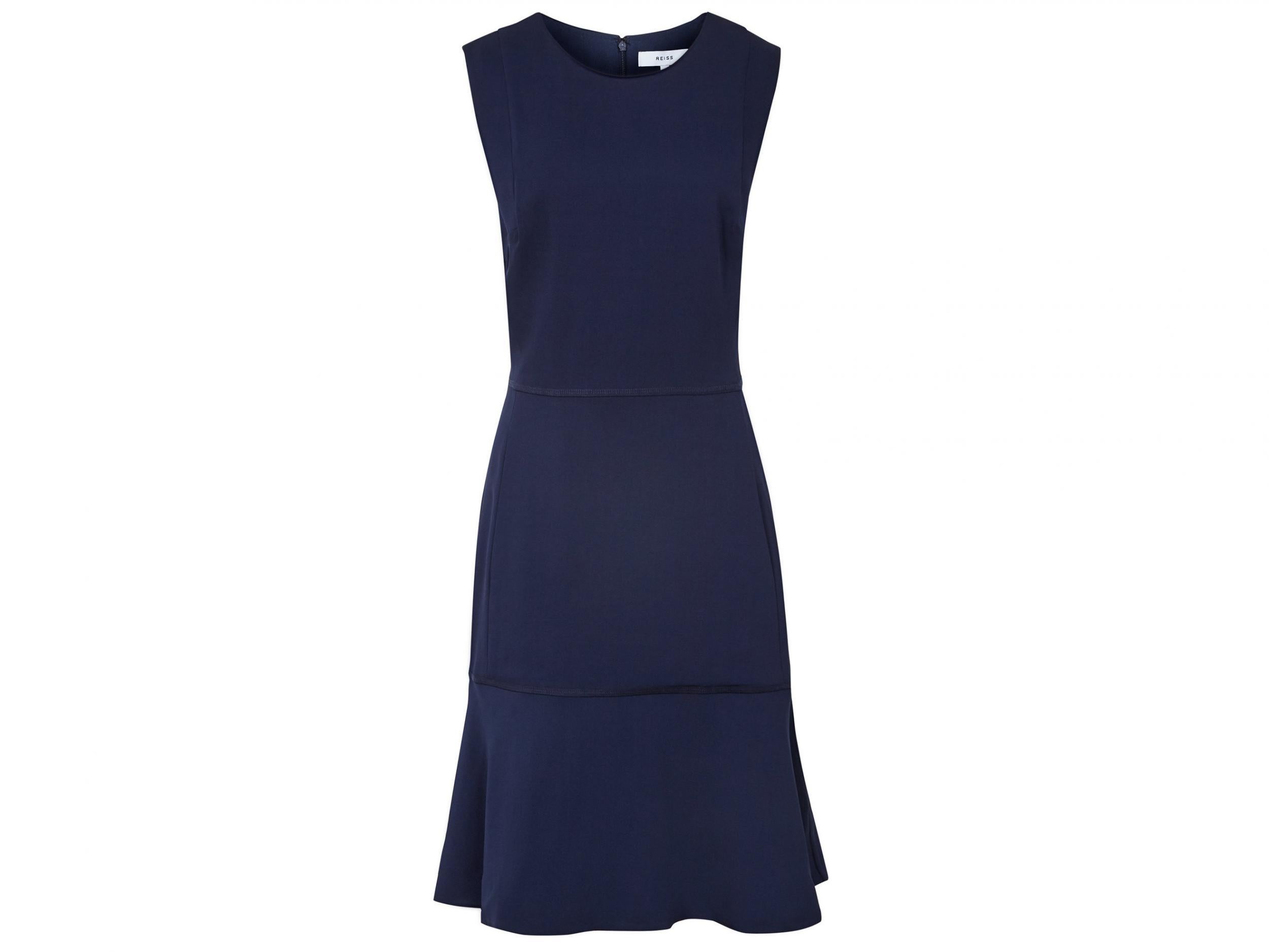 If you prefer to wear dresses that are more form-fitting, this option from Reiss ticks all the boxes.
A fit and flare style, it's cut to a round-neck with a sleeveless silhouette that skims the body and finishes just above the knee. A real investment piece, you can wear this option all-year-round, simply layer a crisp white shirt underneath during cooler months and pair with black pointed court shoes.
We love the chic navy-hue but it also comes in sunset orange and light blue. Available in sizes 4-14.
Cotton Rich Checked Cap Sleeve Skater Dress: £49.50, Marks & Spencer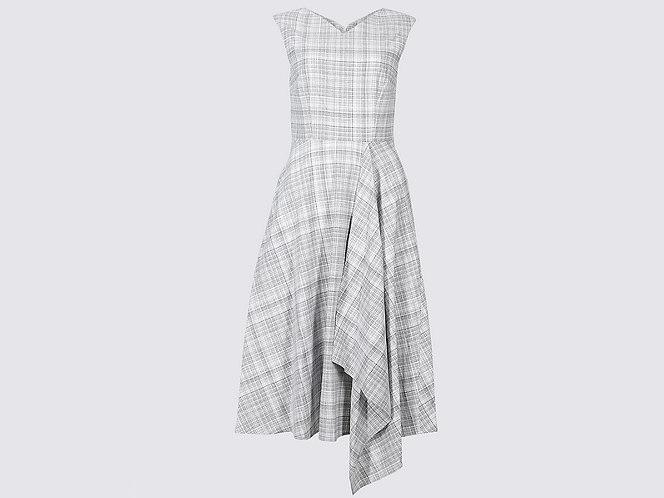 Checks are a popular print when it comes to workwear and this Marks & Spencer dress offers a contemporary take on the trend.
The skater skirt-style, sleeveless design and cotton rich fabric make it super-soft and breathable, while the structured top and feminine ruffle detail give it a fashionable twist.
A great option that will see you through summer, it will look just as great worn with sensible heels at the office as it will a pair of white sandals for walks on the beach. Available in sizes 6-22.
Verdict
For a dress that will make a fashion statement, keep you cool and still be appropriate for the boardroom, we suggest investing in Warehouse's pinstripe dress. Made from linen, it makes for a super-comfortable and breezy fit that promises to flatter most body shapes.
Alternatively, if you want to brighten up your workwear wardrobe Monki's spotted wrap dress is also a great buy.
New Amazing Theme Parks for Kids
Adrenaline-pumping thrill rides may get all the buzz in the theme park biz, but there's also a lot of tamer fun to be had for families with little kids. The good news is that theme parks are launching a lot of fun new attractions for the younger set this summer, and often—but, alas, not always—lower height requirements go hand in hand with lower admission prices.
https://www.tripsavvy.com/theme-park-attractions-for-little-kids-3267519
Tackling Toddler Sleep Problems
Troubleshoot your tot's nighttime woes so you can all get the rest you need in your own beds.
Your 1-year-old cries so hard when you put him to bed that he actually throws up. Your 2-year-old still doesn't sleep through the night. Your 2-and-a-half-year-old shares your bed, or perhaps your 3-year-old wakes in the middle of the night screaming bloody murder.

Sound familiar? If these toddler sleep issues don't ring true yet, they may soon. While most toddler sleep issues are related to age and stage of development, sometimes underlying health or psychological problems may be at least partly to blame. Regardless of the nocturnal nuisance that's disturbing everyone's sleep, there are sound sleep solutions.
Waking throughout the night (again and again)
Getting your child to sleep through the night is a common and challenging toddler sleep problem. Susan Zafarlotfi, clinical director of the Institute for Sleep and Wake Disorders at the Hackensack University Medical Center in New Jersey, says finding a solution for this one depends on your child's age and whether your child not sleeping through the night has suddenly occurred out of the blue.
"Young toddlers may wake up from teething or they may be sick," she says. "Parents need to step back and see what has happened in recent weeks in their toddlers' lives. Is there a new bed? A new sibling? A change in caregivers? Is the child taking a longer nap?"
If waking up is just a habit and unrelated to teething or any other health issues or changes, Zafarlotfi says to intervene by delaying bedtime. Delaying by 15 to 20 minutes could make your toddler more tired, she says.

If your tot calls out to you during these middle-of-the-night episodes, Zafarlotfi advises going into the room to comfort your toddler with a lullaby, soft music, or any other soothing routine that you use at nighttime. "Assure them that they are OK and then leave their room," she says.

If this scenario happens night after night after night, she says, you should delay going into the room to soothe your child by five minutes each night.
Crying at bedtime to the point of being sick
Should you really just let your toddler cry it out? Often called Ferberizing, this method may seem cruel to some parents, especially if the child cries himself or herself sick. Other parents swear by it.
"It's very hard to do," says Mary Michaeleen Cradock, clinical psychologistwith St. Louis Children's Hospital in Missouri. "But we know of no negative effects of using the Ferber method." Often times, one parent can handle the wailing and the other one simply cannot, she says. "If you are letting your child cry it out, one of you may want to go to the gym or put on an iPod while the other deals with the crying." If you choose this approach, you need to be prepared to stay committed to it for four to five nights.

Ferberizing is really all about changing your toddlers' sleep associations, which should solve this toddler sleep issue. "If a mom rocks her toddler to sleep, this is that child's sleep association. If the goal is to get the toddler to go sleep by herself, you need to shift the association to one that she can do herself — the Ferber method is one way to do that," Cradock says.

If letting your child cry until she vomits seems too barbaric, go into the room after your child cries for a set amount of time, rub her back, and say, "Mommy is going to sleep, too," and then walk away, Zafarlotfi says. You may have to do this a few times a night before your toddler is comfortable. If this cry-it-out method is not something that you or your partner (or toddler) can stomach, discuss alternative methods with your pediatrician.
The bedtime routines that never end
Sleep specialist Rafael Pelayo, MD, an associate professor of sleep medicine at Stanford University School of Medicine, says, "The goal is to make bedtime a positive experience." In two-parent households, bedtimecan become tumultuous. "Either one parent says, 'I put her to bed last night and now it's your turn,' or one parent is better than the other at putting the kid to sleep and resentment comes in to play," he says. "This is more related to family dynamics than the child. But kids pick up on their parents' stressand anxiety around bedtime, and that gets them stressed out and prolongs bedtime."
Pelayo recommends the following solution. "Both parents should go into the room, dim the lights, and chat amongst themselves for about 20 minutes or so because there is nothing more boring, yet more reassuring and safe, than having both parents there," he says. "Instead of saying, 'Let's get this kid to sleep,' just hang out, talk, relax, and think about how lucky you are to have such a great kid."
Preferring your bed over his or her own
Some parents may enjoy sleeping with their children, but this can be a toddler sleep problem in other families. Sharing a room or sharing a bed may be primarily a cultural or economic issue, Pelayo says. "You can only put baby in a crib if you can afford a crib, and your baby can only have their own room if you can afford it," he says. "It is really a cultural thing to have kids sleep in separate rooms or beds."
But if both parents agree that bed-sharing is a troublesome toddler sleep issue, "try telling them that mom and dad are happier when they sleep alone because children innately want to please their parents," he says. "Or say, 'There is no such thing as a three-person bed, just two-people beds.'"
Children may be scared to be alone, so you need to let them know that they are safe and secure wherever they sleep.
Breaking this habit can be hard, Zafarlotfi says. It usually starts innocently enough. "A child may have had an earache and slept in their parents' bed and gotten used to it," she says. "If they are accustomed to your bedroom, you need to reverse it and spend more time in their bedroom. Stay in their room on a recliner, dim the lights, and act as if you too are dozing off or relaxing at bedtime or naptime so they know that you are present," she says.
Be positive. "Say, 'Mommy needs her time, but she will come to your room for a while.'" While you are there, "play soothing music and have fun in their room so they know that their bedroom is not for punishment or abandonment," Zafarlotfi says. "When they fall asleep you can say good-bye or sneak out."
Consistency counts too. Zafarlotfi says, "You can't take them to your bed one night and then not let them in the next night."
Nightmares
"The first thing you can do is to look for any physical problems that may be disturbing their sleep," Pelayo says. Snoring, acid reflux, heartburn, or even allergies may be waking your child up at night, not nightmares. "If there doesn't seem to be anything physical causing them to wake and stir," he says, "then it's time to talk about the nightmares. Tell them that they are always safe and that nightmares and dreams are like paintings and drawings, meaning that they can paint a nice picture or scary picture," he says.
Dream rehearsal may also help children take the sting out of nightmares. Here's how it works: "Discuss what happened in the nightmare and come up with a new ending," he says. If your toddler dreamed that he was falling off of a cliff, tell him to imagine that he can fly. Or if the nightmare involved a monster, perhaps the monster could be made of marshmallows, he suggests.
Best Mental Techniques to Improve Your Time Management
Beneficial time management is something most of us struggle with. In a world that certainly has no shortage of distractions, it becomes all too easy to waste away hours or even days on activities that are neither useful nor really all that enjoyable.
If you would like to start getting more value out of the hours you've been given, check out these seven mental techniques for improving your time management.
1. Visualize your daily goals.
When you wake up each morning, decide then and there what you want to do with that day. What tasks do you want to accomplish? What activities do you want to enjoy? (It's important to note that daily goals don't necessarily have to be work related. Perhaps your goal for the day is to spend time with your family or enjoy a day on the golf course.) Then take a few minutes to visualize these tasks as already completed. How would you feel if they were already done? This sense of fulfillment will renew your drive to complete your tasks that day and not put them off any longer.
2. Avoid putting off tasks.
We as humans have this unfortunate tendency to spend more mental energy worrying about the tasks we have to do than we spend actually doing them. When you put off tasks, they're always going to be in the back of your mind. It's difficult to enjoy leisure time when you're always either consciously or subconsciously thinking about the work you are putting off. To avoid wasting mental energy worrying about these unfinished to-do's, always complete tasks as they come up.
3. Set deadlines.
Few things are more motivating than a deadline. Some tasks given to you will inherently come with a deadline, but for tasks that don't, you stand to benefit a lot by setting one of your own. Deadlines have a way of breaking procrastination and can motivate you even when you have no desire to complete the task. It's important, though, when you set deadlines for yourself that you actually stick to them. If you start ignoring the deadlines you set, then soon they will have little value to your time management efforts.
4. Make a to-do list.
One of the best time-management tools you can use is a to-do list. Something about writing out the tasks you have to complete on a piece of paper makes them feel more doable. It provides you with a visible, tangible way to see how much you have still to do and keep track of the things that you've already done. As an added bonus, marking an item off your to-do list is a feel-good reward in and of itself.
5. Stop multitasking.
There are a lot of people who feel as if they are really good at multitasking, but very few of us actually are. Studies have shown that we are almost always less productive when we are trying to accomplish multiple tasks at once. By learning how to prioritize, you'll be able to get much more done than if you were multitasking. In fact, not only are we less productive when we multitask, it can also increase your chances of getting burned out, as it is both more difficult and more stressful than focusing your efforts on a single task. Instead of trying to get everything done at once, start checking things off your to-do list one task at a time, focusing all of your attention on that single task until it is complete.
6. Reward yourself.
When you complete a task, reward yourself! That doesn't mean you have to throw a huge celebration every time you check something off your to-do list. For many people, the reward for finishing a task is something as simple as going outside for a breath of fresh air or getting a can of soda from the refrigerator. Just make sure that whatever rewards you give yourself are healthy and don't take up too much of your time. For example, eating a box of donuts every time you finish a task probably isn't a good idea, and neither is taking the next two hours off. When done right, though, small rewards can have a big effect.
7. Take time to relax.
If you're like most of us, no matter how much you do, there will always still be tasks that you could be working on. Sometimes this feeling of never really being caught up can be overwhelming, and you may find yourself trying to compensate by working even longer and harder. There almost always comes a point, though, when you will burn out
. From that point forward, no matter how hard you try, the work you do is not going to be the same quality as it was before, and the time it takes you to do it is going to be increased. What's worse, burning yourself out certainly isn't healthy.
It's important to know when to take a step back and relax—for example, working breaks into your daily goals and rewarding yourself with short periods of relaxation. However you make the time for it, just know that taking that time for yourself is every bit as important for good time management as taking the time to complete your tasks.
By following these mental techniques to improve your time management, you'll be able to get more done faster and easier than you ever thought possible.
http://www.success.com/article/7-mental-techniques-to-improve-your-time-management
Waffles with Blueberry Maple Syrup
Yep, you can eat waffles and bagels and still lose weight! Begin your day with this healthy, low-calorie breakfast!
Ingredients
1/3 cup frozen blueberries
2 teaspoons maple syrup
2 whole-grain waffles
1 tablespoon pecans
Make It
Microwave blueberries and syrup together for 2 to 3 minutes, until berries are thawed. Toast waffles and top with warm blueberry syrup. Sprinkle with pecans.
Watermelon Mint Lemonade
Ingredients:
Watermelon juice-2 glasses
Mint leaves-10
2 pinches of salt
Lemon juice -2-3 table spoons
Directions:
Prepare fresh watermelon juice. Now in blender take juice,mint leaves,2 pinches of salt,squeeze lemon juice and blend until fine puree.
Pour in glasses, refrigerate for some time and serve chilled.
Best Summer Sandals 2018
Walk on eggshells with Loewe, get graphic with Jacquemus, and head beachside with Madewell: Ahead, a massive edit of the summer shoes we're so ready to wear.
Non-Matchy Matchy
These sculptural heels are so good, they don't need to match.
Jacquemus Les Sandales Bahia, €555; jacquemus.com
Designer Hypebae
We all know these are the sneakers of the year.
Louis Vuitton LV Archlight Sneaker, $1,090; louisvuitton.com
Daily Mule
This shoe will work with everything from formal LBD's to Daytime LWD's.
Mango Heel Leather Mules, $80; mango.com
Metallic Mod
Go-go boots made a silver streak at the '60s-inspired runway at Christian Dior.
Dior Naughtily-D Lace-Up Boots, $1,650; Dior.com
Summer Essentials
Palm trees and pina coladas are all we need.
Vincenza Metallic Palm Slide Sandals, $118; anthropologie.com
https://www.elle.com/fashion/accessories/tips/g7865/best-summer-sandals-slides/
How to Work Less?
The traditional structure of nine to five is no longer, and the average American works 47 hours a week. We're working over the recommended limit and conversely, sleeping under the 7-9 hours per night that research suggests for optimal health. This is a tradeoff that does not have to be the norm. Who wouldn't love a little more time to spend with the kids, read, cook, and play outside before sundown? Over the past five years of running a startup while still sleeping 8+ hours a night and working out everyday, I've developed a few habits to help me make every work hour count.
Pen, Paper, Priority
While technology has provided us with enough multitasking tools and productivity apps to schedule the rest of our lives, I find that my favorite productivity "app" is a pen and paper. The tip to productivity is priority. I spend each morning writing down the top three things that I want to accomplish that day, ranked in order of priority. Most people are the most productive in the morning, and I'm no exception. Instead of diving straight into my email, I pick the hardest task on my list and finish that first. I keep that list in front of me the whole day and it helps me to focus when meetings and emails try to pull me in different directions. Though many people keep lists in their notebooks, I love writing them on pieces of scratch paper so that I can  cross off, crumple and slamdunk my list of tasks into the recycling bin at the end of the day.
Timeblock your Tasks
On Sunday evenings I make a list of everything I want to get done in the coming week. Then I block out times in my calendar for the larger tasks that I know will take multiple hours of focused attention. Kuli Kuli has a shared google calendar and we encourage everyone to block off time as they see fit. My team knows that if I block off "HOLD for Investor Update" in the calendar that I'll be focusing on that task but they can schedule over it if something extremely time-sensitive comes up. I also find that these time blocks make it easier to do tasks that I have trouble making time for. For me, writing articles for Forbes or other outlets is one of those tasks that takes hours of focused attention, but it's often an activity that's difficult to prioritize as it never feels as urgent as the day to day fires of running a startup. However, when I have a clearly delineated time in my calendar, it feels less daunting to spend a few hours away from the emails and meetings to try something more creative. And better yet, often I finish my tasks early, leaving time for breaks!
Bursts to Breaks
I drink more tea at work than most people drink water. Part of this comes from the fact that I enjoy tea but the other, larger part is that I enjoy the ritual of heating up the water, waiting for the tea leaves to steep and then composting the leaves once the tea has reached the perfect richness. This ritual serves as the perfect 15 minute break for me and I do it 4-6 times a day. Everyone has different ways that they take breaks. There is lots of research out there about the "right" balance of focus and rest, from the Pomodoro Technique of 25 minutes of focus and 5 minutes of rest to the suggestion of many social scientists to work for 52 minutes and then play for 17. Every person is different and I suggest finding activities that you enjoy — whether its a tea/coffee break, a walk outside or a stretch — and building that into your work routine.
Work to Workout
At Kuli Kuli, we've built in an optional stretch break that also serves as a team bonding time. If you step into our office at 2:30pm, you're likely to see half a dozen people doing push-ups or crunches as part of our team FitDeck stretch breaks. We also have a weekly team running club on Friday afternoons and a monthly pickup soccer game that we play against another startup. Research shows that exercising during the middle of the workday stimulates creativity, relieves stress, and increases alertness. Fitting in exercise is immensely positive in every possible way. After a workout, when I'm back at my standing desk, I'm always less antsy, less distracted, and more productive than when I started.
Eat Well, Hydrate, Meditate
Food is medicine, water is fuel and meditation brings clarity. I never understand people who say they're too busy to eat breakfast or stop to eat lunch. I'm too busy to not eat breakfast! Staying focused, efficient, and productive is a form of being in shape, for both the body and the brain. You need stamina and nourishment to make it through your optimal work day and mental clarity to tackle each task with intention. Of course, running a moringa company means that I'm partial to superfoods but there are many different "brain foods" that can help you perform at your best. I make sure that our office is stocked with lots of healthy snacks. I also keep a water bottle (and a mug for tea) next to my desk at all times so that I stay hydrated. And of course, pee breaks are another good excuse to step away from your computer. I also spend 5-10 minutes meditating at both the beginning and end of my day, which helps me begin and end each day with intention.
Cater to your Creativity
I often like to theme my days. Mondays are my meeting days, Wednesdays are my "maker days" and Fridays are my call marathon days, which I often take while walking around the lake near our office. Though I like scheduling similar types of activities on certain days, I also leave a lot of room for flexibility. I travel around every other week and find that I often to get creative about the places and types of work that I'm doing. Often when I'm attending conferences I'll intentionally miss the morning sessions in order to get in a run and one task finished before I engage in the sessions. With the more flexible and remote nature of many careers nowadays, it's become easier than ever to set the work schedule that aligns with the times you're most productive. Not every day has to be the same, and changing it up will keep you engaged and help dodge boredom and monotony. When you plan out the tasks of the day, determine which environment will foster the most creativity and efficiency so you can produce your best quality of work.
Check Out at the end of the Checklist
The above tips should help you to avoid burning out from all that great work you've accomplished, but there's one more essential step – quit while you're ahead. It's important to leave today's work on a high note so that you're ready to roll tomorrow. When you've finished everything you've set out to do to the best of your ability, step away and call it a day. Have a bunch of tasks that could come next? Create tomorrow's list and feel good about having finished today's and taken tomorrow's first step. By the end of the week, as long as I've completed all the work I set out to, I can walk away guilt-free.
Most Importantly, Actually Sleep
If you want to sleep more hours than you work, you should make sure you're sleeping at least eight hours. But just as you can be creative with your work hours, sleeping hours don't have to be amassed in the eight-hour blocks that we think they do. All over the world, siestas, repos, and naptimes allow adults to reach their full eight hours of shuteye and wake up feeling refreshed and refocused. Even Google offers nap rooms, recognizing it increases techie productivity! If you're more partial to the traditional nighttime slumber however, try setting a timer rather than an alarm, counting down from an ideally uninterrupted eight hours at lights out.
After trying these steps, you might find you have more time on your hands than you did before — congratulations, taskmaster. Now, get outside and enjoy that sunshine!
https://www.forbes.com/sites/lisacurtis/2018/07/06/how-to-work-fewer-hours-than-you-sleep/#5f27f7b86623