Salad with Carrots and Figs "Sensuality"
Ingredients
3 carrots of medium size
2 tbsp. fresh cilantro, chopped
1 1/2 tbsp. olive oil
2 tbsp. maple syrup
1 freshly squeezed lime, juice
1/4 cup goat cheese, crumbled
2 tbsp. walnuts, chopped
2 tbsp. figs, finely chopped
Salt & Pepper to taste
Preparation
Cut slices of carrot ribbons using vegetable peeler.
Put the ribbons into icy cold water for 15 minutes to make them firmer.
Drain the carrot ribbons and let them pat dry.
To prepare dressing, combine olive oil, maple syrup, fresh cilantro, freshly squeezed lime juice and salt in a bowl.
Mix together carrot ribbons, figs, walnuts and crumbled goat cheese. Add dressing before serving.
What Does Real Leadership Look Like?
I was at dinner recently with some friends and out of the blue, one of my dinner companions asked a compelling question: If something dangerous happened here in this restaurant, who do you think would step up and lead us out of here to safety?
Companies all across the globe are asking a similar question every day. If we want to go somewhere, if we want to be successful, who can we count on to step up and take us there? An endless stream of studies have been conducted, libraries of books have been written, and yet leadership still seems to be a bit of a mystery.
Can leadership be taught or is it a talent we are born with? Most companies have some kind of assessment that you have to pass to be moved into leadership. That seems democratic — anybody can take the test and so that means theoretically that anybody could pass it. This avoids the good old boy network— no more getting the job because of who you know. At least in theory, that's how it works. And the chances of finding the right person should be better with some science sprinkled into the process.
But what do these assessments find? What are they looking for? Are they ever wrong? Do men fare better than women or vice versa? Is using an assessment better than just getting to know someone on a personal basis and finding out in the heat of battle who they are and how they operate?
I am not sure, but I can say this: I've been a board member on a NYSE company since 2003. I have met many leaders of all sizes, shapes and genders. Some  are quiet, some are outspoken. Some are tender, and some are kind of hard-bitten. They are all, in their own way, terrific leaders. So what does that mean?
I think it means that people are much more complicated than we sometimes give them credit for. It's easy in a laboratory to create a leadership template, an eye of a needle of sorts for only the "right" people to pass through. But in practice it's more difficult to predict who will step up and do the leading.
This is the crux of what leadership is all about: the willingness and ability to do it in the first place. Some people don't want that responsibility. But they should, shouldn't they? After all, who doesn't want to be in charge?
Think about great salespeople. They love the chase. Closing the deal is everything and they are relentless in getting that done. So what do we do with a great salesperson? We promote them to sales manager! And then sometimes, they do the job for a while out of some obligation or because the money is good or because they are tired of the road. But eventually, who they are at their core and how they are really wired drives them back to what they really love— selling. They could care less about leading people, about hearing their issues on a daily basis and inspiring them to be their best. Not a great fit. But still, it happens all the time in organizations big and small. It is assumed, without evidence, that people can lead, simply because they did well in their previous role.
Real leaders rise and identify themselves. If you want to find the next generation of leaders in your organization, build a culture where they can soar.
Let them learn and grow. Encourage their input and ideas. Pay close attention. Listen and watch them. If real leaders are given space and license to better themselves and those around them, they will. They can't help it. That's what leaders do.
Share information in your company. Don't hoard it. Build a system that asks for input and ideas, and really do something with all of it when you get it. You'll see that the latent leaders in your organization will start to flourish in that environment, and they will become increasingly visible.
And get ready because some of those leaders that rise up might surprise you. They don't fit the mold. They don't look like you. They don't dress like you. They think differently. They work differently. But make no mistake, they share your aspirations and your expectations for a job well done.
Jill Griffin is an independent public board director, Harvard "Working Knowledge" author; and founder of Jill Griffin Executive Learning
https://www.forbes.com/sites/jillgriffin/2018/04/02/what-does-real-leadership-looks-like/#3e2a3b5a7cd4
Sensuous Crispy Duck
Ingredients
1 duck, 4–5 lbs. (2–3 kg)
½ cup shredded almonds
5 tangerines
2 oranges
2 tbsp. sugar
½ cup celery, chopped
½ cup fennel, chopped
Salt and Pepper to taste
Preparation
This dish takes a bit of preparation, as the duck needs to be refrigerated overnight. One day before, the duck should be cleaned and excess fat removed.
On the day of the cooking, preheat your oven to 475° F (250° C). Take the duck and prick the skin carefully using a fork, without piercing the meat.
In a bowl, combine 4 peeled tangerines and two oranges with the sugar, and mash them using a fork until the sugar is well mixed. Add almonds, celery, fennel, and half of tangerine peel into the mix.
Stuff the mixture inside the duck's cavity. This mixture will enhance the flavour of the duck during the cooking.
Cut the remaining two tangerines in half, and rub all over the duck's skin. Add salt and pepper and sprinkle tangerine peel over the duck.
Place the duck in a roasting pan and roast the duck for about 20–30 minutes, and then reduce heat to 350° F (175° C) and roast for another 20 minutes. Turn the temperature up to get the duck crispy and cook it for 10 minutes.
Top 10 Russian Entrepreneurs
Russia is now the largest Internet market in Europe, with more than 55 million online users. Russian Internet market leaders, Yandex and London-listed Mail.ru Group, both reported a year-over-year revenue growth of 50% for the first quarter of 2012.
The Russian market is growing at a supersonic rate and provides excellent exit opportunites for investors in Russian online ventures to create a brand-new breed of Russian Internet entrepreneur.
So, who are the trailblazers in the new web frontier to watch? Yankov Sadchikov, Russian startup blogger at Quintura.com, has identified the hottest Russian entrepreneurs right now.
Oskar Hartmann, founder and CEO, KupiVIP.ru
After launching online shopping club KupiVIP.ru in fall 2008, the Russian-German Oskar Hartmann added an eCommerce platform for the Russian retailers and launched online fashion store ShopTime.
In Russian online shopping, KupiVIP is growing rapidly — it racked up $200 million revenues last year. In 2010, Hartmann partnered with the French businessman Pascal Clément to set up a Moscow-based internet business incubator, Fast Lane Ventures that has already started eighteen internet businesses to date, of which two were already exited.
Marina Kolesnik, founder and CEO, Oktogo.ru
Following a consulting career at McKinsey and management role at DataArt where she headed complex software development projects, Marina Kolesnik has leveraged her Harvard MBA to launch her own online venture Oktogo.ru two years ago. Since then, Marina raised $15 million in venture capital from European and Russian investors to make Oktogo.ru Russia's leading online hotel booking and travel site or the "Booking.com of Russia."
Pavel Cherkashin, co-founder, Krible and Kuznech
Having been Russian manager for Adobe and Siebel as well as Microsoft Russia's general manager of consumer and online businesses, Pavel Cherkashin made a number of angel investments in online businesses in Russia. He now works for his investee companies, online customer support service Krible and image search Kuznech, as well as helps other investees, including online video site Tvigle.ru and mobile advertising network AdWired.
Alisa Chumachenko, founder and CEO, Game Insight
In online gaming, marketing is key. The former head of marketing at Astrum Online that was merged into Mail.ru Group in 2008, Chumachenko started her own social game publisher and developer Game Insight in late 2009. In 2011, she moved into mobile gaming to make Game Insight one of the leading gaming companies on Android.
Albert Popkov, founder, Sravni.ru
Popkov capitalised on the social networking boom in Russia. Back in 2006, he launched the social network company Odnoklassniki.ru. He then raised funding from DST and sold to it later. Odnoklassniki, which is part of Mail.ru Group, has some 25 million monthly users. In 2009, Albert launched consumer banking comparison site Sravni.ru, which is now the leader in its category.
Yulia Mitrovich, Entrepreneur in Residence, Svyaznoy Group
A graduate of the University of British Columbia, Mitrovich was a McKinsey consultant before going to Web Media Group in Moscow to head its online video site Zoomby.ru.
In 2012 Mitrovich joined Svyaznoy Group, the leading mobile phone retailer in Russia, as Entrepreneur in Residence. No surprise, Svyaznoy founder Maxim Nogotkov was named Russia's Entrepreneur of The Year 2010 by Ernst & Young.
Igor Matsanyuk, founder, IMI.VC
If the internet incubators are the new black, then mobile-focused business accelerators are the new, new black. Entrepreneur-turned-VC Matsanyuk has made a fortune by cashing out shares in Mail.ru Group during its IPO in late 2010.
One year before, he merged his online gaming company Astrum Online Entertainment into Mail.ru. Igor currently seeds mobile startups viaFarminers business incubator and own investment company IMI.VC.
Elena Masolova, co-founder and CEO, Pixonic
The Higher School of Economics graduate, Masolova co-founded the AddVenture seed-stage fund in Moscow in 2008 and was a founding member of coupon site Darberry, which became Groupon Russia. She currently heads social gaming company Pixonic, a portfolio company of AddVenture. She also eager to make angel investments in online startups and lead them later.
Anna Znamenskaya, founder, Workingmama
Following a ten-year executive career including CEO of Digital Access (online video portal ivi.ru), Rambler's commercial director and B2B Media CEO, Znamenskaya has ventured into entrepreneurship with her own online project for mothers, Workingmama.ru in late 2011. She is also receiving Master in Digital Marketing from Instituto de Empresa in Madrid this year.
Olga Steidl, CEO, Talkbits
The St Petersburg State University graduate Steidl has headed marketing at mobile software maker SPB Software before it was acquired by Yandex last November. After a short stint withYandex, she has settled in Zurich to help mobile startups via dots'n'spaces and organize mobile industry events. Steidl is also startup CEO herself and mentor at Seedcamp where Yandex recently invested.
https://themoscowtimes.com/articles/the-top-10-russian-internet-entrepreneurs-to-watch-15459
Vanilla Bean Cardamom Peach Pie
Crust
2 1/2 cups unbleached all-purpose flour
2 tablespoons vanilla sugar
1/4 teaspoon salt
1 cup iced cold butter – cut into pieces
1 cup iced cold water
Whisk together the dry ingredients. Cut the butter into the dry ingredients until there are pieces no larger than a pea.
Mix in about 1/2 cup of the iced cold water and add more a little at a time just until a dough forms. Break the ball of dough in half, flatten into 2 discs and wrap well in plastic. Place in the fridge for 1 hour.
Filling & Pie Assembly
8-9 average sized peaches
1 tablespoon lemon juice
1 vanilla bean, seeded
3/4 teaspoon ground cardamom
1/4 cup unbleached all-purpose flour
1/8 teaspoon salt
1 tablespoon half & half
1/2 cup brown sugar – packed
Preheat oven to 425F. Peel and cut peaches into 6-8 slices each. Place in a large bowl and toss with lemon juice. In a medium bowl toss together all dry ingredients, including seeds from vanilla bean, reserve the rest of the vanilla bean for another use. Once well combined toss with peaches and let sit for 15 minutes.
Take one pie crust disc out of refrigerator. Roll it out into a 12″ circle. Carefully lay crust into plate. Place the doug lined pie plate in the freezer.
Remove second disc of dough from the refrigerator and roll out to just large enough to fit over the top of pie. Remove pie plate from freezer. Carefully pour peach mixture into plate, mounding slightly in the middle. Dot with butter and cover with top crust.
Cut vents in the top of the crust. Using a pastry brush, brush cream all over the crust.
Place pie on a cookie sheet and into the preheated oven. After 20 minutes, lower heat to 350F and cook for another 30-40 minutes until crust is golden brown and filling in bubbly. Remove from oven and let cool for 4 hours before serving.
2018 Makeup Trends
My 75-year-old great aunt has a sign in her kitchen that reads: "Life is too short, lick the bowl." Sure, that wall hanging may have been a simple piece of home decor found in the aisles of a suburban 
TJ Maxx
 many years ago, but the sentiment rings true today.
Why spend time worrying about what other people think when you can spend time doing what you love? Cheesy, perhaps, but ultimately they are words to live by. (It's worth noting she also has a sign that reads: "Of course size matters, no one wants a small glass of wine." Which is also true.) We take a similar, 'you only live once,' approach to makeup. So when a new trend rolls around, we try it — even if it may seem bolder than our go-to cat-eye and nude lip.
This year there have been plenty of stand-outs: 
black lipstick
, 
floating creases
, 
glass skin
, 
glitter freckles
 — and 
we've tried them all
. Next year, we're excited to take on a whole new set. So, with the new year quickly approaching, we turned to the runways and red carpet to forecast makeup trends that will dominate 2018. Some of them involve simple swaps (think: ditching your Champagne highlighter for something gold, or layering mascara for a clumpy effect), while others urge you to play with new textures and colors. Curious? Check 'em out in the slides ahead.
Golden Glow
When Bad Gal Riri launched a pure-gold highlighter, we had no idea the effect it'd have on the beauty world. After spotting the musician-turned-entrepreneur rock her very own Killawatt Highlighter in Trophy Wife (a vibrant, metallic yellow-gold), we saw dozens of bloggers, editors, and celebs do the same. Sure, it may not be the most subtle highlight choice, but in the age of rainbow highlighter and holographic finishes, it's a welcome addition to our makeup arsenal.
Cop the look with Rihanna's Killawatt Highlighter — a powder formula in a pigmented, yellow-gold hue. Dust it all over cheekbones, use it as eyeshadow, or spot strobe — the options are endless.
Fenty 
Killawatt Freestyle Highlighter,$34.00, available at 
Sephora
.
Itching to try gold highlighter but want something a little more subdued? Try a pale gold powder, like this one from Wet n Wild.
Wet n Wild 
MegaGlo Highlighting Powder, $4.99, available at 
Ulta Beauty
.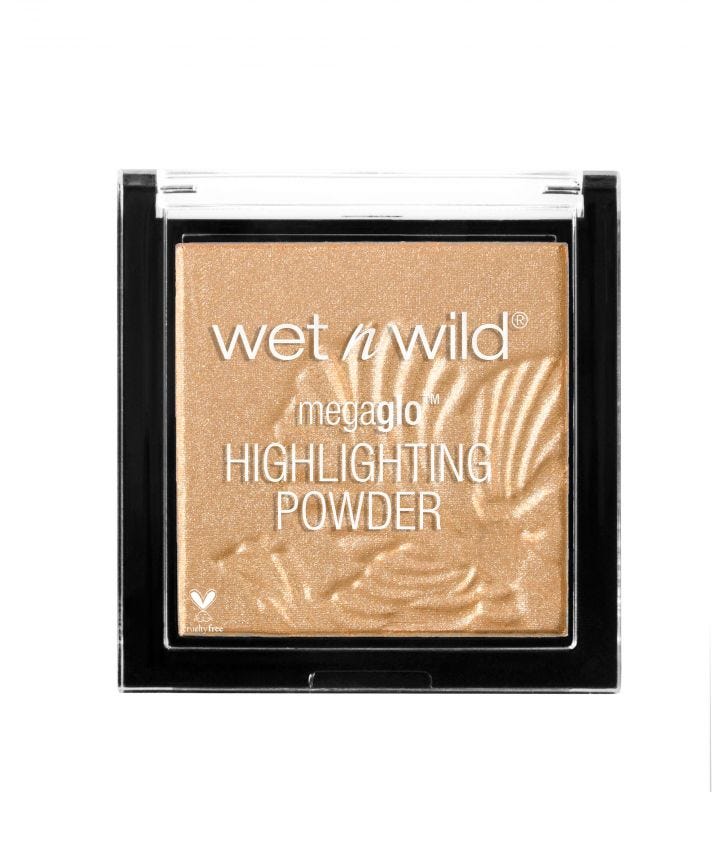 This versatile, baked highlighter can be applied in sheer layers for a subtle glow or packed on for a megawatt, almost metallic sheen.
Too Faced 
Love Light Prismatic Highlighter, $30.00, available at 
Sephora
.
Upside-Down Liner
Janelle Monae, Mandy Moore, Shay Mitchell… it's hard to find a celebrity who hasn't rocked upside-down liner this year — and we don't see the trend slowing down in 2018. The technique is one of the quickest ways to inject color into a look, while requiring virtually no makeup skills. All you have to do is use a shadow or liner in your preferred shade (we're partial to blue) to line your bottom lashline. The result is a pop of color that simultaneously defines your eyes.
This creamy, turquoise pencil is one of our favorites. Not only does the shade pop, but since the formula is matte, it lasts a bit longer on our eyes than more shimmery alternatives.
MAC Cosmetics 
Chromagraphic Pencil, $17.50, available at 
mac cosmetics
.
You don't need to run out and buy colorful liners just to rock this trend, any eyeshadow will do the trick. ColourPop's SuperShock shadows have a unique cream-meets-powder finish that's easy to apply with fingers or a small brush.
ColourPop 
Super Shock Shadow,$5.00, available at 
ColourPop
.
Want something that'll make it look like you're a trendsetting movie star that stays out all night, when in reality you have an 8 PM bedtime? Opt for this jumbo eyeliner for the perfect upside-down smoky eye.
Sephora Collection 
Easy Smoky Eye,$14.00, available at 
Sephora
.
Inner Circles
The inner corners of the eyes may be miniscule, but a touch of a carefully-placed pigment can pack a hell of a punch — not to mention instantly brightening your eyes. Rather than calling upon more natural shades like Champagne or white to highlight the inner corners of the eyes, makeup artists are opting for fun pops of color in shades like pink, orange, or even baby blue. We've spotted celebrities like Shay Mitchell and Joan Smalls rock this simple, yet effective, trend and our bet is we'll see it a lot more on the red carpet in 2018.
This rose gold shadow has the perfect amount of fine, metallic shimmer. Use your ring finger to dab the powder onto your tear duct and finish off with a few lashings of mascara.
NARS 
Dual-Intensity Eyeshadow,$29.00, available at 
Joseph
.
Want something with a little more sparkle? This loose powder is packed with micro-fine shimmer and can be used all over the face on cheekbones, the Cupid's bows, and of course, the inner corners.
Make Up For Ever 
Star Lit Powder,$21.00, available at 
Sephora
.
https://www.refinery29.com/makeup-trends-2018?bucketed=true
What Too Much Screen does to children
Screen time is an inescapable reality of modern childhood, with kids of every age spending hours upon hours in front of iPads, smartphones and televisions.
That's not always a bad thing: Educational apps and TV shows are great ways for children to sharpen their developing brains and hone their communication skills—not to mention the break these gadgets provide harried parents. But tread carefully: A number of troubling studies connect delayed cognitive development in kids with extended exposure to electronic media. The US Department of Health and Human Services estimates that American children spend a whopping seven hours a day in front of electronic media. Other statistics reveal that kids as young as two regularly play iPad games and have playroom toys that involve touch screens.
Saturation and long-term consequences
When very small children get hooked on tablets and smartphones, says Dr. Aric Sigman, an associate fellow of the British Psychological Society and a Fellow of Britain's Royal Society of Medicine, they can unintentionally cause permanent damage to their still-developing brains. Too much screen time too soon, he says, "is the very thing impeding the development of the abilities that parents are so eager to foster through the tablets. The ability to focus, to concentrate, to lend attention, to sense other people's attitudes and communicate with them, to build a large vocabulary—all those abilities are harmed."
Put more simply, parents who jump to screen time in a bid to give their kids an educational edge may actually be doing significantly more harm than good—and they need to dole out future screen time in an age-appropriate matter.
Between birth and age three, for example, our brains develop quickly and are particularly sensitive to the environment around us. In medical circles, this is called the critical period, because the changes that happen in the brain during these first tender years become the permanent foundation upon which all later brain function is built. In order for the brain's neuralnetworks to develop normally during the critical period, a child needs specific stimuli from the outside environment. These are rules that have evolved over centuries of human evolution, but—not surprisingly—these essential stimuli are not found on today's tablet screens. When a young child spends too much time in front of a screen and not enough getting required stimuli from the real world, her development becomes stunted.
And not just for a while. If the damage happens during these crucial early years, its results can affect her forever.
Much of the issue lies with the fact that what makes tablets and iPhones so great—dozens of stimuli at your fingertips, and the ability to process multiple actions simultaneously—is exactly what young brains do not need.
Tablets are the ultimate shortcut tools: Unlike a mother reading a story to a child, for example, a smartphone-told story spoon-feeds images, words, and pictures all at once to a young reader. Rather than having to take the time to process a mother's voice into words, visualize complete pictures and exert a mental effort to follow a story line, kids who follow stories on their smartphones get lazy. The device does the thinking for them, and as a result, their own cognitive muscles remain weak.
Trouble making friends
The brain's frontal lobe is the area responsible for decoding and comprehending social interactions. It is in this corner of the mind that we empathize with others, take in nonverbal cues while talking to friends and colleagues, and learn how to read the hundreds of unspoken signs—facial expression, tone of voice, and more—that add color and depth to real-world relationships.
So how and when does the brain's frontal lobe develop? Not surprisingly, the most crucial stage is in early childhood, during that same critical period, and it's dependent on authentic human interactions. So if your young child is spending all of his time in front of an iPad instead of chatting and playing with teachers and other children, his empathetic abilities—the near-instinctive way you and I can read situations and get a feel for other people—will be dulled, possibly for good.
Life has no on/off switch
Have you ever seen a mother chuckle as her baby tries to "swipe" a real photograph, or punch their fingers onto a poster or book as if it were a touchscreen? It may seem cute, but it points to something much deeper in the child's brain—an internalization that all actions have an immediate effect, and all stimuli elicit a quick response.
This is true in the on-screen world, but nowhere else. When every finger swipe brings about a response of colors and shapes and sounds, a child's brain responds gleefully with the neurotransmitter dopamine, the key component in our reward system that is associated with feelings of pleasure. Dopamine hits in the brain can feel almost addictive, and when a child gets too used to an immediate stimuli response, he will learn to always prefer smartphone-style interaction—that is, immediate gratification and response—over real-world connection.
This pattern mimics, in a less intense manner, the dangerous cycle psychologists and physicians regularly see in patients with drug and alcoholaddictions.
Don't trash those tablets for good
Despite the danger that overexposure to smartphones can pose for young brains, there are a lot of benefits to letting little ones use technology. Once a child is over the age of two, feel free to allow limited screen time—think an hour, max, of playing with tablets and iPhones each day—to help develop coordination, hone quick reactions, and even sharpen language skills. As with all the other toys and tools available to your developing child, smartphone use should stay in moderation, and never stand in for human interaction or real-world face time.
The bottom line? Power off regularly to help your child understand the clear boundaries between the virtual world and the real one.
https://www.psychologytoday.com/us/blog/behind-online-behavior/201604/what-screen-time-can-really-do-kids-brains
Strategy to improve business productivity
Technological advances, customer expectations and especially globalization have increased the need for higher productivity. After all, Canadian entrepreneurs must now compete with companies in countries such as China and India where labour costs are a fraction of what they are in North America.
In a formal sense, productivity refers to how well an organization converts input (such as labour, materials, machines and capital) into goods and services or output. But today it is no longer limited to measuring ratios of inputs and outputs. Basically, increasing productivity just means working smarter. You can look for opportunities to improve efficiency just about anywhere in your company. Here are some key areas to consider.
Choosing the right equipment can help you reduce the risk of costly errors and improve the way you do business. Before you buy any equipment, be sure you are thoroughly familiar with the current and future needs of your business. Ask yourself:
Is the current equipment giving you good results?
Do you need to replace several pieces of equipment with more efficient machinery?
Can the equipment you are replacing be used elsewhere in your company?
Will its acquisition be a long-term investment?
Would it be better to rent equipment?
Will you use all the features, or are they simply gadgets?
Have you considered the costs of training employees on new equipment?
BDC Advisory Services can help you analyze your space and resources, improve your plant layout and eliminate processes that add no value.
1. Use technology to improve your operations
Web-based technologies enable you to dramatically improve how you run your business. You're a good candidate if you're looking to increase market share, aggressively pursue cost reduction or greater efficiency, or prevent customer-service problems. Production management tools range from spreadsheets to off-the-shelf software solutions or business-specific, custom-developed applications. Here are some examples:
E-purchasing (online buying) is an alternative vehicle you can use to get your materials from suppliers. This technology enables you to get more competitive pricing as you are no longer limited to local merchants. Generally, the cost of transaction processing is reduced and there is less paperwork.
Smart inventory control systems can help you reduce inventory levels, improve profitability and speed up customer response time. Online and order management systems integrate inventory information with your organization's purchasing, accounting and e-business systems, so you can easily track order status and the movement of inventory within your company. You will also be able to identify peak and low periods, allowing you to adjust supply purchases and better manage working capital.
It also helps to keep abreast of technological developments and ensure that your business is taking advantage of the latest innovations to improve productivity. You can use the web or attend trade shows to stay on top of new technology. Trade shows are a great resource as software vendors often make their information available to attendees. You can also network with other organizations in your industry that may have already tried and tested new innovations. Finding out what your competitors are doing can narrow your search down for solutions that are specific to your industry. BDC Advisory Services can help you establish selection criteria and identify potential software suppliers.
2. Review your existing setup
Look at your processes from the point of view of a potential investor. Keep in mind the overall objective and vision of the business, and ensure the processes meet those goals and add value. Draw an accurate map of each process in your material and information flow. By doing this, you can better understand the links between various elements of your production, and you will be better equipped to identify and eliminate waste throughout your company.
Improving productivity is an ongoing activity. Here are some suggestions for setting up a continuous improvement plan:
Start by assessing the competition and the best practices in your industry, also known as benchmarking. But don't copy plans of other businesses—develop one that works for your company.
Get external help to assess your business weaknesses and strengths. This gives you an objective viewpoint from which you can improve productivity and redesign processes.

Take a step-by-step approach rather than tackling everything at once. Focusing on a few priorities will enable you to see results faster.
Assign specific teams to specific problems or processes for redesign.
Put a formal suggestion system in place for employees.
Look for breakthrough accomplishments. Small improvements can transform into major increases in productivity.
Measure your results. Ideally, this should be done by an objective outside party.
Outsourcing can be a cost-effective way to focus your efforts on what you do best as a business and make productivity gains. But whether you choose to outsource logistics, accounting, payroll, public relations or IT, it's vital to first grasp what drives costs and profits in your company. Before you get started, it's important to assess your current production and costs such as location, shipment and client proximity. You need to know exactly which core functions increase revenues and which noncore functions increase your expenses and affect your productivity.
Many entrepreneurs don't tap into outsourcing opportunities because they fear they might lose control of their business or are concerned about expenses. And although these may be valid concerns, outsourcing works if you take the right steps. BDC Advisory Services can provide direction in determining your best outsourcing strategy.
Strategic alliances allow you to grow your organization without necessarily expanding its size and incurring more costs. For example, the right alliance could improve your production processes by increasing your economies of scale and broadening your distribution market. An alliance could help your company negotiate better supply deals, share costs such as advertising or take advantage of costly technology. Increasing your productivity could also mean getting into new markets with new products and services, extending your market reach or accelerating research and development by sharing costs and resources.
https://www.bdc.ca/en/articles-tools/business-strategy-planning/manage-business/pages/3-strategies-improving-business-productivity.aspx
Best places for family getaway
Once children are at school, family holidays and uninterrupted time together become more important than ever. What you want is child-friendly accommodation and easy access to fun – whether this is organised activities or simply splashing about at the beach.
1. Child's play in Sardinia
With a 11,960 sq yd Village Fantasia play area among the dunes, two kids-only pools, a tepee village and helter-skelter, your children probably won't want to leave Le Dune. There's also a garden where children can pick organic vegetables and gather freshly laid eggs to use in the kids' club's cookery workshops. This mid-market resort also features six pools, 10 restaurants and is opposite a five-mile long beach.
Le Dune (delphina.it) offers one-week half board from €2,975 in July and August with a 10 per cent discount available if booked before the end of February, 15 per cent before the end of January. Fly to Olbia or Alghero.
 2. Samurai sword-fighting in Japan
Learn the art of sword-fighting as part of Audley Travel's family-focused Japan trip. Other highlights include watching samurai and ninja perform at Edo Wonderland, a visit to the Gion geisha district in Kyoto, hot springs, seeing the snow monkeys of Yudanaka, a traditional taiko drumming lesson and two theme parks.
Audley Travel's (audleytravel.com) 14-day Theme Parks and Family Fun in Japan trip costs from £5,800 per person in July and August based on a family of four including excursions, flights, transfers, accommodation and some meals.
3. Five-star kids in Lanzarote
Offering 19 spacious suites for families, complete with kids' minibars, Princesa Yaiza in Playa Blanca is perhaps best known for its huge Kikoland Kids Club with pool, tennis courts, football school, amphitheatre and playhouses, which will help keep your little ones occupied all week. There's also a dedicated family restaurant plus an impressive spa for parents.
Princesa Yaiza (princesayaiza.com; read the full review here) offers Royal Kiko Suites for four B&B from £507 per night in August. Fly to Lanzarote.
4. Going Dutch
Set in the flatlands an hour-and-a-half south of Amsterdam is Efteling, Europe's most charming theme park. Along with the prettiest landscaping and a nice balance between roller coasters and old-fashioned teacups, it also has top-notch accommodation. In the pretty wooded Bosrijk area around a lake, the self-catering cottages sleep six – there's plenty of space and charm for grandparents, too – and there's an on-site swimming pool. Combine this with a long weekend in Amsterdam, and this makes a wonderful alternative to seaside sun.
Four nights in a six-person self-catering house in July or August at Efteling Bosrijk (efteling.co.uk) starts from at €1,294 (£1,145)based on two adults and two children (aged four to 12). Includes five days access to the park. For a stay in Amsterdam, choose an Airbnb property.
5. Agriturismo in Italy
Casa San Gabriel offers three family-run self-catering cottages in Umbria, set in large grounds with large fenced pool, a playground and vegetable gardens where guests can pick their own produce and herbs and pat the friendly alpacas. Families can learn to make pizza in the on-site 16th-century bread oven and babysitting is available.
Casa San Gabriel Cottages (casasangabriel.com) sleep from two to six people and cost from £850 to £1,250 per week in July and August. Fly to Perugia.
6. Well-being in Puglia
Set in the bottom of Italy's heel, Vivosa Apulia is an all-inclusive seaside hotel with an emphasis on health. From the adults-only spa to the many kids' clubs, sensible eating and myriad activities await, all with a distinctly Italian flavour. There is even an anti-stress golf lesson, and the peaceful wooded stroll to the beach is guaranteed to calm visitors' spirits.
Seven nights all-inclusive for a family of four with two children (aged two to 11) costs €4,788, but readers are eligible for a 20 per cent discount, to a total of £3,375, if they quote "Telegraph" when booking at vivosaresort.com by March 31.
7. Luxury on tap in Crete
Five-star hotel Daios Cove has recently started a "Minotaur Maze" activity in its kids' club to help them learn about Crete's most famous myth. There are several restaurants and bars, a water sports and diving centre, tennis courts and spa, plus suites that can sleep up to five people with verandas for outdoor dining.
Daios Cove Luxury Resort and Villas (read the full review) offers sea view suites for four, on a half-board basis from £1,349 per night between July 22 and Aug 28 2018. Fly to Heraklion.
8. Surf's up in the Algarve
For parents keen to hit the waves, just 20 minutes from Faro airport the Conrad Algarve in Quinta do Lago features the "Little C" kids' club designed by local schoolchildren, where kids can have fun while parents surf. There are also family surfing lessons, cookery lessons, three pools and a beach serviced by the hotel, fishing trips with rods and bait provided, and the hotel also offers, one, three and five-hour itineraries to help families explore the area on land or at sea.
Conrad Algarve (read the full review) offers a deluxe suite from £684 per night B&B in July and August  based on four sharing.
9. Princesses and pirates in Cyprus
Opening this spring in 25 acres of landscaped gardens beside the beach, Parklane, a Marriott Luxury Collection hotel, will include a large The Princess and The Pirate Kids' Park boasting a pirate ship with waterslides and a mini-football pitch. The resort will also feature a football academy, three pools, eight restaurants, a large spa, tennis courts and a dive centre.
Seven nights' B&B starts from £3,535 for a family of four in July, with flights from Gatwick, if booked by Jan 31; parklanecyprus.com.
10. Alps adventure in Tignes le Lac
This flexible holiday allows you to do as much or as little as you like – you can hike on a glacier, go white water rafting, learn survival skills, swing through the trees at an adventure rope park – or simply relax by the pool. It is ideal for single parents or only children looking to make friends. A tour leader is on hand to help you plan your activities.
Explore (explore.co.uk) offers departures in July and August from £785 per adult and £709 per child including flights, seven nights' accommodation, most meals and transfers. Optional activities payable locally.
Set in landscaped gardens, the incredibly light and spacious seven-bedroomed Casa Cahombo in the Algarve, near the village of Boliqueime, has plenty to keep everyone happy with two pools (including a solar-heated children's pool), a games room with table football, a pool table, a PlayStation and table tennis. The dramatic cliff-backed sandy beaches of Praia de Falesia and Olhos de Agua are around 15 minutes' drive away, as are plenty of resorts for golf and fine dining.
Vintage Travel (vintagetravel.co.uk) offers Casa Cahombo from £2,878 to £5,424 per week. Fly to Faro.
12. Pod life in Dorset
Relive your geography field trips with a stay at Lulworth Estate near Durdle Door. There are various accommodation options but kids will love these simple wooden pods, each of which sleeps four and is dog-friendly. The beach is only 220yd away and there's an on-site café, as well as the magnificent rangers running activities for children in the holidays.
Lulworth Estate (lulworth.com) offers pods for £95 per night in August and cottages from £900 per week. Quote "Telegraph" for a 10 per cent discount for bookings made in January for 2018.
13. Get active in Sweden
Enjoy the great outdoors on a seven-day trip to the Varmland region of Sweden, which includes river rafting, canoeing, hiking along old bear hunter trails and lakeside cycling. You'll also get to cook dinner over a campfire before spending the night in a tepee.
Discover the World (discover-the-world.co.uk) offers a seven-night trip in July or August from £1,009 per adult and £725 per child aged 6 to 15. Flights from Gatwick, meals and transfers are included.
14. Marvel at Marbella
The ultra-luxe Marbella Club beachside hotel has an excellent, chic, Scandi-style, Minimec-designed kids' club with its own lagoon pool, enchanted forest play area and yoga studio, plus an impressive array of activities including flamenco dancing and cookery classes. Retro-style rooms feature pastel colours and whitewashed ceiling beams – there's also a two-bedroomed villa with pool.  Green fees at the golf club are included in most room rates.
Smith and Family (smithandfamily.co.uk) offers double rooms which can fit an extra bed or cot from £774 per night in July and August, not including breakfast. Fly to Malaga.
15. Weather-proof in Wales
With British summer sun being far from guaranteed, it's good to have a back-up plan. Clydey Cottages have one to four bedrooms and offer contemporary furnishings in an 18th-century farm building set on 20 acres with animals to feed but best of all, an indoor pool, hot tub and sauna. And if the sun does come out, the nearest beach at Cardigan Bay is just 10 miles away.
Clydey Cottages (clydeycottages.co.uk) cost from £2,660 per week in August for a two-bedroom cottage sleeping four people.
The Best Affordable Brands to Change Your Office Look
The increasingly murky waters of professional dressing in 2016 can be tough to navigate. With a few relatively stuffy, mass-market holdovers still dominating the market when it comes to office attire, shopping for a new gig can be downright soul-crushing. Happily, a new generation of brands are aiming to make that task at least a bit less daunting. Whether your workplace is freewheeling and anything-goes or skews toward spruce suiting, we've rounded up six affordable resources (some classically "workwear" and some anything but) for the next time it comes to stocking your office wardrobe.
The label: Argent
Why you'll love it: For the professional workplace where more eccentric wardrobe solutions aren't necessarily the order of the day, Argent is a bona fide godsend. Their blazers and pants come with helpful details (iPhone pockets, et al.) at a price that can't be beat.
What to shop: A slim-lapel stretch blazer and cropped trousers.
Follow them: @argent_nicework
The label: Vetta
Why you'll love it: Just five powerhouse pieces that mix and match to create 30 outfits, Vetta's sustainably produced designs might make for a minimalist's fondest dream, but come up strong on stylish possibilities.
What to shop: A languid, double-breasted vest and cropped blouse (in dead stock ivory crepe) to team with your high-waisted skirts.
Follow them: @vettacapsule
The label: Stylestalker
Why you'll love it: Another import from Oz, Stylestalker's flashier designs may be a mainstay of celebrities who go hard for glitz (see: Kylie Jenner), but look closer, and the brand offers its fair share of dressing solutions for those of us who still have 9-to-5 gigs. See: its soigné, long-line vests and tie-waist trousers.
What to shop: A monochromatic blazer and skirt set in unexpected cranberry.
Follow them: @stylestalker
Why you'll love it: Trend-driven styles from the bicontinental brand are inspired by the past-meets-present dynamism of its home base cities (Shanghai and San Francisco), coming up strong on kicky edge and wearability.
What to shop: Graphic little shifts and luxe-looking handbags.
Follow them: @genuine_people
The label: Alexis
Why you'll love it: Founded by mother-daughter power-duo Ana and Alexis Barbara, the brand offers an ultrafeminine take on modern dressing for day. Think: full sleeves, frothy but unfussy lace dresses, peplums, and bow detailing.
What to shop: Wide-leg polka-dot trousers and statement-making blouses.
Follow them: @shop_alexis
The label: Réalisation
Why you'll love it: With a bevy of darling, retro-inspired prints and a price point that means you can stock up, this Aussie label's tea dresses will fly in a host of workplaces, and layer nicely over smart trousers if showing some leg isn't the order of the day.
What to shop: The Ozzie, an empire-waist number in a kicky pansy print.
Follow them: @realisationpar
https://www.vogue.com/article/office-clothes-fashionable-workwear-brands